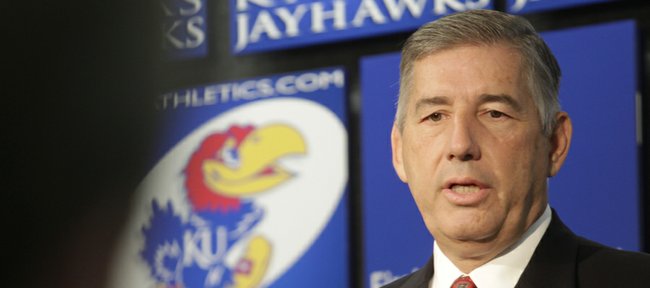 Bob Bowlsby, the Big 12's first-year commissioner, toured Kansas University's campus and athletic-department facilities Wednesday and Thursday.
During a late-Wednesday afternoon stroll, he was able to "even peek through the crack and watch a little bit of football practice," Bowlsby said during a Thursday afternoon news conference in the Allen Fieldhouse media room.
"I had a business card ready in case they were going to chase me away," the 60-year-old former Stanford, Iowa and Northern Iowa athletic director added, smiling.
Bowlsby, who in the span of two weeks will be traveling to nine of the 10 Big 12 campuses (he'll trek to West Virginia in late September), need not have worried about being shooed away from KU's closed football practice.
He's on good terms with both KU football coach Charlie Weis and basketball coach Bill Self.
"I've known coach Self a long time. I was six years on the men's basketball committee," Bowlsby said. "I think a lot of him. We played Notre Dame four times while coach Weis was at Notre Dame. It's a fairly small fraternity.
"I look forward to being around them and watching what they do with their programs; obviously they are in different situations. One (program) is fully mature and competing at the very top of the country, and the other is in its infancy in terms of a new regime. Both are fun to watch. I think both will do a lot of good things. I expect to get here frequently during the course of the year. That'll do nothing but enhance those relationships."
Bowlsby said he was impressed with KU's hoops and football facilities.
"Going through Allen Fieldhouse ... it is a classic venue, and the things that have been done around it are really spectacular," Bowlsby said. "The support facilities, administrative facilities, the new football complex ... all of that is as good as there is anyplace in college athletics.
"I think men's and women's basketball and football are in great shape. The baseball diamond is terrific. Developmental facilities are great. I think KU probably has as good of weight-room facilities in terms of both quality and volume as I've ever seen. There are an awful lot of pieces of the puzzle in place. It sounds like plans are in place for improvements in a lot of other areas that will support the Olympic sports," he added.
In the breaking-news department, Bowlsby said the league should soon be finalizing its multiyear TV deal that has been estimated in media reports at $2.6 billion. FOX and ABC/ESPN are expected to share broadcast and cable rights in the deal that could cover as many as 13 years. He said exposure for all sports "will be unprecedented."
"We're not working under any sort of deadline," Bowlsby said. "We have an agreement on almost all elements of it."
Also, a joint announcement with the SEC over the location for the newly created Champions Bowl should be coming soon. The AP reported that cities under consideration are Atlanta, Houston, New Orleans, San Antonio and Arlington, Texas.
Bowlsby reiterated that he felt league administrators were in favor of staying at 10 teams, but that the conference would always be open to considering expansion.
"I think we are also feeling good about the fact we brought in two ranked football teams (TCU, West Virginia) in exchange for the two that moved out (Missouri, Texas A&M;)," he said. "I think that's a real source of strength for the Big 12."
He said he has heard other schools are interested in joining the Big 12.
"We are contacted all the time by institutions that say ... it's kind of like junior high dating: 'Would you like him if he liked you?' and that sort of back-channel stuff. You can't afford to ignore it, but you can't afford to dwell on it. We have too many other important things to do," he said.
As far as the number 10 ... "It's fair to say that some (conferences) that have gotten larger are now wondering if it's going to be worth it,'' Bowlsby said, "because there's going to be complexities, especially regarding some of the scheduling issues that have really caused some problems. In the ACC and the SEC, there are some institutions that have 100-year histories of playing each other that aren't going to be playing each other. And I think the reality of the larger number has kind of sunk in.''
Bowlsby's tour of the league continues today at Kansas State.