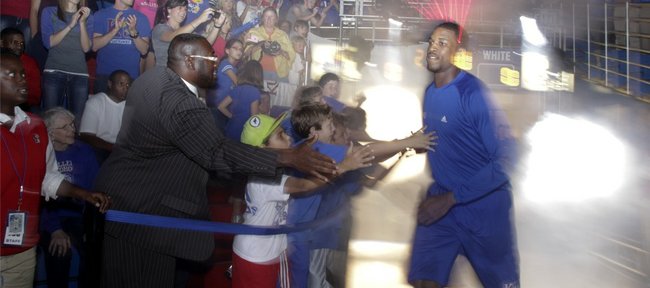 Donning a black leather jacket and chaps — with sunglasses draped over his eyes — Bill Self drove a custom-made motorcycle onto the Allen Fieldhouse floor Friday night.
"What's happening, Jayhawks?" Self, KU's ninth-year basketball coach, bellowed to 16,300 cheering fans, revving the motor of the bike to ear-splitting levels.
What was happening, of course, was the start of the men's hoops portion of the 27th-annual Late Night in the Phog, the official opening of the 2011-12 season.
"Just so you know, I did not pick this outfit out. I am not a wannabee member of the Village People," Self said, noting it was the first time he'd ridden a motorbike since a "Suzuki 50" in the third grade.
"A Suzuki 50 is this high," Self added, placing his hand near his knees in explanation.
He spoke to the fans about his 2011-12 Jayhawks.
"We lost a lot of folks last year," Self said of seven players off a 35-3 team. "Last year with all those guys here, the coaches in the league picked us third. We lose all those guys, and now they pick us to win it again. Even though faces change, personality of teams change, one thing about coaching here, expectations should never change.
"We are going to be good, but you have to enjoy the process. You'll be looking up a year or two down the road and be so thankful you enjoyed it and called these players your very own because we are getting ready to have a lot of fun."
Prior to a scrimmage, which was highlighted by Tyshawn Taylor's 17 points and Travis Releford's 16, frivolity included a surprise appearance by actor Rob Riggle, a KU grad who served as a judge in a boxing match between KU staff member Barry Hinson and KU fan "Vicious" Victor Ortiz.
"Protect yourself at all times," Riggle jokingly warned Ortiz before the fight, referring to Victor's being surprised by a knockout punch by Floyd Mayweather in a recent title fight.
Ortiz, of course, won by knockout Friday in a fake fight in which he was assisted by corner men Self, Cole Aldrich and Xavier Henry. KU's current players stood in Hinson's corner.
"I feel I was unstoppable the whole time. I walked away with the victory Rock Chalk-style, baby," Ortiz said.
Back to the 20-minute scrimmage …
Releford hit six of eight shots, including three of four threes in helping the Blue team grab a 40-33 victory over the Taylor-led Red squad. Taylor hit six of 10 shots and also had two assists.
Thomas Robinson had 13 for the Blue. He hit five of 10 shots, including one of three from three. Elijah Johnson and Jeff Withey each had nine points. The Blue team hit 50 percent of its shots, the Reds 48.
"The guys tonight actually made shots. We shoot the ball like that, we'll be fine," Self said. "I think scoring will be our biggest challenge. Defensively we'll have to be great."
Recruiting
Two top prospects in the Class of 2012 attended Late Night as part of official campus visits: Perry Ellis, a 6-foot-8 forward from Wichita Heights who has orally committed to KU, and Kaleb Tarczewski, 7-foot from St. Mark's High in Southborough, Mass., who is down to KU and Arizona. Tarczewski, who will visit Arizona next weekend, is ranked No. 20 overall and Ellis No. 24 nationally by Rivals.com.
Several players from the Class of 2013 were at Late Night on unofficial visits: No. 8-ranked Chris Walker, 6-9 forward, Holmes County High, Bonifay, Fla.; No. 24 Allerik Freeman, 6-4 guard, Olympic High, Charlotte, N.C.; No. 35 Brannen Greene, 6-7 forward, Mary Persons High, Forsyth, Ga.; No. 71 Karviar Shepherd, 6-9, center, DeSoto (Texas) High; and Shepherd's prep teammate Jordan Mickey, 6-7 forward, ranked No. 75. Also unranked Peter Jok, 6-3 guard from Roosevelt High in DesMoines attended.
This, that
Former KU players Henry, Brandon Rush, Mario Chalmers, Russell Robinson, Brady Morningstar and Keith Langford attended. ... Former KU forward Scot Pollard was emcee. ... The Jayhawks were to practice today before an evening football game against Oklahoma. The practice is closed to the public. ... Self was thrilled with Friday's crowd. "Late Night is great. We come out and basically do the same thing year in and year out. It amazes me every year. There's 16,300 in here every year."
More like this story on KUsports.com