Videos
Pregame: KU vs. Illinois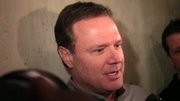 Kansas and Illinois face off in the third round of the 2011 NCAA Tournament on Sunday, March 20, 2011.
Tulsa, Okla. — Achieving Kansas University basketball royalty status requires March, and now April, greatness, so it's premature to elevate junior forward Marcus Morris to that stratosphere.
But if this Kansas team can hang the ultimate banner for the second time in four years, nobody could deny him his rightful place on the all-time Mount Rushmore of Jayhawks basketball players.
In chronological order, the first three busts on such a monument surely must be Clyde Lovellette, Wilt Chamberlain and Danny Manning. Wilt didn't win a title at KU, losing to North Carolina in triple overtime, but he was the most dominant basketball player in the game's history, so much so that rules were changed to give mere mortals a shot at containing him.
Why, some might ask, would Marcus Morris and not Mario Chalmers deserve a place on the mountain top, should the Jayhawks win the 2011 national title, given Mario's Miracle three-point shot that sent the game into overtime?
Easy. Marcus brought his twin, Markieff, with him to Kansas. Mario brought his father, Ronnie. The latter didn't score a point, gather a rebound, get an assist or instruct a player, other than his son, during his three years in Kansas. (The guidelines of his job title prohibited him from on-floor coaching.) Markieff Morris is one of the best big men in the country.
When Marcus decided he wanted to look into coming to Kansas, Markieff followed him because that's what he always does. Not a bad guy to follow. Markieff had his coach call KU coach Bill Self, who, when taking the call, asked the coach to wait a minute, put him on hold and asked his assistants whether he should be interested in the Morris twins. He quickly was told you bet your life, you should be interested.
Assistant Joe Dooley toured the twins around at Late Night, Marcus pulled the trigger, and Markieff didn't have any reason to doubt his judgment.
In an era of college basketball in which talented big men tend to depart college for the NBA before they're good enough to help their college teams win games (think: B.J. Mullens), Kansas has a pair of post players blessed with refined guard skills and fertile basketball brains, all because one of them, Marcus, liked what he saw of Kansas basketball on TV.
Now, so many traits coaches love to praise can be found in tandem on Kansas, such as:
It's always nice when your best player is your most unselfish player. Or in KU's case, when your two best players are your two most unselfish players. (Mix in Tyrel Reed, and that makes the three best players doubling as the three most unselfish.)
It's so reassuring knowing you always can dump the ball to a reliable post-up player who knows how to post up, is blessed with great hands, a soft touch and the ability to draw fouls. Twice as good to have two of them.
If one of them misses a shot, the other forever is a threat to score from the weak side on a put-back. To double one of them in the post is to risk him dumping off to the other for a slam, or finding an open shooter for a three-pointer.
It never hurts when the best player has a strong voice in the locker room. It's even better when the second-best player has the exact same voice.
Asked to break down the halftime routine for the Jayhawks, Markieff said the players talk among themselves for three or four minutes, and then Self addresses the team for about five minutes.
Who does the most talking before Self takes the floor?
"Probably Marcus," Markieff said. "I back him up. He just does the talking, and I do the backing up."
Marcus averages 17.3 points and 7.3 rebounds and shoots .586 from the field, .361 from beyond the three-point semi-circle. Markieff averages 13.6 points and 8.2 rebounds and shoots .597 from the field and .418 from three.
The three-year production of Marcus alone makes him the best of any signing among the Class of 2008 recruits, not even factoring in that he brought his brother with him. UConn's Kemba Walker (No. 14), North Carolina's Tyler Zeller (No. 33) and others could lay a claim if they last longer in the tournament.
Marcus was ranked 29th in the class by Rivals, his brother Markieff 49th. KU reserve Jeff Withey was ranked 36th in a class in which Mullens, who played one year at Ohio State and has spent his professional career riding the shuttle between the Oklahoma City Thunder and Tulsa 66ers of the NBA Developmental League, was ranked No. 1.
The Twins face far greater challenges today against a pair of Illinois senior post players than in the first round when they faced Boston University's scrappy-but-undersized forwards.
Illinois 7-foot-1 senior center Mike Tisdale shoots threes (42.6 percent) and blocks shots (1.6 per game), and long, quick 6-9 power forward Mike Davis (12.3 points, 7.2 rebounds) gets a lot done close to the basket.
Given the Boston University game was so close throughout the first half, overconfidence won't become an issue for KU.
"I think we're scared to lose, and I think that's a good thing," Markieff said. "Last year, we thought we were unbeatable. This year, we're more humble."
More like this story on KUsports.com