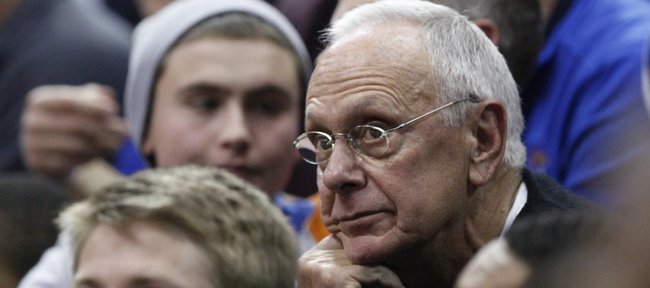 Hall of Fame basketball coach Larry Brown stood in a corner of Kansas University's shiny, new practice facility Thursday afternoon, his eyes focused on the court as he conducted a one-on-one media interview.
"I don't know if I love the games, (but) I love the practices, love being around the coaches and players," said the 70-year-old former KU coach, who left his post with the NBA's Charlotte Bobcats in late December.
In his element observing a short KU practice with former Kentucky coach Billy Gillispie on Thursday, Brown admits he was blown away by the atmosphere in Allen Fieldhouse for Wednesday's 64-51 Senior Night victory over Texas A&M.;
"The thing that amazed me is the place was full — after the game," Brown said of 16,300 fans sticking around well after 10 p.m., for speeches of Mario Little, Brady Morningstar and Tyrel Reed.
"It was pretty darn impressive. Of course the Senior Day I remember is Archie's ... when Leonard Hamilton was nice enough to let Archie (Marshall) come in at the end and be part of it," Brown added.
He was referring to KU's 75-57 victory over Oklahoma State on March 5, 1988. OSU coach Hamilton, who had current KU coach Bill Self on his staff, allowed Marshall to limp on the floor and, with the aid of crutches, hoist an uncontested shot — one that missed — with 1:33 left.
Allen Fieldhouse had no video board that day to show highlights of KU seniors Marshall, Danny Manning and Chris Piper. On Wednesday, Brown, who coached at KU from 1984-88, was able to watch numerous videos, including the stirring pre-game piece which opens with his quote: "There's no better place to coach, there's no better place to go to school, there's no better place to play (than Kansas)."
"The NBA goes out of their way to have all these things going on. I can't imagine a better beginning of a game than that, especially when the first thing you see is Wilt Chamberlain," Brown said.
Of his own quote, also framed on a wall outside the KU locker room, Brown noted: "It's pretty amazing to know you are part of something so special here."
Wednesday's victory assured KU at least a share of its school-record seventh straight regular-season conference championship. Last school from a major conference to win as many in a row was UCLA, which won 13 straight from 1967 to '79.
"It blows me away," Brown said of the streak, engineered by one of the members of his coaching tree, eighth-year KU coach Self.
"Roy's body of work was phenomenal," he added of successor Roy Williams' 15 ultra-successful seasons. "Being here eight years and seeing his (Self's) body of work and the way he does it, how humble he is and how he includes everybody and respects everybody, it is one of the great feats.
"You look at the ACC, Big East, Pac-10, Big Ten, any conference, there's not a lot of difference. I don't see people accomplishing that in those places. He's done it with all different kinds of players, all different kinds of kids. I was in Philly when John (Calipari, one of Brown's former KU assistants) was recruiting the (Morris) twins (to Memphis). I got to see them play. I thought they were really young talented kids. Their improvement is remarkable."
Brown didn't discuss what he likes or maybe doesn't like about this year's KU team.
That's something he figures to share with Self and Self alone.
"We went to lunch today. We had dinner last night after the game. You can pick up stuff just talking to him about anything," said Self, who worked as a grad assistant for Brown in 1985-86. "He's a very wise man. He and Billy are watching practice today. Hopefully they'll watch with the intent of helping me.
"They can't talk to the players about anything (regarding specific instruction in accordance with NCAA rules), but certainly I like it when you have a different set of eyes to come and evaluate the team," Self added.
Brown — the only coach to have won both an NCAA (KU, 1988) and NBA (Detroit, 2004) championship — is allowed to make small talk with the Jayhawks.
"Hi, coach. Thanks for coming," freshman Josh Selby said, shaking Brown's hand while chasing a rebound.
"You healthy?" Brown asked Selby. "Yes, getting there," responded the Baltimore combo guard, who has been hobbled by a stress reaction in his right foot.
"Good, nice to see you," Brown added as Selby headed back to the court.
Blessed with a quick wit, Brown needled Self who, asked a reporter and his mentor what they were talking about.
"He was commenting about your legs," Brown deadpanned as Self jogged away wearing his droopy, blue KU hoops shorts.
On a final serious note, Brown reiterated how proud he is of his coaching tree, one that includes KU grads Mark Turgeon (Texas A&M;) and Tad Boyle (Colorado). Turgeon, Boyle and Self have all been mentioned as possible Big 12 coach of the year candidates.
"Last night was different. It was interesting seeing 'Turg' over there. I'm proud of him. He's done an amazing job with that team," Brown said of the Aggies, who are headed to the NCAA Tournament. "I watch him a lot, talk to him a lot. Tad's team had a tough loss last night (vs. Iowa State) in that they might have moved up in the tournament. I was teasing that I have so many problems, watching my guys coach when they coach against each other. It's the best part of coaching to know guys who have been so good to you are doing so well," Brown added.
Brown, of course, doesn't need to coach again to solidify his position as one of the greats.
As to whether he wants to coach again?
"I think so. I don't know at what level or what capacity. I look in the mirror. I know I'm 70. Inside I don't feel like that. I still have a passion for the game," he said.
More like this story on KUsports.com