Feature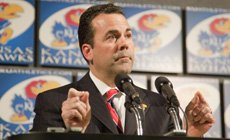 KUsports.com and the Lawrence Journal-World requested all of the contracts handed out to employees of Kansas Athletics before Sheahon Zenger was named athletic director in January of 2011.
A review of salaries at Kansas Athletics Inc. shows 36 of the top 42 administrators and coaches — 85 percent — are paid at least $100,000.
The information was obtained by the Journal-World in an open records request from Kansas University's athletics department.
After his first six months at KU, Athletic Director Sheahon Zenger indicated he would evaluate, at least through the end of the school year, his department's administrative pay and staffing.
Zenger has inherited nearly all of his current staff from Lew Perkins, who resigned as athletic director in September 2010.
"Like all else, that's under review. You walk into a situation. You deal with the hand you've been dealt," Zenger said. "You deal with people fairly, and you treat others as you want to be treated."
Perkins is credited with growing KU's athletics department budget significantly during his seven-year tenure, especially through ticket sales and contributions, which helped KU upgrade several facilities. KU's financial records to the NCAA also show what the department spent on support staff and administration, excluding coaches, increased significantly as well, from $10.1 million in 2004-2005 to $16.27 million in 2009-2010, the most recent report available.
The department's total operating expenses in that time increased from $40.76 million to $69.24 million, while revenue increased from $50.8 million to $70.5 million, according to the reports.
Big 12 comparisons
One snapshot comparison of KU's budget information with other Big 12 universities suggests KU is spending more on administration and support staff than all other athletics departments — besides the University of Texas — according to a USA Today database that lists athletics department budget information that public universities provide to the NCAA.
According to the same report, for 2009-2010:
• Texas spent $25.1 million on administrative and support staff and $130.4 million overall.
• Kansas — $16.27 million, $69.24 million total.
• Oklahoma — $14.5 million, $87.7 million total.
• Texas A&M; — $14.2 million, $75.9 million overall.
• Missouri — $11.1 million, $61.8 million total.
• Oklahoma State — $8.5 million, $83.7 million overall.
• Kansas State — $8.8 million, $42.3 million total.
When asked if he were comfortable with the number of six-figure salaries in the department, Zenger said KU was in the upper half of the Big 12 but "not at the tip of the spear."
The six athletics department employees making less than $100,000 in the recent Journal-World records request were all head coaches of nonrevenue sports. The department provided salaries and contract information, when applicable, for 11 head coaches, 16 assistant coaches in various sports and 12 administrators or department directors.
No imminent overhaul
Since he began work Feb. 1, Zenger, a Kansas native who Chancellor Bernadette Gray-Little hired from Illinois State University, has spent most of his time evaluating the department and moved forward with much of the staff members who were in place when he arrived. But he has called KU's last-place finish among Big 12 schools in the all-sport Director's Cup standings "unacceptable."
Still, he doesn't plan to make imminent head coaching changes. He did give a four-year extension last month to softball coach Megan Smith, largely because she was courted by another university.
But Zenger has little financial room to remove any coaches, at least in the short-term, if he wants a change. Contracts provided to the Journal-World show Perkins signed three multi-year deals for three nonrevenue coaches and one extension for women's soccer coach Mark Francis in 2010 just before or around the time he announced he was initially stepping down.
Zenger has no plans to overhaul the administrative staff heading into the school year. Earlier this year, Zenger hired Terry Mohajir as an associate athletic director to supervise the Williams Educational Fund and earlier this month named him senior associate athletic director for external relations. Former KU basketball player Greg Gurley was also hired as director of development for the Williams Fund.
They assume responsibilities previously held by Ben Kirtland and Rodney Jones, who both worked under Perkins and are now in federal prison after pleading guilty to taking part in a scheme with others to steal at least $2 million in ticket revenue from the university. Federal prosecutors later said there was no evidence Perkins knowingly participated in the scheme.
Last week, one of the final hires of the Perkins era, director of security Ron Olin, a retired Lawrence police chief, announced he would resign from the athletics department after evaluating KU's internal controls, policies and procedures. Once he leaves, Olin could serve as a consultant on an as-needed basis. Zenger earlier had called it a unique position to an athletics department.
Zenger also said KU alumnus and Pro Football Hall of Fame member Gale Sayers, whom Perkins hired in October 2009 on a four-year contract at $150,000 a year as director of fundraising for special projects, is now working in an alumni relations role.
"We've found him to be very key in just being Gale Sayers in representing us in an exemplary fashion across the state of Kansas," Zenger said.
'It's a process'
Jerry Bailey, KU's faculty athletic representative who served a year as chairman of the Kansas Athletics Corp. board of directors, said he believed Zenger has done a "very smart thing" by taking his time to assess the department.
"You can't figure out where you're going if you don't know where you are," Bailey said.
Tim Caboni, KU's vice chancellor for public affairs, said that when Gray-Little hired Zenger she did not give the new athletic director any directives on how he must manage his staff. Caboni also said Zenger has spent the last few months evaluating the department and meeting fans and donors, but now he's closer to moving into a new phase, which he's discussed with Gray-Little.
"Restructuring does not happen all at once," Caboni said. "Most of the time it's a process, not a moment in time."
On personnel, Zenger has also talked about treating the employees fairly as he evaluates the department.
"I don't believe you make knee-jerk reactions with regard to their futures," Zenger said, "and the futures that eventually impact their families as well."
One of the department's major donors, Dana Anderson, whose family's name is on the Anderson Family Football Complex next to Memorial Stadium, said many supporters want to see KU become competitive in football and other sports. He also said he was confident Zenger was looking at how much money KU spends on administration and support staff, compared with other universities, and how effective they've been.
But Anderson, a California businessman, said he also supported Zenger's "more reasoned approach" to evaluate the department's landscape.
"The fact that he hasn't done anything dramatic," Anderson said, "I think maybe that's a good thing."