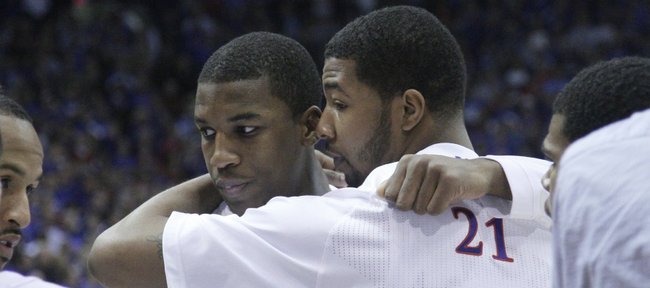 The NCAA, which has been working with Kansas University athletic department officials since the death of Thomas Robinson's mother, Lisa, late last week, issued a statement on Wednesday.
In its entirety it read:
"The NCAA offers its deepest sympathies to Thomas Robinson following the tragic events of late in his family. To help support him and his younger sister (Jayla) during this difficult time, the NCAA and University of Kansas have been working closely together to determine how best to assist during these next several days and beyond.
"As a part of this collaboration, the university requested and was immediately granted a number of waivers from general NCAA bylaws, including one that will allow the university to pay for Thomas' younger sister to return to Lawrence with her brother.
"In addition, a waiver was granted that will allow anyone to donate to a fund created in his sister's name to support her in the future. KU is able to cover the cost of the funeral for Thomas' mother, as this is currently allowed under NCAA rules. The NCAA will continue discussions with the university to determine if any further assistance is needed to support Thomas and his family."
KU associate AD Jim Marchiony reiterated coach Bill Self's comments — that the NCAA has been quite supportive.
"The NCAA has been great acknowledging the fact this is an unusual circumstance," Marchiony said.
Marchiony explained that though the NCAA will allow KU to pay expenses for Robinson's sister, Jayla, to come to Lawrence, "the issue of where Jayla will live is still being discussed."
Robinson has been speaking with legal counsel about custody issues involving his 9-year-old sister.
"People have called to offer help in any way they can from offering space in their homes to outright adoption. It has been extremely heart-warming to be reminded that people can be so generous and compassionate in a time of such need," Marchiony said.
Snow can't slow Jayhawks
The charter flight, carrying KU's players, coaches and some athletic department members to Washington, D.C., for today's funeral services of Lisa Robinson, landed safely just before 8 p.m., Eastern time, Wednesday despite heavy snow, which followed an ice storm, in D.C.
Runways were closed about a half hour after KU's flight landed.
Lisa Robinson's funeral services will be held at 11 a.m., Eastern time (visitation starts at 10 a.m.,) at Antioch Baptist Church (1105 50th Street NE).
The family is asking that, in lieu of flowers or other gifts, contributions be made to the Lisa Robinson Scholarship Fund, for the benefit of Jayla, c/o SNR Denton, 1301 K Street NW, Suite 600, East Tower, Washington, D.C., 20005-3364. The Scholarship Fund will be administered by Christopher "Kit" Smith of SNR Denton US LLP and other fiduciaries selected by SNR Denton. Contributions to the Lisa Robinson Scholarship Fund are nondeductible for tax purposes.
No full obituary for Lisa Robinson has been available for publication. KU officials indicated Wednesday that it is believed Lisa was 43, not 37 as has been reported since her death.