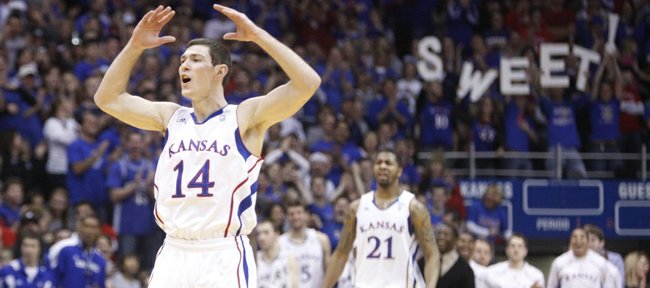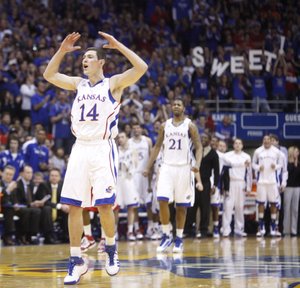 Born in Kansas and raised as a Kansas University basketball fan, Tyrel Reed now has a chance to become the winningest Jayhawk player of all-time.
"I mean, that would be really awesome, just considering everyone that's played here — all the great ones," said Reed, a 6-foot-3 senior guard from Burlington who has been part of 124 KU victories against just 16 losses.
"It's a tribute to all the great teams I've been on here, all the great teammates I've had as well," added Reed, who is six wins shy of tying Sherron Collins' 130-win mark compiled from 2007 to 2010.
The Jayhawks, who take a 27-2 record into Wednesday's 8 p.m. Senior Day contest against Texas A&M;, have two games remaining in the regular season. KU could play as many as three games in the Big 12 postseason tournament and six in the NCAAs.
"It'd be a really cool honor, but nothing I really think about," Reed said of emerging as No. 1 Jayhawk in the all-time win column.
Truth be known, the unassuming Reed would love to set the mark with fellow Kansan Brady Morningstar.
Morningstar, however, is credited with just 120 victories. The 37 games his red-shirt sophomore season do not count in his win total, instead replaced by the 33 victories his true freshman season.
"I feel blessed Brady and I were able to play here at Kansas," Reed said of Lawrence native Morningstar, who also will be honored on Senior Day with Reed and Chicago senior Mario Little.
"I'm not saying that it's the coolest thing ever, but we are fortunate enough to have been out there and excited about it.
"I played with Brady in high school. He was on my AAU team when I was younger. I didn't get to know him then. I'd say even my freshman and sophomore years we were not as close as I'd have liked or thought we'd have been. As our junior and senior years rolled around, we've gotten to be real close and good friends. He is just a funny kid. I enjoy being around him. I'm glad we've got a lot of experiences and memories to share the rest of our lives."
Morningstar — he agrees it took a while for him and Reed to bond — said, "Our first few years we never talked about the things we had in common, like both being from Kansas. I hung out with Sherron and Shady (Darrell Arthur), and he was always with Cole (Aldrich) and everybody else. The past two years we've gotten pretty close and have become great friends."
Morningstar smiled when asked if Reed is everything he appears to be to outsiders — a polite, intelligent, three-time academic All-Big 12 pick and current first-team Academic All-American almost too good to be true.
"Yes, he is," Morningstar said. "He is a great kid. I mean, first-team Academic All-American. That's as impressive as it gets. You don't get that by just getting by in school. You have to do extra stuff. He deserves that for sure."
Also, "He's a really good player," Morningstar said.
Reed is KU's only player to have started all 29 games.
He's second on the team in minutes (27.4 a game) and fourth overall in scoring (9.8 points) with a team-leading 56 threes in 143 tries.
"I've always tried to be a hard worker," Reed said. "I know I am not going to be the most athletic, most talented, fastest, smartest kid out there, but I just try to make up for it with hard work and determination and doing your best.
"I'm sure there were (doubters), me being from Kansas ... a small-town school," he added. "Not getting the national recognition that a lot of the other players who come here have. I just tried to never doubt myself, always be confident and try to do the best I can."
Reed needed a moment to reflect when asked where he'd have attended college had KU passed on recruiting the Burlington bomber.
"I don't know. I was being recruited by coach (Roy) WIlliams at North Carolina. I signed in the fall (of senior year). If I'd waited until the spring, I think I might have gone there or maybe ended up at Stanford or some place," Reed said.
He's happy to have gobbled up a scholarship offer at KU.
"I have supreme love for the game and supreme love for the place I'm at now," said Reed, who remembers asking former KU player Paul Pierce for an autograph one summer at Williams' basketball camp.
As far as where he'll wind up after KU?
A 3.65-GPA student, Reed graduated in December with a degree in pre-physical therapy and exercise science. He's been accepted into KU Medical School's physical-therapy program, with the option of delaying enrollment to fulfill his dream of playing pro basketball.
"I've not thought about it a lot. I'm focused on this season and want to finish it the right way," Reed said. "If I had the opportunity to go play basketball, I think it'd be a cool experience. I'd do my best and take that opportunity."
He finds it impossible to believe his home career ends Wednesday night. Tipoff is 8 p.m., with the seniors to be introduced with their families before the game and speeches to follow after the final horn.
"It's pretty crazy. I try not to think about it at all," Reed said of not being able to run through the northwest tunnel again. "I don't want to act like there's going to be an end. I know there's going to be a last game, and it's coming up Wednesday night, and I can't hold onto it. I've just got to let it come and enjoy it."
More like this story on KUsports.com