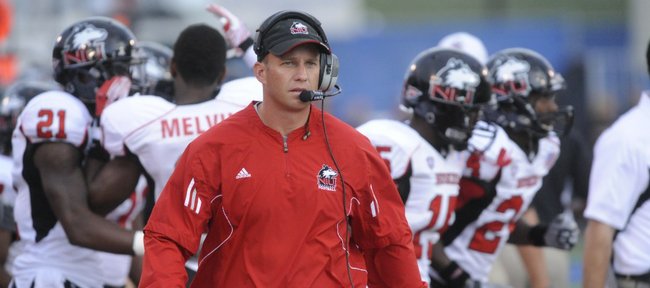 A friend asked if I would be surprised if Auburn offensive coordinator Gus Malzahn were announced as the next head coach of the Kansas University football team.
My response: "Yes, but I'll be surprised no matter who it is."
Then I thought about it and came to the conclusion that only one name won't surprise me: Dave Doeren.
He's the former Mark Mangino assistant coach who left Kansas after the 2005 season for Wisconsin, where he worked his way up to defensive coordinator and then left to become head coach at Northern Illinois.
Yes, Doeren has the dubious distinction of being the only coach from an FBS school to lose a game to Turner Gill in 2011, but one game does not a coach make or break.
If I had to stake every possession of value I had — my house, my clutch putting stroke, my good looks — on being right, I would make that guess Doeren.
Here's why: When KU athletic director Sheahon Zenger started his coaching search, he knew he could get Doeren. He had that in his back pocket. So why not do an exhaustive search, starting with established head coaches such as Mike Leach and Larry Fedora? Also talk to Doeren and Wyoming coach Dave Christensen.
And then move onto assistant coaches and NFL coaches, past and present. All the while, measure each candidate against Doeren, who has proven better than anyone that he can sell recruits on coming to Kansas.
While coaching for KU, Kansas City and Dallas were Doeren's main recruiting areas. During that time, he recruited, among others, All-American cornerback Aqib Talib, second-team All-American defensive tackle James McClinton, NFL safety Darrell Stuckey, and linebackers James Holt, Kevin Kane, Joe Mortensen (Oakland, Calif.) and Mike Rivera.
Doeren's Northern Illinois Huskies are scheduled to play against Arkansas State in the GoDaddy.com Bowl on Jan. 8 in Mobile, Ala. Arkansas State's coach Hugh Freeze already has left for Mississippi. Is it too late to change the name to the Interim Head Coach GoDaddy.com Bowl?
Doeren coached Northern Illinois to the MAC championship with a 20-point comeback, defeating Ohio University, 23-20, to improve the Huskies' record to 10-3.
Doeren's area of expertise is defense. At Northern Illinois, he inherited a terrific quarterback in Chandler Harnish, who has 26 touchdown passes and five interceptions and has rushed for 1,382 yards.
A graduate of Bishop Miege and Drake University, where he played football, Doeren turned 40 last Saturday. His first coaching job was as an assistant under Scott Diebold at Shawnee Mission Northwest in 1994, now an assistant coach at Shawnee Mission West. Doeren was a student-teacher at SMNW after finishing his education at Drake.
"He was very knowledgeable, knew how to motivate kids," Diebold said. "Nowadays, at the high school and college level, getting kids to believe in what you're doing is so important. Dave has that ability to sell kids that what they're doing is going to get them to the big-time, get them to win those big games."
Diebold spoke to Doeren's winning personality.
"He's very personable, very genuine," said Diebold, who painted houses with Doeren on the same crew for a couple of summers. "If he tells you something, it's the truth. He's not blowing smoke. I guess that's what I like best about David, he's genuine."
I think it's going to be Doeren, even if most of the rest of the world thinks it's going to be Malzahn. It just makes too much sense for Zenger, who doesn't appear to have an interest in former Tennessee coach Phillip Fulmer, to hire Doeren. The man believes he can win at Kansas and his interest isn't in becoming a head coach, it's in becoming the Kansas head coach.
If Kansas announces Doeren at a Friday press conference and introduces him to the crowd at Saturday's Ohio State basketball game in Allen Fieldhouse, I won't be surprised. If it's anybody else, I'll be surprised.
More like this story on KUsports.com