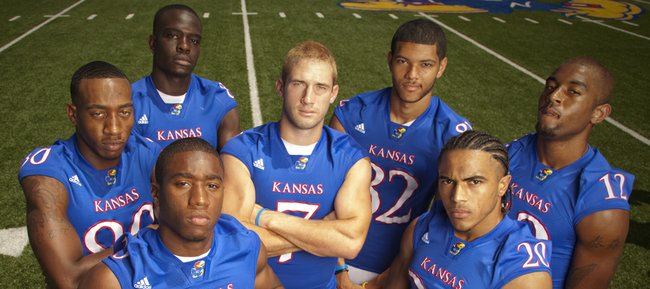 Daymond Patterson, who makes conversation interesting and refreshing with his shoot-from-the-hip approach, laid out a basic goal he has for Kansas University wide receivers this season.
The 5-foot-9, 173-pound senior would like to see Jayhawks receivers find the end zone at a greater rate.
"It's a really big emphasis. We feel like we need to make more big plays to help this team," said Patterson, who led KU receivers with 60 catches for 487 yards and two scores last season. "When we get in the red zone, we need to capitalize and get in the end zone and stop taking threes."
Kansas ranked last in the Big 12 and 112th of 120 Div. I teams in red-zone efficiency last year. The Jayhawks made 33 trips inside the opponent's 20-yard line and came away with 24 scores — 19 touchdowns and five field goals.
"You can have a lot of good drives and have a really good offensive day, but if you're not putting the ball in the end zone, it's still going to be a long day for you," Patterson said.
Of KU's 11 receiving touchdowns last season, five came from tight ends and running backs, meaning wide receivers had just six TD receptions. Of course, some of those struggles could be pinned on inconsistent quarterback play from Jordan Webb and Quinn Mecham. The 37 sacks surrendered by the Jayhawks, tied for most allowed in the Big 12, didn't provide KU receivers much time to get open.
Still, Patterson insists he carries lofty expectations for a wide-receiver corps he said is more competitive, faster and deeper than it was in 2010.
"Guys have been competing like crazy," Patterson said. "That's the biggest difference on the whole football team."
So which receivers give KU the best chance to land in the end zone this fall?
Patterson, a Mesquite, Texas, native, is KU's No. 1 receiver.
The outlook gets fuzzy from there. Aside from Patterson, no returning KU receiver caught more than 10 passes last season. Johnathan Wilson (38 grabs) exhausted his eligibility, while Bradley McDougald (19 catches) moved to safety.
Kansas has options. Those options are just inexperienced.
• Christian Matthews, a 6-1, 186-pound sophomore, is listed atop the depth chart as a starter opposite Patterson. Matthews, a converted quarterback, only caught one pass for 41 yards in 2010, but has displayed big-play potential the last two spring games, leading many to think this could be his breakout season.
"Christian reminds of me of (former KU/current Tampa Bay Buccaneers receiver Dezmon) Briscoe," McDougald said. "He'll go up in traffic and put his body on the line to come down with the ball. He's definitely a jumper. That's what a lot of people don't know about him. He definitely has some bounce to him."
• D.J. Beshears, a 5-9, 185-pound junior, showcased his speed in a variety of ways (kickoff returns, catching passes, taking handoffs) last season. Beshears will still return kicks this season, but won't carry out of the backfield, shifting his focus on offense solely to receiver. Beshears, who caught 10 passes for 69 yards and a score in 2010, is competing for the No. 2 starting spot with Matthews.
"I enjoy playing wide receiver the most," the versatile Beshears said. "Playing outside receiver now has made me see the field more and given me more opportunities to make plays."
• Chris Omigie, a 6-4, 194-pound sophomore, possesses arguably the best size of any KU receiver. Omigie, who caught seven passes for 73 yards last season, is also competing for the starting spot opposite Patterson.
• Kale Pick, a 6-1, 208-pound junior, should get plenty of looks in the middle of the field and in short-yardage, third-down situations. Pick, KU's starting quarterback to open last season, said it has been a smooth transition.
"I picked it up pretty quickly," Pick said. "I was kind of a dual-threat quarterback, so that helps. Growing up, I always messed around and liked to run. Obviously, a pocket passer is not going to help if you can't run that fast. But just the fact that I have some speed and I also have some size really helped with running and blocking as well."
Pick caught three passes for 18 yards last year.
"He's doing the same thing I did (converting from quarterback to receiver)," Matthews said. "He's been in college football longer than I have. He knows. He's played. He can do some big things out there. When you need a big catch or it's third down and you need to get that first down, he'll probably be there to catch it."
• Sophomore Erick McGriff (6-3, 209 pounds) is also looking to make an impact after catching six passes for 61 yards in two games last year.
• Finally, KU has a crop of freshmen eager to make an impact, including red-shirts Ricki Herod, Andrew Turzilli and Brian Maura, and true freshmen JaCorey Shepherd and Marquis Jackson.
"Everybody can make big plays, and we have a lot of talent out there," Matthews said. "We all need to share the wealth. We're a lot faster than usual and from last year. We're a lot younger and a lot fresher. I think it will be a pretty fast team."