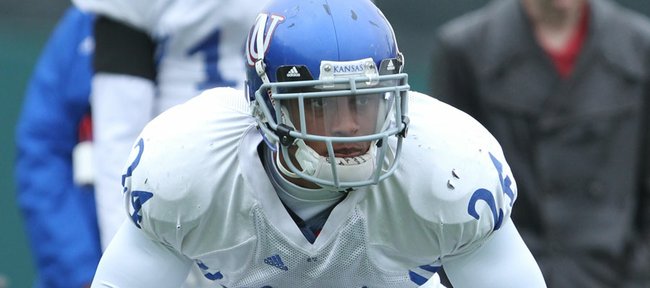 Photo Gallery
KU football practice: April 25, 2011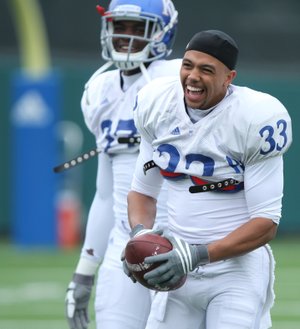 Images of the KU football team's practice on Monday, April 25, 2011.
Passion. Focus. Leadership.
All are common attributes shared by successful college football programs around the country. And each has been more prevalent on the Kansas University practice fields this spring.
Monday, the Jayhawks ran through their 12th practice of the month. With two more to go before Saturday's spring game — 1 p.m. at Memorial Stadium — things are starting to heat up.
"Every day it seems like we're more focused than we were at any time last year," sophomore quarterback Jordan Webb said. "And that definitely comes from that chip on our shoulder. We had a bad year, and we want to focus because we want to improve. The other thing is passion. On Wednesday, we had a little mini-scrimmage, and coach said it was the most passion he'd seen from us. I think that's really gonna show (this season)."
Some of the extra effort comes from the lingering embarrassment of last year's 3-9 season.
"Oh yeah, that definitely has something to do with it," junior cornerback Greg Brown said. "No one wants that again. It's a bad feeling going out there and losing all those games after doing all that preparation in practice."
But another explanation comes from a new initiative taken by the KU coaching staff. This winter, the coaches began grading the performance of their players during workouts.
Players were given a score — 0 through 4 — in several different areas, and after every session the grades were posted.
"We grade them on everything every day," KU coach Turner Gill said. "We talk about their alignment, their assignment, technique and then how to finish."
Though the daily grading system took some getting used to, the players took to it quickly.

"I think it's to bring out more competitiveness," junior wide receiver Kale Pick said. "And I think it brings out more of a competitive nature in our building. I think it's helped out a lot."
The grading system pushed individual players, and Pick said it also helped develop leadership and accountability. Though perfect 4's were hard to come by, Pick said players were applauded when they scored 3's and 4's and challenged when they registered lower.
The extra scrutiny has spilled into spring ball, and the result has been a more polished performance.
"I've been here three-and-a-half, four years now, and people are more locked into practice," Brown said. "There's less chatter on the sidelines and (fewer) people off talking about something else. More people are in a zone and in tune to practice. If they're messing up, you see more emotion coming out. It seems as if they're caring. Everyone's giving their all."
Pick said the team's intensity had not surprised him. He's known a lot of these guys for years, and he knows they all have too much pride to let what happened last season be OK. He also credited familiarity with the coaching staff, now in its second season, as the reason on-the-field leaders have felt comfortable stepping forward.
"We have a lot more leadership this year," Pick said. "The offense was down a little bit at the beginning of practice, and Jordan and I kind of got on the offense and started talking and told 'em, 'Let's go. Pick it up.' And then toward the end, we kind of got the defense a little."
Asked to identify the team's most effective leaders, Pick struggled to name just a couple.
"Jordan, me, Daymond (Patterson), D.J. (Beshears). We've had a lot of guys step up in different situations," he said. "There's a lot of leadership on this team compared to last year."
While the Jayhawks showed improvement in passion, focus and leadership right away this spring, Gill said Monday their good habits continued.
"I thought we had good emotion, great enthusiasm, guys were talking a lot each other, and that is a big difference from what I saw last year," he said. "It tells me that they understand what we're trying to get done."
Bourbon out 6-8 weeks
Running back Brandon Bourbon, a red-shirt freshman from Potosi, Mo., suffered a lower leg injury last week and will be out the next couple of months.
Gill said Monday he was encouraged by the nature of Bourbon's injury and that he expected the 6-foot-1, 210-pound back to be ready to go by the time preseason camp opens in August.
"He'll definitely be ready to go in the fall," Gill said. "It's an unfortunate situation, but he will be fine and ready to go (this) summer, and, no doubt, he'll be ready to go in the fall."
Patterson back, doubtful for spring game
Junior wideout Daymond Patterson made his return to practice Monday after missing the last several days due to a leg injury. Patterson participated in drills with a helmet and pads but wore shorts instead of football pants like his teammates. Gill said last year's leading receiver was still working through his injury.

"He's still a little bit gimpy," Gill said. "We're not gonna push it as far as for him to get him any more reps. Hopefully, Wednesday he'll be able to get a few more reps, but he's not gonna get a whole lot. We know what he can do."
Gill also said Patterson may be held out of Saturday's spring game.
"We'll make that determination on Friday, but I would say (he's) probably not likely (to play)," Gill said.
Agostinho back to D-End
Gill said Monday that Keba Agostinho, a sophomore from Katy, Texas, who opened spring ball as a defensive tackle after playing 12 games at defensive end as a true freshman in 2010, was moving back to defensive end.