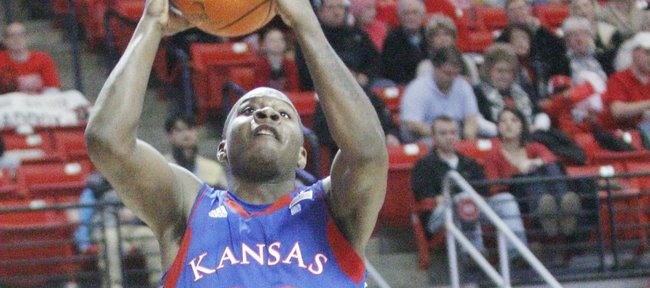 Kansas University freshman guard Josh Selby hasn't declared for the 2011 NBA Draft ... yet.
Tuesday's news that the 6-foot-2 Baltimore native is in Las Vegas working out at Impact Basketball with famed trainer Joe Abunasser, seems to indicate he's leaning heavily in the direction of playing for pay, however.
"He's in Vegas working out. He has no agent. He hasn't declared for the draft. He hasn't done anything except work out," Selby's mom, Maeshon Witherspoon, said Tuesday in a phone interview.
"There's been no decision. He could come back to school. He could leave," she added.
Witherspoon would not say how long Selby would remain in Vegas. Selby remains enrolled in classes at KU.
"Coach (Bill) Self and I agreed on a time limit. When the time limit is up, we'll let you know," Witherspoon said.
Self said on Tuesday night that he is OK with Selby working out this week at Abunasser's training facility.
Impact Basketball's official website refers to Abunasser as "the world's top basketball trainer and trainer to the pros." College players must pay their own way to work out at such a facility.
"Josh went to Las Vegas with our permission to work out a few days to get a feel for where he'd potentially be (in 2011 NBA Draft). It's something we did not discourage. We are fine with it," Self said.
"He has not declared (for draft) nor is he committed to an agent. We said he could have a few days to get a better feel for where he is by working out with some folks in Vegas.
"As far as schoolwork, he is OK there. He has put himself in a position he could afford to miss a few days. He will need to get back by next week," Self added.
At least one national news reporter believes Selby is on his way to the NBA.
Alex Kennedy, NBA reporter for HOOPSWORLD and ESPN1040 contributor, tweeted that "Josh Selby will enter the NBA Draft and hire an agent, according to sources. He's currently working out at Impact Basketball in Las Vegas."
Responding to that report Tuesday morning, Witherspoon said those reports were not true and no decision on Josh's future had been reached. She said she was "sorry for the speculation" and would report news when any decision had been reached.
Underclassmen have until April 24 to declare for the draft. If they don't sign with an agent, they can return to school if they withdraw their name by May 8.
Selby averaged 7.9 points and 2.2 assists per game last season. He played in 26 of KU's 38 games, starting 11. During the Big 12 season, he was slowed by a stress reaction in his right foot.
Twins undecided: KU juniors Marcus and Markieff Morris have yet to announce whether they will enter the draft or return for their senior seasons.
"The twins are back in class, in school. They did go to L.A. (last week to meet with an aspiring agent). The (Morris) family paid for the trip. A decision is close, but has not been made yet," Self said.
KU fourth: KU finished fourth in the final ESPN/USA Today poll, released Tuesday. National champ UConn and runner-up Butler finished 1-2. Those schools were followed by Kentucky, KU, Ohio State, VCU, Duke, North Carolina, Arizona, Florida, San Diego State, Pittsburgh, BYU, Notre Dame, Wisconsin, Texas, Purdue, Syracuse, Florida State, Marquette, Richmond, Louisville, Washington, Kansas State and Utah State.
KU-South Florida on Dec. 3: The date of KU's home nonconference basketball game against South Florida will be Dec. 3, KU officials confirmed on Tuesday. South Florida of the Big East Conference went 10-23 last season.
More like this story on KUsports.com