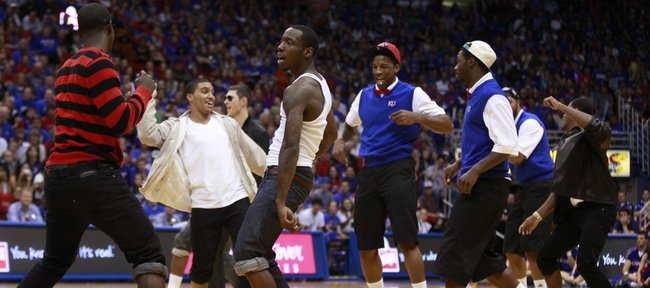 Videos
2010 Late Night in the Phog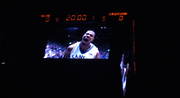 The Kansas men's basketball team performed skits and scrimmaged at the 2010 Late Night in the Phog Friday, Oct. 15, 2010 at Allen Fieldhouse.
Dressed in gold from head to toe, Bill "Vanilla Ice" Self addressed 16,300 frenzied fans on Friday night.
"Yo, Allen Fieldhouse, what's up tonight?" Self, Kansas University's eighth-year basketball coach, bellowed into the microphone.
The answer?
A lot of sensational stuff — of which lasting memories were made — at the 26th-annual Late Night in the Phog.
Self's outfit, in his words "a takeoff on cheap silk," arguably drew the most laughs of a three-hour show that concluded with a scrimmage highlighted by Marcus Morris' 14 points and eight rebounds and Tyshawn Taylor's nine points and two assists.
"I'm glad coach did that," Taylor said of modeling sunglasses, a shiny chain and blue KU cap, worn backwards, of course. "I can talk about that at practice sometime."
On a day Self is in a good mood, most assuredly.
"I think he's an actor. He was funny. He likes to impress the crowd," Marcus Morris said of his coach. "He did what he needed to do."
"He's too funny," noted Markieff Morris, who had eight points and four rebounds in the scrimmage: "He said he was coming as Vanilla Ice. I didn't think he'd come out like that."
Self's job as Vanilla Ice was to introduce KU's mimickers of "New Edition" — that is Thomas Robinson, Elijah Johnson, the Morris twins and Travis Releford.
"Yesterday they asked me if I would do it," Self said. "I said, 'How dumb will I look?' They said it probably would be a good laugh. They (marketing officials) came in and told me what I was doing today.
"The hardest thing I had to do was remember the one group's name," he added of Right Said Fred.
"It took me 30 minutes to memorize that."
The Jayhawk players all took part in dance numbers, one player standing out above all the rest.
"Mario is the best dancer on the team, hands down," Marcus Morris said of senior Mario Little, who had six points in the short scrimmage. "If you challenge him, you are a fool."
The night wasn't only about current Jayhawks, but former Jayhawks.
A rousing video was shown of KU's players in the NBA. Former KU players Nick Collison, Julian Wright, Mario Chalmers and Cole Aldrich had taped segments, which brought down the house.
And surprise emcee of the evening was former KU and NBA power forward Scot Pollard, who showed up wearing a tuxedo, white shirt and bow tie. Too stuffy for the man with a beard that women's coach Bonnie Henrickson said reminded her of Abe Lincoln, Pollard ripped off his coat and ripped apart his shirt, revealing a black fake-tuxedo shirt.
"Somebody picked K-State to win it (league title) ... that's fine. That really is fine," Pollard told the fans as he opened the proceedings. "You know why (it's fine)? Apparently they forgot last year we won the Big 12 by four games."
He reminded everybody in colorful fashion that KU has won six Big 12 titles in a row.
As far as the guys who will try to win No. 7 ... Self thought his Jayhawks played OK in the scrimmage.
"I thought Tyshawn was terrific," Self said. "I thought Elijah (Johnson, seven points, 3-of-3 shooting) was very good. I think Marcus can score and do some different things.
"It was just what you'd think it'd be. It was bad ball. We'll get some things corrected. We haven't talked about defense yet. It doesn't bother me at all or that we don't know how to guard. We'll work on that starting tomorrow," he added of the sub-par defense to be corrected at a 10 a.m. practice, which, unlike Late Night, is closed to the public.
As far as the ballyhooed freshmen, Josh Selby had six points off 3-of-7 shooting, and Royce Woolridge had five points off 2-of-3 shooting with two assists and a steal.
"I thought Royce played well," Self said. "I think Josh played fine. Josh was so nervous. You've got all this hype on a kid and much uncertainty with him (regarding eligibility) with everything going on. He told me beforehand, 'I can't eat. I can't do anything.' That's a big deal to these kids. He was really nervous."
Marcus Morris said he was nervous, but only while dancing — "I just kept looking down at my feet," he said.
But he wasn't nervous during the game and almost won it by heaving a 93-foot one-handed cannon at the goal, which looked at one point like it was on target before sailing just wide of the backboard.
"I thought it was good," he said. "I just don't like me missing layups. I'm still missing layups. I've got to work on that," he added after his 5-of-13 shooting effort.
Popular speech: KU coach Bill Self spoke to the crowd twice, the first time in a role as KU coach, not Vanilla Ice. He thrilled the fans by saying: "Winning a national championship changed all of our lives (in 2008), and of course last year we thought we had a chance. We didn't play well at the end, obviously, and went home sad. 2008 was only two and a half years ago, but it's been too long. We need to cut down the nets again in 2011."
Recruits in attendance: Several recruits were in the house, including three hotly-pursued high school seniors.
The seniors: No. 4-rated LeBryan Nash, 6-7, Dallas Lincoln High; No. 17 Ben McLemore, 6-5, Oak Hill Academy, Mouth of Wilson, Va.; No. 76 Angelo Chol, 6-8, San Diego Hoover High.
Juniors on hand: No. 27 Shaquille Cleare, 6-9, The Village School, Houston; No. 37 Marcus Paige, 6-0, Linn Mar Community School, Marion, Iowa; No. 38 Nino Jackson, 6-2, Ardmore (Okla.) High; No. 97 Zach Peters, 6-9, Prestonwood Christian Academy, Plano, Texas (orally committed to KU).
Sophomores on hand: No. 1 Andrew Harrison, 6-5, Travis High, Fort Bend, Texas; No. 3 Julius Randle, 6-8, Prestonwood Christian Academy, Plano, Texas; No. 10 Aaron Harrison, 6-5, Travis High, Fort Bend, Texas (brother of Andrew); unranked Ishmael Wainright, 6-5, Raytown (Mo.) South High; unranked Travis Jorgenson, 5-10, Rock Bridge High, Columbia, Mo.
This, that: Some fans lined up as early as 9 a.m. on Friday. "That was a great crowd," Self said. "When I got to work this morning, I didn't think there were that many people camping out. I thought, 'This will be the one year we don't have (full house). Sure enough everybody shows up. It was great."