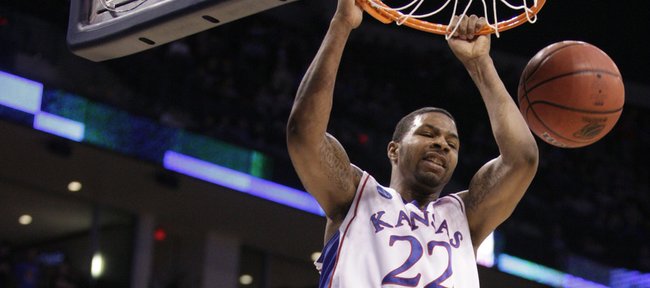 Kansas University junior forward Marcus Morris was named to the five-player preseason All-Big 12 team Thursday as voted by the league's coaches.
Morris was joined by Kansas State's Jacob Pullen and Curtis Kelly, Baylor's LaceDarius Dunn and Colorado's Cory Higgins.
KU's Josh Selby, who was named preseason freshman of the year, was tapped all-league honorable mention, along with junior Tyshawn Taylor.
Morris has been listed on numerous preseason All-America teams entering the 2010-11 season. The 6-foot-9 Philadelphia native is a two-year starter and earned All-Big 12 second-team honors last season when he led the conference in field-goal percentage for league games at 56.1 percent. Morris had five games of 20-plus points in 2009-10 and 14 contests with eight or more rebounds.
A 6-2 Baltimore guard, Selby was rated the No. 1 recruit in the nation by Rivals.com. He averaged 32 points, seven assists, five rebounds and two steals during his senior campaign.
Taylor, a two-year starter from Hoboken, N.J., averaged 7.2 points last season and 9.7 points in 2008-09, his freshman season at KU.
Also on Thursday, K-State's Pullen was named preseason player of the year and Missouri's Ricardo Ratliffe newcomer of the year.
Honorable Mention (listed alphabetically by school): Alec Burks, Colorado; Selby and Taylor, KU; Jamar Samuels, Kansas State; Kim English, Missouri; Jordan Hamilton, Gary Johnson and Cory Joseph, Texas; David Loubeau, Texas A-M; John Roberson and Mike Singletary, Texas Tech.