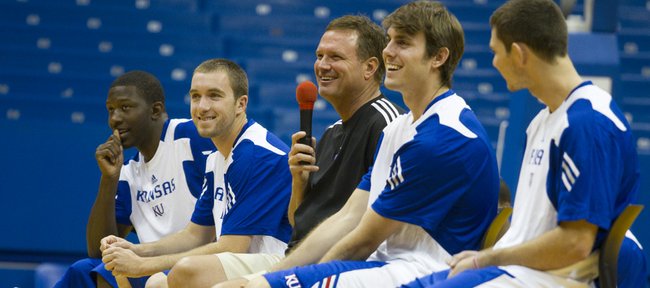 Kansas University basketball coach Bill Self offered a trick question to KU students during a question-and-answer session Sunday at Allen Fieldhouse.
Should Jayhawk fans still have the goal of winning a national championship this season even after losing Cole Aldrich, Sherron Collins and Xavier Henry from last year's team?
"It's kind of a silly question, but I think the answer is, it doesn't make any difference who we have," Self said. "Our expectations don't change."
With the upcoming season approaching — Late Night in the Phog is Friday — Self shared his optimism about this year's squad with approximately 150 KU students that showed up for the event.
"By the time this team gets rolling, I'm telling you, this is going to be a fun team to watch," Self said, "because these guys are fast, and they're athletic."
Self was especially excited about this year's speed.
KU's pace slowed a tick in the last two years, partly to cater to Aldrich, a center who emerged as one of the best defensive shot-blockers in the nation.
"We played fast, but I think this team can play a little bit faster," Self said. "The team that won (the national championship) in '08, I thought, played fast, and certainly, I think if you look at Shady (Darrell Arthur) and Sasha (Kaun) and Darnell (Jackson), we had more bigs that could probably run and do some things than maybe what we've had in the past here recently.
"But this team here is that team. The style of play will mirror the '08 team more so than the last two years' teams, without question, because the pieces fit to do that."
KU, which has won at least a share of the last six Big 12 regular-season championships, was picked second in the Big 12 preseason coaches poll last week. Kansas State, with 10 first-place votes, was first.
Self, who was not allowed to vote for his own team, picked the Wildcats as the top team on his ballot.
"If you're going to rate the teams out there, I think K-State should be, on paper, the best returning team," Self said. "But that excludes us, because I like our chances. I love our team.
"I think this team ... don't be discouraged, because not too many teams go 33-3 and are ranked No. 1 all but three weeks out of the course of a year. That doesn't happen very often. But I really believe this team can, by the end of the day, be as good as last year's team. But we're not going to start there."
Self on Selby
Self said KU was still in a waiting period for news on freshman point guard Josh Selby, who has not yet been cleared by the NCAA to participate in games.
"We've been expecting (a decision) for a while," Self said. "But I saw a couple of cases just in the last week where kids are going through the same thing and decisions were rendered or delayed. He's going through a process. Josh hasn't done anything wrong. But the NCAA has to definitely go through this."
The NCAA continues to look into Selby's academic eligibility and status as an amateur. Though Selby hasn't been cleared to play in games, the NCAA has cleared him to be on scholarship, attend class and practice.
"There are a few elements going on, and we're very respectful of that," Self said. "But we think we presented it in a way that leaves very little doubt, at least from our standpoint, on what should occur.
"Still, we see it from biased eyes, too, so we're just going to have to wait and see and certainly respect the process. But on the flipside, we want to know sooner rather than later."
Reed says to expect dunks
Kansas senior guard Tyrel Reed expects to put his team-best 42-inch vertical jump to good use this season.
The senior guard said that fans should see him dunk this season.
"I think I should," Reed said. "I've had opportunities to, and I haven't before. For sure.
"I need to show that white men can jump," he added with a laugh.
Morningstar talks leadership
Kansas senior guard Brady Morningstar gave an entertaining answer when asked how he planned to lead on this year's team.
"Since I've already graduated, I just make these little kids go to class and watch over them," Morningstar said of his teammates. "If they miss, we all run, so that's the type of leadership role I have."
More like this story on KUsports.com