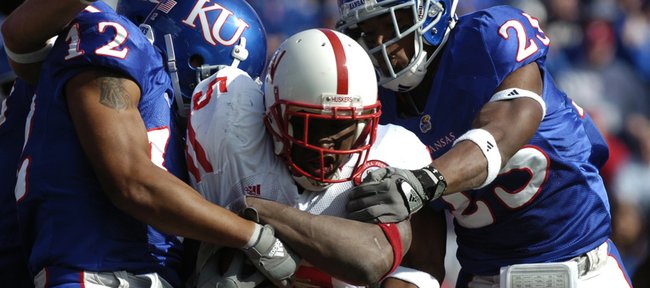 Lincoln, Neb. — For Kansas University football fans, there have been dozens of forgettable games played against Nebraska.
There was a streak of 36 straight losses that stretched from 1969 to 2004. There were home games played in an almost completely red Memorial Stadium. And some of the beatings the Jayhawks suffered on the road in Lincoln, Neb., were as inhumane as any in this history of college football.
But in 2007, one year after the Jayhawks took the Huskers to overtime on their home turf, one game made up for all of that.
Kansas 76, Nebraska 39.
"That was a great feeling," said junior defensive lineman Patrick Dorsey, a red-shirt freshman who was in uniform and on the sideline that November day. "Beating them like that and scoring that many points was great, and it's something we want to try and do again."
With the Jayhawks (3-6 overall and 1-4 in Big 12) and Cornhuskers (8-1, 4-1) set to do battle at 6 tonight in Nebraska, for what will be the final time as members of the same conference — and perhaps the final time ever — several players like Dorsey, who were there the day of that improbable beatdown, took time out to reflect on the thrashing.
"I remember execution," said senior kicker Jacob Branstetter, referring to the effectiveness of KU's offense, not the punishing victory in general. "Although I was a red-shirt and a kicker, I got to watch practice, and I saw the execution, and every time a play got dialed up I was like, 'I remember this play, I remember this play.' And (each play) got executed perfectly. That's the thing I remember the most, just the execution that we had on that day. It was flawless. Just flawless."
Consider just some of the eye-popping feats that were accomplished that day.
In racking up the most points ever surrendered by a Nebraska team, the Jayhawks scored 11 touchdowns and had one missed extra point.
KU quarterback Todd Reesing, a sophomore at the time, tossed a school-record six touchdown passes, and senior tailback Brandon McAnderson tied a school record with four rushing touchdowns.
The Jayhawks recorded 572 yards of total offense, and the defense snagged five turnovers. All of this came in front of a then-record-setting crowd of 51,910.
Said Branstetter of the mostly blue-clad crowd: "That stadium was packed. I couldn't tell who was Kansas and who was Nebraska at times."
Junior tight end Tim Biere, an Omaha, Neb., native and KU commitment at the time, was one of those in attendance. He remembers very little about the game, but plenty about the trip home.
"I had a couple friends who were Nebraska fans come with me," Biere said. "And it was great because I could go back to Omaha and say, 'Hey, did you see the game on Saturday?' It was a good feeling."
That gratification surely was nothing compared with what the Jayhawks felt that day. Though he didn't get in, Dorsey remembers a sideline scene unlike any he's ever been around.
"It was a lot of energy on the sideline. Everybody was into the game and just cheering on the offense and the defense," he said. "I guess you could say it was somewhat of a party. It was just a real team atmosphere."
Added Branstetter, who did not suit up but did have a reserved spot in the stands at the 50-yard line: "I was going nuts in the front row. It was one of the best experiences I've had as being a fan."
For Nebraska, Nov. 3, 2007, certainly was a dark day. Even with all of those previous triumphs over Kansas in the bag — NU leads the all-time series, 90-23-3 — the Huskers never had scored 76 points in a game. The highest the scoreboard ever ticked in their favor came in 1986, when NU hammered KU, 70-0, in Lawrence.
The Jayhawks haven't beaten Nebraska since 2007, losing 45-35 in Lincoln in 2008 and 31-17 at home last year, but that hasn't surprised the few Jayhawks who were around to experience one of the most memorable victories in KU history.

"I'm pretty sure the (Nebraska) guys that were on that team wanted revenge," Dorsey said. "And every time they played us after that they were gunning for us."
More like this story on KUsports.com