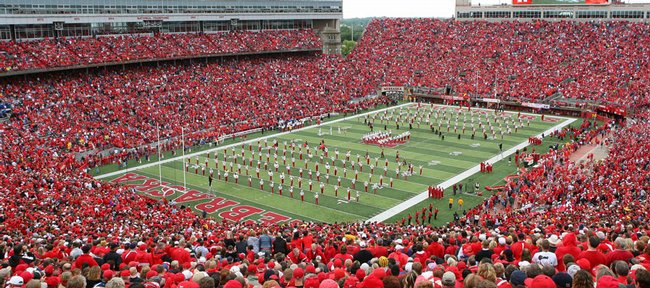 Saturday's meeting between Kansas University and Nebraska — 6 p.m. on pay-per-view — will mark the end of the nation's longest uninterrupted college football series, as the Jayhawks and Cornhuskers will meet on the gridiron for the 105th consecutive season.
The series began in 1906 and has been played every season since but will not be played in 2011 because of Nebraska's decision to leave the Big 12 Conference for the Big Ten.
Saturday's game will be the 116th meeting between KU and Nebraska, good for the third most matchups between two teams in NCAA history. The KU-NU series trails only Minnesota and Wisconsin (119 games) and KU and Missouri (118 games). Nebraska leads the all-time series, 90-23-2.
Though it's possible that the Jayhawks could play at Nebraska in the future, such a game is not expected to show up on the schedule anytime soon. For junior tight end Tim Biere, a Nebraska native, the last trip to Lincoln will be an emotional experience.
"I think it'll be a little bit sad because Lincoln's a great place to play," Biere said. "It's a great stadium and there's a lot of energy up there. It's kind of sad to see the Big 12 breaking up, but they had to do what they had to do, I guess. Hopefully we can send 'em out with a loss."
Jayhawks get wet
KU coach Turner Gill said the Jayhawks practiced outdoors on Thursday evening, pushing through the rainy weather that passed through the area.
Gill said the experience of dealing with something other than ideal playing conditions was a positive.
"We were out there in it, that's for sure," Gill said on his weekly Hawk Talk radio show. "It's good to kind of get some of that going. Here in the last few weeks of the season you're probably gonna have some bad weather."
Bowl hopes still alive
Believing he spoke for most of his teammates, KU linebacker Steven Johnson said earlier this week that the Jayhawks (3-6 overall, 1-4 in Big 12 play) believed they could become bowl eligible by season's end.
In order to do so, KU would have to knock off No. 9 Nebraska, No. 12 Oklahoma State and No. 20 Missouri in consecutive weeks to close the season.
"I still have faith," Johnson said. "I'm still believing that we can get there. I know this season's been rough and it's been really low at times but I still believe and I know our coaching staff still believes and all our players still believe that we can still get the job done. The door's still open. So you can't count us out yet."
Webb the backup
Red-shirt freshman Jordan Webb is available this week and will be the Jayhawks' second-string quarterback, behind Quinn Mecham.
"He's healthy, maybe not quite 100 percent, but he will be able to play if we need to use him," Gill said Thursday night. Webb, KU's starting QB for six weeks, has missed the past two games because of a shoulder injury.