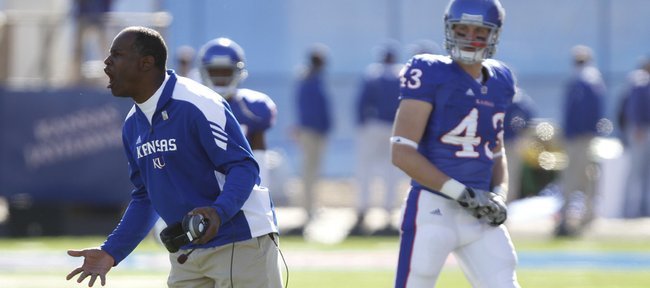 The first question came Sunday night, barely 24 hours after Kansas University football coach Turner Gill and the Jayhawks delivered a record-setting comeback in a victory against Colorado.
Monday morning, during the Big 12 coaches teleconference, Gill was greeted by a half-dozen more questions about the same topic.
Whether he likes it or not, Gill returning to coach against his alma mater this weekend in Lincoln, Neb., is a big deal. And it figures to be quite a conversation piece for the next five days. Gill knows that, but he insists that this week means nothing more to him than any of the nine weeks that have come before it.
"It's not about me, it's about our football team," Gill said. "And we're just excited to have another opportunity to play another game and trying to improve as a football team and get us a win."
That soundbite echoed the same thoughts he shared Sunday night.
"That's probably gonna be the statement of the week," he said. "We're focused on trying to get this football team to win another football game. That's what we're gonna try to do and that's what I'm here to do."
Pressed to elaborate just a little about his expectations and emotions as he prepares to walk into Nebraska's Memorial Stadium as a visitor for the first time, Gill obliged.
"The only difference is it's gonna be on the other sideline," he said. "But outside of that, it's no different than any other game. Once you're in the stadium and once you're focused on your team, your mind (has) so many things going on so all the other things, it really doesn't matter whether you're playing at Nebraska or wherever, it's all the same for me. And I think any coach would say the same thing."
Nebraska coach Bo Pelini did everything but that when he was asked Monday about the potential distraction surrounding Gill's return.
"I'm not playing and he's not playing," Pelini said. "I'm sure he'll have some emotions, coming back to his alma mater and all those things, but that's something that he's gonna have to deal with. At the end of the day, it comes down to the guys that are playing out there on the field."
Gill was a star quarterback at Nebraska in the early 1980s. He led the Cornhuskers to three consecutive Big Eight titles and finished with a 28-2 record in three seasons as a starter. That stretch included a 20-0 mark in conference games. In all, he threw for 3,317 yards and 34 touchdowns and gained 1,317 yards and 18 TDs on the ground. He finished fourth in the Heisman Trophy voting in 1983.
After a brief professional career in the Canadian Football League, Gill also coached at Nebraska. In 1990 he joined Tom Osborne's staff as a graduate assistant. After a one-year stint at SMU, Gill returned to NU in 1992, where he remained as an assistant coach until 2005.
While all of those memories are near and dear to Gill's heart, the first-year KU coach doesn't expect to think much about them this week when his Jayhawks take on the ninth-ranked Cornhuskers at 6 p.m. Saturday.
"Not really," Gill said. "When you're coaching, you're so in tune with what you're trying to get accomplished in the football game that the surroundings don't affect you at all. Maybe more for my family than for myself. But I'll be focused on trying to get our players to play well. We gotta play a great football game to beat Nebraska."
KU-OSU to air on FOX
The KU football team's home finale on Nov. 20 against Oklahoma State will kick off at 11 a.m. and will be televised on FSN, the Big 12 announced Monday.
The game will break a string of three straight games where the Jayhawks were not available on cable television. KU's games against Iowa State and Colorado were not televised, while Saturday's game against Nebraska will only be available on pay-per-view.
Another streak to snap?
Although KU snapped its 11-game conference losing streak with last week's win against Colorado, the Jayhawks still are suffering through a stretch of winless road games. KU has lost seven consecutive games away from Lawrence, dating back to a 34-7 victory against UTEP in 2009.
The last time Kansas won in Lincoln, Neb., was in 1968, when the Jayhawks, ranked sixth in the country, defeated the ninth-ranked Huskers, 23-13. KU finished that season 9-2 overall, 6-1 in Big Eight play and with a heartbreaking, 15-14 loss to Penn State in the Orange Bowl.
Sayers honored by NFL Network
Former KU great Gale Sayers recently was named the 22nd-best player in NFL history by the NFL Network.
NFL Films polled a panel of former players, historians, scouts, team executives and writers to come up with the Top 100 players of all time. They considered players from every era, including current NFL players.
Sayers was a two-time All-American at Kansas in 1963 and 1964. He ran for 2,675 yards and produced 3,917 all-purpose yards in his Jayhawk career.
Sayers played for the Chicago Bears from 1965-71 and was selected to the Pro Bowl four times before being inducted into the Hall of Fame in 1977. At age 34, he was the youngest player ever enshrined.
"Having played four and a half years, 68 ball games, to be number 22 on the list, I'm very honored," Sayers said in a release. "There are so many great players throughout the history of the league, and I'm pleased they rated me so high on the list."
To see the full list, log on to: http://top100.nfl.com/?module=HP_cp2>http://top100.nfl.com/?module=HP_cp2