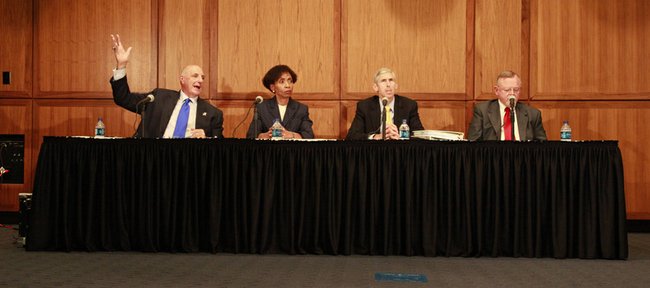 Five employees and a consultant at Kansas University Athletics Inc. improperly used and sold for personal gain nearly 20,000 KU basketball and football tickets during the past five years, costing the department at least $1.03 million in revenue, the university disclosed Wednesday.
And an investigator from a Wichita-based law firm hired to review problems in both KU's ticket office and Williams Educational Fund suspects that the totals will only get worse, once results of federal investigations are revealed.
"It wouldn't surprise me at all," said Jack Focht of Foulston Siefkin, hired by Kansas University four months after athletics officials learned of suspected ticket irregularities from federal investigators late last year. "The federal government has the power of the grand jury subpoena, the FBI, the IRS, everybody else. I had four, five attorneys and an audit team to look at records. …
"I would not be at all surprised if the government figures are much larger."
Focht joined KU Chancellor Bernadette Gray-Little, general counsel Jim Pottorff and Athletics Director Lew Perkins at the Dole Institute on Wednesday to distribute and discuss the results of the university's 60-day investigation.
The investigation, which included work from the BKD accounting firm, concluded that the six individuals schemed to profit from tickets, a scam involving both seats at Memorial Stadium for football and in sold-out Allen Fieldhouse for basketball. Also involved were parking passes, and passes to the Arrowhead Club in Kansas City, Mo.
Former employees implicated
The report identified the six individuals, who no longer work for the department:
• Charlette Blubaugh, former associate athletics director for ticket operations, who "seemed to be directly responsible for creating the climate of an ice cream store where the employees feel free to sample the wares without paying for them." Two employees sold more than $200,000 worth of tickets to brokers with her knowledge and consent, according to the report, and Blubaugh herself is suspected of misappropriating $3,400 of tickets sold following a KU loss in an NCAA tournament.
• Tom Blubaugh, Charlette Blubaugh's husband and a former contracted consultant, who earned $115,000 from Kansas Athletics from August 2007 through January 2010 without Perkins' knowledge — and had access to ticket accounts that appear to have been "parking places" for tickets "not paid for but sold to brokers or others."
• Jason Jeffries, former assistant director for ticket operations, who received 56 tickets that normally would have been made available to Williams Fund donors as part of the "Select A Seat" process, during which fans choose their fieldhouse seats in accordance with their placement on the fund's points list. The seats were sold to a broker in Oklahoma.
• Rodney Jones, former assistant athletics director for the Williams Educational Fund, who was known in the community as "the man to see if you wanted a free ticket to athletic events," handing out tickets to teammates on his softball team. A "large percentage" of tickets sold to brokers, according to federal investigators, came from an account assigned to "Rodney Jones, Donor Development." Face value of such tickets from that account and sold to brokers during the past five years: $197,695 for basketball, and $35,460 for football.
• Ben Kirtland, former associate athletics director of development, who was Jones' boss and admitted selling more tickets to donors than the donors had qualified for, then pocketing the difference and splitting it with Jones.
• Brandon Simmons, former assistant athletics director of sales and marketing, who arranged to sell tickets, with Jeffries, to a broker friend in Oklahoma.
Federal probe ongoing
The investigation did not specifically address tickets for postseason basketball games — including those during KU's three trips to the Final Four — stretching as far back as the 2001-02 season.
But that's what federal investigators are looking into and more, said Carl Cornwell, attorney for the man he describes as the whistleblower for "business as usual" in KU's ticket office.
Officials with the IRS, FBI and the U.S. Attorney's Office all have declined to discuss any pending investigations, or whether they even exist.
But a spokesman for Kansas Attorney General Steve Six confirmed Wednesday that the U.S. Attorney's office had a "current investigation" ongoing. Like Six, Douglas County District Attorney Charles Branson stands ready to help Lanny Welch, the interim U.S. Attorney for Kansas.
"Their office has taken the lead on the review and investigation of the matter," Branson said. "Our office will assist if and when necessary."
The whistleblower, David Freeman, is scheduled to report to prison June 27, but Cornwell is counting on his client's assistance in the tickets case to keep him from having to report.
"It seems that but for David Freeman, it's business as usual at KU," Cornwell said. "He came forward and told what he knew as part of the investigation."
Freeman disclosed details about the tickets situation to federal investigators, as he already was providing information as part of a deal with prosecutors in the Junction City bribery case. In that case, Freeman admitted to paying a Junction City commissioner $19,000 to secure contracts said to be worth $12 million to a construction company in which Freeman was a partner.
As part of those disclosures, Cornwell confirmed, Freeman told authorities that he had partnered with Jones and Roger Morningstar — who is a former KU basketball player, and father of current player Brady Morningstar — to profit personally from the sale of KU tickets to postseason tournaments, including Final Fours in Atlanta and New Orleans.
Freeman, Morningstar and Jones received "hundreds of thousands of dollars" from the sales of such tickets and others, including regular season games at the fieldhouse, Cornwell said.
"These were the seats that are coveted," Cornwell said Wednesday. "These are the seats that people want — great seats."
Morningstar did not return a message left on his cell phone. Jones' attorney did not return a phone call seeking comment.
Al Bohl, who was KU athletics director during the 2002 and 2003 Final Fours, said that Jones — then director of the ticket office — was the man in charge of the physical distribution of tickets at the time.
"I can't recall anyone ever complaining about Rodney, or having any suspicions of him," Bohl said Wednesday. "But when people are doing things they're not supposed to be doing, they don't go around broadcasting it to people. In fact, they befriend people."
In 2004, following Bohl's firing by Chancellor Robert Hemenway, Jones would be promoted to director of the Williams Fund, the donor organization that finances scholarships for student athletes and other athletics operations. Last year, the fund's 4,200 members generated $15 million in revenue.
Kirtland, who was Jones' boss, told the internal investigators that "Jones carries a big wad of cash and likes to flash it around," according to the report. Kirtland estimated that Jones could have earned up to $100,000 a year from selling 100 extra tickets to each game.
Overall, the report said, KU could have lost as much as $3 million in revenue during the past five years.
Changes ahead
During the afternoon event at the Dole Institute, Perkins and Gray-Little pledged to work to prevent such problems from ever surfacing again. Among the safeguards to be implemented:
• Strengthen internal controls for the handling and distribution of tickets to include: clear segregation of duties within the ticket office; a "dual key" system for access to ticket inventory; a tracking system for complimentary tickets that verifies which employee requested that complimentary tickets be distributed and who is receiving those tickets; monthly ticket reconciliation via a Total Ticket Accountability Report, reviewed by Kansas Athletics' chief financial officer; and limiting employee access to the ticket management system to only those modules necessary for each employee's job.
• Hire a full-time forensic auditor to ensure financial integrity in areas including, but not limited to, donations, tickets and travel.
• Establish a hot line for whistleblowers that is independent of Kansas Athletics and located in KU's Office of Internal Audit.
• Enhance transparency during Select-a-Seat events, as was implemented at the recently concluded football seat selection.
"The University of Kansas will take decisive action to restore trust, and we will pursue appropriate legal avenues to recover money from the tickets those individuals diverted," Gray-Little said. But the implications of the scam may go much farther than just tickets.
Perkins, who described the ticket diversions as a "curveball" that he'd missed, said the ticket problems did not represent a violation of NCAA rules.
But the activities of the six individuals had embarrassed the university and had violated the trust of KU fans, he said.
"I think it's important, right off the top, that I accept responsibility," Perkins said. "I don't accept responsibility for anything criminal or any of those things. I accept responsibility because I am athletic director and this happened during my watch."