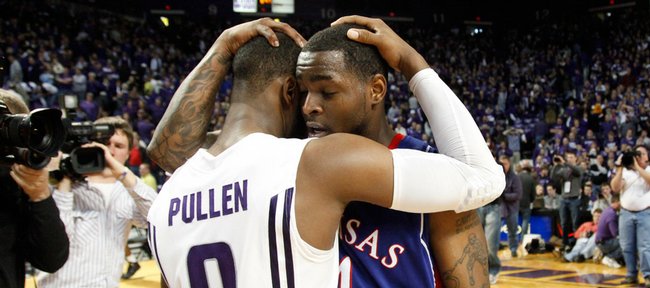 Sherron Collins may need a tissue or two at the conclusion of Wednesday's Sunflower Showdown in Allen Fieldhouse.
"I'm gonna cry so much. I'm gonna cry like a baby," said the 5-foot-11 Kansas University senior point guard from Chicago.
He'll deliver his sure-to-be-emotional Senior Day speech following a 7 p.m. battle between KU and Kansas State — the top two teams in the Big 12 Conference.
"It's another great moment, but it's sad for me to leave this place now. I can see why the other seniors (in past) act the way they do," added Collins, who said he won't prepare a speech in coming days, but instead "talk off the top of my head.
"I don't think I'll talk 30 minutes, but I'll have a lot to talk about."
Collins won't be the only guy from rough and tough inner-city Chicago who'll be an emotional wreck Wednesday.
Anthony Longstreet, who coached Collins at Crane High School, will fly to Lawrence the morning of the game and be sitting in the same section as Collins' brother, mother, uncle and other assorted relatives and friends.
"I wouldn't miss it for the world. I'm so proud of the kid, words can't explain," said Longstreet, who shed a tear watching KU play basketball once before.
"The Davidson game ... the one where coach (Bill) Self kissed the floor ... I was sweating and full of emotion," Longstreet said. He was referring to KU's 59-57 victory over the Stephon Curry-led Wildcats on March 30, 2008, in Detroit, a win that propelled Self and Collins into their first-ever Final Four.
"I guess the Jumbotron had me on there, and Sherron said I was crying," Longstreet added. "I felt good for a number of reasons. I used to hear a lot of stuff from people: 'Sherron's at Kansas. Why did he go to Kansas? Self can't win the big one.' That was vindication for me. I took a lot of hits because he went to Kansas. I won't say names, but a lot of people wanted him at some other places. Then when he won the championship (in 2008), that was it. It was really emotional.
"Now the only better moment (after Senior Day) will be that day in May when he's walking across that stage."
This May, Collins will become the first member of his immediate family to graduate from a university. His degree is in African-American Studies.
"He'll have that degree. I won't have to get on him about it once he finishes college," Longstreet said. "I've got a few guys (from Crane) who didn't do it in four years. Whenever I see them, I greet 'em, 'What about that piece of paper?'
"Sherron's getting his degree ... that is one of the greatest feelings a high school coach could have. When you preach, preach, preach and they go on and get that degree ..."
Longstreet says he believes Collins likely could have achieved his degree at just one place — KU.
"I had a gut feeling something special was going to happen in his life. But what had to happen was I had to get him out of Chicago to Lawrence," Longstreet said. "I felt once he left Chicago, the sky was the limit."
Why did he need to flee the Windy City?
"Basically because of the environment he was around," Longstreet said of the mean streets on the West side. "Not that he got caught up in it, but he had to see a different side of the world. I felt Lawrence was the perfect place in the world for him. The community ... the way they embraced him when he came down for his visit (Late Night in the Phog his senior year) ... for anybody who was there, if you could have seen the look on his face when he was signing autographs, you knew it was where he was going to go."
Indeed, Collins committed to KU over Illinois and Iowa shortly after returning from his visit.
"Coach Self told me of all the point guards in the country (including Ty Lawson and Scottie Reynolds), he felt Sherron was the perfect fit for what he needed. What he needed was toughness, ornery-ness, leadership. He felt if he got Sherron, that was the missing piece for a national championship. Darned if he wasn't right," Longstreet said.
Collins hopes to snare his second national title in three seasons this spring. He also has a goal of becoming the winningest college player of all time. With 124 victories, Collins needs nine to tie Shane Battier and the other Duke seniors in the Class of 2001 (133 wins in four years).
"I will be able to answer that on April 5, the first Monday of April," Longstreet said, asked if Collins will emerge as the top player in Crane High history. Longstreet also coached Will Bynum and Tony Allen at Crane, as well as Kevin Garnett when Longstreet toiled as an assistant at Farragut High.
"I'd hope to say he's the best to come through the entire city of Chicago in terms of winning percentages and victories. He's close to Battier's all-time record and two national championships. To win two would be huge," Longstreet gushed.
The coach stated that it's tough to pick out one player as his all-time favorite.
"It's like asking me, 'Joe Louis or Muhammad Ali?'" Longstreet said. "In terms of city championships, state tournaments (Collins won two city titles at Crane), Elite Eights, NCAA championships, he has to be right there as one of the most accomplished careers.
"He's one of my favorites. From where he started and where he's ending ... I get goosebumps thinking about it," Longstreet added.
He gets goosebumps thinking of one other thing.
"I'll hopefully be be back in Lawrence one day to see his jersey hanging in the rafters," Longstreet said.
Collins is likely a lock to see his jersey hung, considering he's ranked first in all-time victories at KU, seventh in scoring, fourth in three-pointers made, seventh in assists and 20th in steals, with a second national championship still a real possibility.
More like this story on KUsports.com