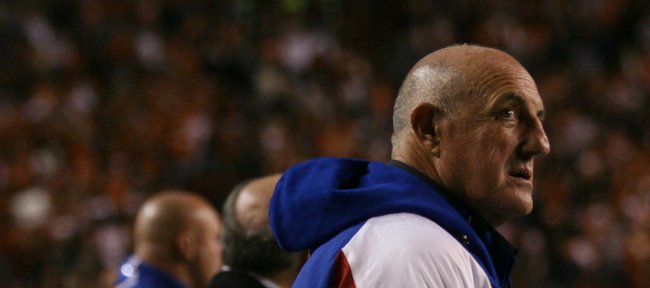 Kansas City, Mo. — With the college athletics landscape seemingly ready to change around them, administrators from the Big 12 Conference assembled Tuesday at the Intercontinental Hotel to discuss the different scenarios associated with conference re-alignment.
About an hour before the first of the annual Big 12 meetings began, Kansas University athletic director Lew Perkins, who has landed in the middle of a messy blackmail scheme and ticket-scalping scandal, offered his thoughts about the revamping of the current conference structure.
"What's important to Kansas? The Big 12," Perkins said. "We're in the perfect place for us to be."
Rumors have run rampant about at least three of the conference's schools being ready to jump ship — Nebraska and Missouri to the Big Ten and Colorado to the Pac-10 — but Perkins said he hoped the Big 12 could find a way to make all of its schools happy, most likely by signing a more lucrative television deal.
If it cannot, and if any one of the schools searching for greener pastures decides to leave, KU could find itself in scramble mode.
"The Big Ten has been in existence for 100 years, the Pac-10 for 100 years," Perkins said. "If you really analyze this, we're teenagers; we're just young kids, and I want to grow old with my siblings."
Walking the line between desire and preparation in a business such as college athletics can be a dangerous proposition. That's why, even with the intention of keeping the Big 12 together, Perkins talked openly about the steps KU has taken to protect itself from a fallout.
For starters, Perkins said his phone lines have been busy.
"I won't go into any details," he said. "But you're not in this business 42 years (without having) discussions with a lot of people. People are calling me, I'm calling them, we're communicating. It's there."
When asked if he would listen if the Big 10 came calling, Perkins added to the drama.
"How do you know they haven't called us?" he asked with a smile.

Perkins has maintained a cautious frame of mind throughout. That comes largely from the experience he had as the AD at Connecticut several years back, when Miami, Boston College and Virginia Tech continually told the Big East they were staying and then bolted for the ACC without looking back.
"I sat in a room eight, nine years ago and heard people say a bunch of different things that ended up not being the case," Perkins said. "If I said I wasn't worried, I'd be a fool. I am worried every day about what's going to happen, not only at Kansas or in the Big 12, but in the Pac-10 and the Big Ten. This is serious, serious, serious stuff. So it's important that we as administrators stay focused."
Big 12 commissioner Dan Beebe was the picture of poise Tuesday afternoon. Following the two-hour meeting of conference officials, Beebe spoke with reporters for 38 minutes, answering every question thrown his way while mixing in an occasional joke.
His responses touched on everything from concern about schools leaving to the general belief that the conference was in position for a nice raise in terms of television revenue in the near future. Each answer shared a common theme that was in line with what Perkins had said earlier.
"I think it's very serious," Beebe said. "And I think it's something that we better be very careful about. If we come to a day where there are four 16-member conferences, then it's going to be a sad day, and it's going to be very difficult to not have more legal issues and interventions. The pressures will be immense for certain programs to be successful, (and) there will be less chances to win conference championships and national championships."
Despite all the doom-and-gloom scenarios presented to him Tuesday, Beebe — a self-described "glass-half-full guy" — seemed confident in his belief that the Big 12 would survive. Asked what he thought the chances of nothing happening to the Big 12 were, Beebe said, "Very high, based on conversations we've had and the feelings that have been expressed about the value of the conference and what it's done for so many in such a short period of time."
Asked seconds later if he believed the conference still would be around a decade from now, Beebe's answer was even more to the point: "Yes."
Added Baylor AD Ian McCaw, this year's chairman of the Big 12 athletic directors: "We're very encouraged by the dialogue, and we have two more days of meetings to go. It was a productive day."