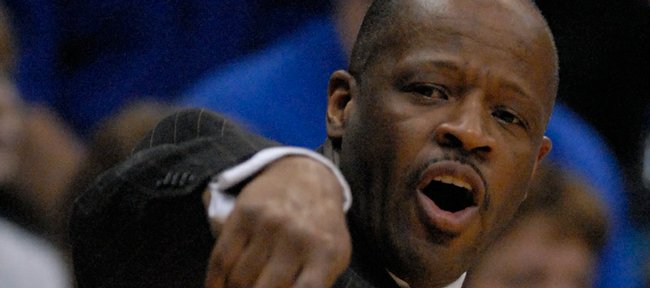 Kansas University basketball fans loved to hate Missouri's Norm Stewart.
They lived to pester Quin Snyder.
But they've been pretty placid — some might say downright respectful — toward fourth-year Tiger basketball coach Mike Anderson, who takes a 1-5 record at MU against KU into today's 8 p.m. Border War battle in Allen Fieldhouse.
"Watching him on TV, he brings a little more class to the Missouri Tigers as far as the rivalry between KU and MU," said former KU guard Jeff Hawkins, assistant basketball coach at Ellis High School in Western Kansas.
"He just wants to win and get the best out of his players, not say, 'We hate them,' like maybe some of their past coaches. I don't know if Missouri hired him out of class, but to get some wins, because he's a great coach, too."
Anderson, who followed Snyder (seven years) and Stewart (32 seasons), comes across as an impeccably dressed, soft-spoken, old-school, 50-year-old Southern gentleman, who was born and raised in Birmingham, Ala.
He's a bit of a contrast to Stewart, who riled the KU faithful by bragging he never spent a dime in the state of Kansas and reportedly yelling at Jayhawk players during some games. And he's different from the slick-haired Snyder, who was mocked by KU fans for getting the Tigers in hot water with the NCAA.
"Although you hated Norm, you respected Norm," said former KU guard Greg Gurley, color analyst for Sunflower Broadband Channel Six.
"Norm was perfect. He had been there so long, he truly had a hatred for Kansas. I know Mike Anderson does, too, but Mike has been there three or four years. It's not the same," Gurley added. "Norm was fun to play against because he was crazy.
"I just remember him yelling at us. It almost seemed he did everything but coach his team. He yelled at refs. He yelled at us. He was so hung up on it (rivalry). You kind of want to look at him and wanted to say, 'Hey, simmer down, dude. Coach your own team.' That was part of it."
'I love the guy'
In contrast, Anderson, who has lost in Allen by 25, 19 and 3 points the past three years, has been pretty placid on the bench.
"I love the guy," said former KU guard Ryan Robertson, regional director of investment management for Goldman-Sachs in St. Louis, who was recruited by Anderson when Anderson was an assistant at Arkansas.
"I've got nothing but good things to say about his program and style of play. I think there is so much mutual respect between coach (Bill) Self and Anderson, they say so many nice things about each other, that it has changed things somewhat. I think coach Anderson is first-class, just like coach Self. He does things the right way and is a likable person and coach," Robertson added.
Former KU guard Jeff Boschee, coach at Barstow High in Kansas City, also follows both KU and MU hoops and their coaches closely.
"I think Mike Anderson is doing a heck of a job," Boschee said. "He's well respected, but I don't think he's changed things too much. I think the fans are way into it more than the players. When I was there, as a player you didn't really know anything about the KU-MU rivalry until you were there a bit. It means the most to the fans. They get the most worked up about it."
'A lot of hatred'
Former KU guard Jerod Haase, who is an assistant coach at North Carolina, agrees that the fans make this rivalry pretty unique.
"KU-MU is a little different. When I talk about KU-MU ... there's a lot of hatred there," Haase said with a laugh. "It goes back a long way, You have to go back to the roots (Civil War). That's where it all starts. It's kind of hard to compare rivalries, but KU-MU is as intense as it gets."
KU players who competed against MU coach Stewart seem to have the most vivid recollections of games. There was an unconfirmed rumor of the urban-legend type that Stewart ordered an MU player to hack at the injured wrist of Haase during a game in Columbia during Haase's senior year.
"Who knows? I doubt it," Haase said, asked if that was possibly true. "I doubt there was anything they could do to hurt it any more. It was already broken."
Stewart 'a good dude'
Former KU forward Mark Randall, now director of community relations with the Denver Nuggets, recalls hostile nights going against the Stewart-led Tigers in Columbia.
"I've met Norm (since Randall graduated), and the time I talked to him, he was total class," Randall said. "The players I know from his era, Mike Sandbothe, Derrick Chievous, Nathan Buntin, all those guys say he's a good dude.
"They swear he's a good coach and person. Quin I would consider a friend of mine. He was a year older than me. We played together at the Olympic Sports Festival and played cards together. He didn't have that arrogance that their fans have," added Randall, indicating MU's student cheering section, The Antlers, "went beyond the respect thing, calling you at 3 in the morning, knocking on your hotel-room door and leaving a little present, yelling things that you can't believe come out of their mouths."
Former KU center Eric Chenowith, who is an assistant coach at Villa Park High in Calif., and also manages his dad's construction company, also has memories of Stewart and Snyder.
"I can just remember the Mizzou band playing in the parking lot at like 4 in the morning the night before we played them in Columbia," Chenowith said. "I also remember playing against coach Snyder and how awkward that was. He recruited me really hard to go to Duke, and one time I took the ball out of bounds in front of him, and he looked at me and was like, 'How did we both end up in Kansas together?' I was pretty close with coach Snyder, and he introduced me to some of my best friends that I still currently have.
"The best memory was the 'Sit Down Norm' chant, and he never sat down the entire game," added Chenowith, who notes, "I still hate Missouri to this day. My best friend, Mike Vogeding, is from St. Louis and wears Mizzou shirts around my house all the time to make me mad. But I'm fine with it because I have a winning record versus Missouri, and they never won anything while I was at KU."
There was a chance last spring that tonight's Border War battle might be directed by a new general on MU's side. After last season, Anderson turned down an offer to coach at Georgia and signed a new seven-year deal at Mizzou.
"I'm glad he stayed. I think he's done a great job there," Gurley said.
"I think it helps the Big 12 as a whole having good coaches in the league. He didn't just bolt for the money. He's going to see it out at Missouri, and you've got to admire that. I do admire the guy."
More like this story on KUsports.com