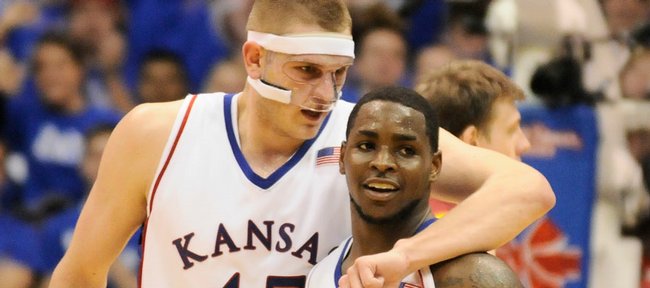 Last weekend was a tough one for Kansas University basketball players Cole Aldrich and Sherron Collins.
Junior center Aldrich's grandmother and senior guard Collins' grandfather died Friday, a day before the Jayhawks' 89-63 victory over Texas Tech.
"We didn't make it public, but Cole lost his grandmother Friday night late, and Sherron lost his grandfather," coach Bill Self revealed Sunday on his weekly TV show. "It was kind of a unique day for those two players. Cole did not know until after the game. Sherron knew right before the game. We had kind of a celebration in one area (after victory), then you've got guys actually dealing with real-life things going on."
Aldrich's grandmother, Ann, had been suffering from lung cancer and had been in hospice care back home in Minnesota. Fewer details are known about Collins' grandfather, who had been ill in Chicago.
"He's an absolute stud," Self said of Aldrich, who had been worried about his grandmother's condition all first semester. "It's such a blessing he had such a good relationship with his grandmother. It's a tough deal."
Self said Sunday he did not know if Collins and Aldrich would return home for memorial services this week.
Aldrich busted a recent slump by scoring 14 points against Tech.
Aldrich grinned when asked if "the real Cole" had returned on the offensive end, evidenced by his 3-of-6 shooting and 8-of-9 free throwing.
"I sure hope so," said Aldrich, who had combined for 13 points in the last two games — a loss at Tennessee and a victory at Nebraska.
"It's been a little frustrating. The guys have been trying to get me the ball. I haven't been delivering. Finally," he added of putting together a double-figure offensive performance.
"It's one of those things they've been getting me the ball down low. I've got to keep finishing like I did. Coach really talked to me about getting back to the free-throw line. Tonight I was able to get back there, and it was good."
Self was encouraged by Aldrich's offensive effort.
"We got the ball to him, and he made some nice plays and some nice moves," Self said. "Still, his man (Darko Cohadarevic, eight points) had some nice moves on him."
Aldrich, who averages 10.8 points and 10.2 rebounds, has 62 blocks — 35 shy of Greg Ostertag's single-season record mark of 97 set in 1993-94.
Aldrich has 190 career blocks, and, depending on how many games the Jayhawks play this season, has a shot at catching four-year player Ostertag, who is the KU career leader with 258.
"I'll try to continue to block shots and play the best defense I can," Aldrich said. "When I get the opportunity to score, I just have to deliver."
Self said, "I think so," when asked if Aldrich, who had battled bronchitis a month, was close to fully healthy.
"I'm not going to put anything on his health. He's had a lot of things on his mind, obviously, with his family-health situation. He doesn't use those as excuses. He's ready to roll."
KU will meet Baylor at 8 p.m. Wednesday in Allen Fieldhouse.
• Self clarified after his weekly press conference Monday that it was Collins' great-grandfather who died.