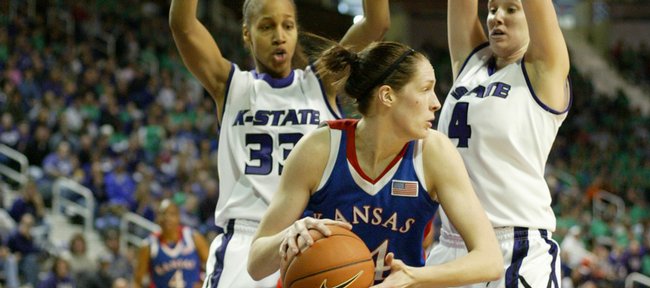 Manhattan — The words wouldn't come, so following her team's abysmal 59-35 loss to rival Kansas State on Saturday at Bramlage Coliseum, Kansas University women's basketball coach Bonnie Henrickson turned her postgame talk over to her players.
"I just said, 'I'm speechless,'" Henrickson said. "'I'm speechless for the first time in my career.'"
Her reaction was certainly understandable.

KU's 35 points tied the program record for the fewest points scored in a single game.
The No. 24 Jayhawks weren't just bad Saturday afternoon. Bad would have been preferable to how they actually performed. This was something else altogether. This was air balls and missed layups, botched assignments and excessive turnovers.
A perfect storm of ineptitude.
Despite heading into halftime trailing by just two, 24-22, the Jayhawks imploded following intermission as KSU opened the second half with a 28-3 run that was somehow more shocking than it sounds.
During that stretch, Kansas (10-4, 0-1 in the Big 12) missed countless shots, managed just three free throws and failed to connect on a field goal until there was 6:29 remaining in the game.
When the run — if it can be considered a run, having stretched approximately three-fourths of the second half — ended, the unranked Wildcats had pushed their lead to 52-25 and thoroughly exposed a Kansas team many figure to be the most talented in Henrickson's six-year tenure in Lawrence.
"Absolutely shocking," Henrickson said, "that we could be that bad."
The team's players seemed equally baffled.
"We know the plays, we know what plays we have to run," said senior guard/forward Danielle McCray, who called the team's second-half performance the worst she's been a part of during her Kansas tenure. "But they took our first option away. Then they took our second option.
"And then we just missed shots."
A lot of them, in fact.
Kansas finished the game shooting a season-low 26.4 percent from the field, connecting on just 14 of 53 shot attempts — including an 0-for-11 performance from three-point range — while McCray and senior center Krysten Boogaard combined for just 23 points on 5-of-23 shooting.
"We just couldn't get it going," guard Sade Morris said.
Bad as the second half might have been, however, the first half didn't exactly go pristinely, either.
Although they managed to gain some momentum late in the half, the Jayhawks opened the game 1-of-15 from the field as McCray, an All-American candidate and Kansas' leading scorer this season, was held scoreless through the game's first 17 minutes.
Perhaps the most troubling aspect of Saturday's loss, meanwhile, was the fact that Kansas State appeared to be particularly vulnerable, struggling to rebound from the loss of three of its top players from last year's team.
But what Henrickson hoped would be an opportunity for her team to prove its tenacity on the road — the Jayhawks dropped to 3-3 away from Allen Fieldhouse this season — instead turned into a laugher, a game coming on the heels of a disappointing upset at the hands of New Mexico State.
And with Oklahoma State and standout Andrea Riley headed to Lawrence on Tuesday, Kansas will have limited time to lick its wounds.
"'Gut-wrenching' would be one that I would say publicly," Henrickson said, asked how she would describe her team's Big 12 season opener. "That's one that my mother wouldn't say, 'Bonnie, watch your mouth.'"
More like this story on KUsports.com