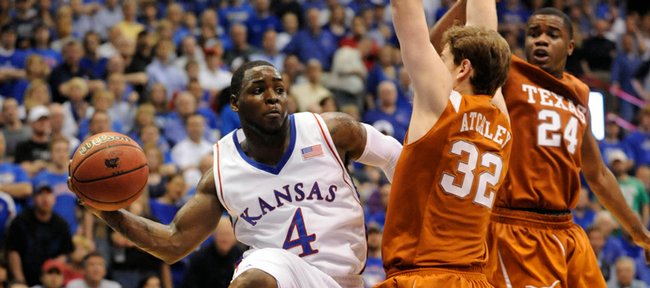 Two of the Big 12 Conference's best big men talk to each other and text from time to time.
In fact, this past preseason, Kansas University's Cole Aldrich and Texas' Dexter Pittman visited good-naturedly about today's much-anticipated KU-UT matchup in Erwin Center.
"Cole said, 'Gosh, we've got to come to you guys this year.' I was like, 'Yeah, you know I'm licking my chops about that one because it's tough to play in you-all's arena," said Pittman, a 6-foot-10, 290-pound senior center from Rosenberg, Texas.
"He was telling me how crazy and nice it is to play in there," Pittman added of Allen Fieldhouse. "Their fans go nuts, too. That little song they do scares me ... the 'Rock Hawk Jayhawk?' When they bust out and say, 'Rock Hawk,' that gets me."
He realizes Texas fans likely will drown out any chants of "Rock Chalk Jayhawk" when the two teams renew their hoops rivalry at 8 tonight in Erwin Center.
"They're going to be hearing 'The Eyes of Texas' when we play," Pittman said with a laugh.
Pittman knows first-hand how much easier it is to defeat KU in Erwin than it is Allen.
Pittman in his UT career is 1-0 versus KU in Austin, 0-2 in Lawrence, 0-1 in Kansas City and 0-1 in Oklahoma City.
"I mean, they are a great team and all. I'm not going to take anything away from them. They have great players," Pittman said of the No. 1-ranked Jayhawks, who enter 22-1 overall and 8-0 in the league. No. 9-ranked Texas, which figures to fall in the polls today after Saturday's loss at Oklahoma, enters 19-4 overall and 5-3 in conference play.
"It depends how you approach them. How you play. How your team is. For us, if we go out and play hard and execute the game plan coach draws up, we can go out and win," Pittman said.
"It's not a cakewalk. It's tough. We know going off past experiences, you have to bring it against them every night."
Aldrich returned the compliment both Pittman's and Texas' way.
"He's good. Oh, he's good, but he's not the only one. They've got a lot of guys to throw at you. They're very talented," Aldrich said, noting Damion James (17.8 ppg, 11.0 rpg) may perhaps be the best of all.
Kansas has won six games and lost four versus Texas in the Bill Self era. That includes an 0-3 mark at Erwin Center, 3-0 mark in Allen Fieldhouse, 1-1 mark in Dallas' American Airlines Center, 1-0 mark in Kansas City's Sprint Center and 1-0 mark in Oklahoma City's Ford Center.
"They haven't beaten us at our place in some good games, and we haven't beaten them down there," Self said. "To be honest, they controlled us handily in two of those three games. They'll be excited to play. We'll go down there excited to play. I assume Rick (Barnes, UT coach) won't have to say anything to his kids, and I won't have to say anything to mine to get them excited to play."
Here's a quick peek at all 10 games in the Self era. KU has won six of the past eight after dropping two in 2003-04, Self's first year at KU.
KU 83, UT 73, March 7, 2009, Allen Fieldhouse: It turned out to be a festive day for Senior Day starters Brennan Bechard and Matt Kleinmann. Sherron Collins scored 21 points and dished seven assists, while Cole Aldrich added 12 points and 10 rebounds. UT's James led all scorers with 26 points.
KU trailed, 44-30, late in the first half.
"Down 14 was a scary moment, but it made the end of the game that much better," Kleinmann said.
KU 84, UT 74, March 16, 2008, Sprint Center: Mario Chalmers scored a career-high 30 points, while Brandon Rush contributed 19 in the Big 12 tournament title game. Chalmers hit eight of 12 threes and Rush six of nine as KU finished with 15 treys, one off a school record.
"That's about as well-played a game as you can get," Self said. "It was one of the best games I've been a part of."
UT 72, KU 69, Feb. 12, 2008, Erwin Center: Texan Darrell Arthur's 22 points weren't enough as KU lost on Big Monday. Connor Atchley went 4-for-4 from three and scored 16 points. A.J. Abrams and James each hit for 14.
Chalmers missed a possible game-tying three at the buzzer.
James, who played three minutes the first half because of foul problems, grabbed 13 rebounds the second half while playing all 20 minutes. Justin Mason had six of his eight boards the second 20 minutes as Texas outrebounded KU, 23-12, after halftime.
"They outmanned us," Self said.
KU 88, UT 84 (OT), March 11, 2007, Ford Center: KU battled back from a 32-10 deficit, the largest deficit in a victory in KU history. Collins scored 20 points, while Rush and Julian Wright each had 19 and Chalmers 17 in the Big 12 tourney title game. Kevin Durant scored 37 for the Longhorns.
"He's the best I've ever seen," Self said of Durant, who now plays for the Oklahoma City Thunder. "It was a fun game to coach and play in. What a great atmosphere."
KU 90, UT 86, March 3, 2007, Allen Fieldhouse: Chalmers scored 21 points, while Wright had 17 points and 13 rebounds in helping KU claim its 50th league title. Durant scored 25 points off 10-of-14 shooting (4-for-5 from three) the first half as UT led, 54-42 at the break.
Durant sprained his ankle and mustered seven points off 3-of-8 shooting the final half, finishing with 32.
"He's one of the best to ever play on that court," Self said.
KU 80, UT 68, March 12, 2006, American Airlines Arena: Chalmers scored 15 points, while Russell Robinson and Jeff Hawkins had 14 and 13 respectively in the Big 12 tourney title game.
KU iced 12 threes while holding UT's LaMarcus Aldridge to five points and five boards.
"To have a team come so far and play well over an extended period of time, it's rewarding," said Self, whose team lost to UT by 25 points in the regular season.
UT 80, KU 55, Feb. 25, 2006, Erwin Center: P.J. Tucker scored 19 and Aldridge 18 on a day Wright potted 18 for KU. It was a humbling defeat, the worst loss of the Self era. And it happened with ESPN's Game Day crew in town.
"It was embarrassing. They manhandled us, outrebounded us, whipped us," Rush said.
KU 90, UT 65, Jan. 29, 2005, Allen Fieldhouse: Wayne Simien scored 27 points off 11-of-17 shooting, while Keith Langford added 17 points. Aaron Miles had 10 points and eight assists as KU thrived in front of ESPN Game Day's announcers. Daniel Gibson scored 19 for Texas.
"Miles did a great job with his on-the-ball defense. His intensity in slowing down Texas diaper dandy Daniel Gibson was a key factor. Miles also hit a couple of early trifectas and did a great job setting up his teammates," ESPN's Dick Vitale wrote after that game.
UT 64, KU 60, March 13, 2004, American Airlines Center: Brandon Mouton scored 18 points, including 10 straight in the second half. Jeff Graves and Keith Langford each had 14 for KU in the Big 12 tournament semifinal.
KU squandered an early 11-point lead on a day Simien was held to nine points off 2-of-8 shooting.
"They did a good job of waiting for us to mess up," KU's Langford said.
UT 82, KU 67, Feb. 23, 2004, Erwin Center: Mouton led the way with 23 points, while Tucker contributed 11 points and eight boards. Langford had 17 and Simien 15 points for KU. It marked KU's fourth straight road loss and fifth loss in 11 games under KU's first-year coach
"The last time I checked, it's still February, and we've still got games to play," Simien said. "We can't give in, and we won't."
Indeed, KU marched to the Elite Eight that season.
More like this story on KUsports.com