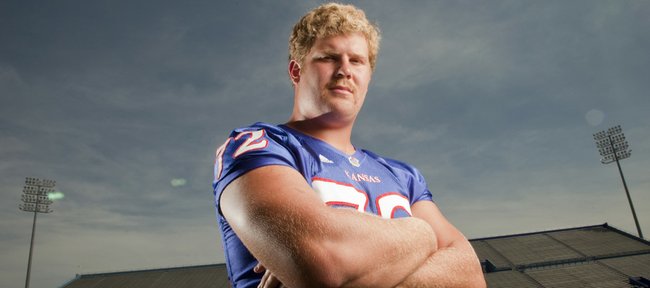 There were times during the past couple of years when Kansas University football junior Tim Biere could have killed Tanner Hawkinson.
Just about every night, Hawkinson, now a third-year sophomore from McPherson, would stroll into the apartment they shared with a bag full of the finest fast food Lawrence had to offer and proceed to chow down.
There were tacos spilling out sacks; big, fat greasy burgers piled on top of bottomless batches of french fries; and pizza that seemed to come in endless supply.
The reason Hawkinson was able to feast on the type of food not often associated with college athletes was because, after arriving on campus as a tight end and taking a brief detour on the defensive line, Hawkinson was moved by the former KU coaching staff to the offensive line. In order for him to survive, he had to bulk up.
Biere, a tight end, knew that. But that didn't mean it always seemed fair.
"That spring (of 2009), he was just eating all the time," Biere said. "He would come home with fast food and just be destroying it. I was always like, 'I wish I could eat like you.'"
A little more than a year later, after spending the 2009 season at left tackle and more than holding his own, Hawkinson enters his second year on the O-line as one of the hottest commodities in the Big 12.
A preseason All-Big 12 first-team selection by the media, Hawkinson finally feels comfortable at the position and appears poised for another strong season. That's not to say, however, that there aren't moments when he still scratches his head and wonders how all of this came to be.
"It's pretty surprising, the stuff that can happen," Hawkinson said. "I just wanted to come in and try to help my team, and I didn't really expect any of this stuff to happen. They told me there was an opportunity to get on the field and get some playing time, and I just kind of took it and figured I'd do my best. I definitely wasn't expecting this at all."
Out of high school, Hawkinson was a highly recruited tight end with soft hands and exceptional athletic ability. His future, he assumed, was in catching passes, not protecting the guys who throw them.
"You'd be surprised at how many former tight ends end up playing on the offensive line," current KU line coach J.B. Grimes said. "You're always looking for athleticism. And you're looking for guys that can move their feet and can run. Tanner's a heck of an athlete. I tell people I've got one good eye, and I've got one bad eye, and I keep my good eye on those tight ends."
Before finding a home on the O-Line, Hawkinson briefly was switched to the defensive line. At the time, he was OK with the move. The one thing he knew for sure, though, was that he did not want any more position changes in his future.
"It's been kind of crazy just to see the transformation," Biere said. "He came in with me as a tight end, and he was a really good tight end. After the switch, he just kept saying, 'I'm not playing offensive line, I'm not playing offensive line.' He didn't want to do it, and then he finally gave in."
From there, things unfolded rapidly. Although Hawkinson admits to playing most of last season with his head swirling, you'd never know it from looking at his numbers. He started all 12 games at left tackle, was one of the team's most reliable linemen and racked up nearly a dozen different national postseason honors. In addition to helping him settle in as a full-fledged offensive lineman, 2009 allowed Hawkinson to believe the things he was hearing about his potential to play in the NFL.
"As the season went on, he played really well," Biere said. "I think he saw all these awards coming in — freshman All-American and things like that — and I think he thought, 'I could play on Sundays. This could be my thing.'
"I think it'll be way easier for him this year. (In 2008) he didn't even travel with the team and so last year he was always asking, 'What do we have to do, what's this going to be like?' I remember after that first game, he realized why he was playing football and he just fell in love with it. Last year, people had to kind of help him through the offense, and this year he's the one helping people."
With the transition behind him, Hawkinson has turned his attention to fine-tuning his skills. That has meant extra time in the film room with seniors Brad Thorson and Sal Capra, extra attention to detail when watching others play on television and plenty of self-evaluation.
"It took some time for me to get used to the offensive line," Hawkinson said. "Now that I'm comfortable with it and comfortable with the new offense and the new staff, I can start critiquing myself as far as, 'Oh, I need to take a better step here or a better step there,' and those kinds of things. I kind of catch myself watching the offensive line more than I used to, just kind of watching how those guys do their stuff. Obviously, you have the same techniques, but you kind of have your own style."
Now that he weighs around 295 pounds — he came to KU at 243 — the heavy eating has subsided for the 6-foot-6 Hawkinson. But the mentality so often associated with offensive linemen is just beginning to pick up steam.
"I think once you put on the weight, you become an O-lineman, and there's no going back," Biere said. "You take on that mind-set, the O-lineman mind-set, and Tanner definitely has that."
Added KU quarterback Kale Pick: "I definitely think he's transferred into a lineman."