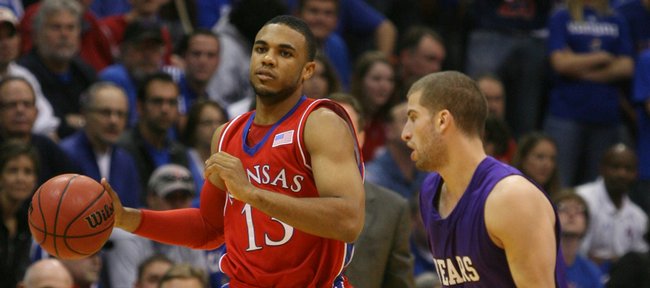 Former Kansas University guard C.J. Henry will be playing basketball at NAIA school Southern Nazarene University this season, Crimson Storm coach Adam Bohac said Thursday night.
The 6-foot-4 Henry will be eligible to play immediately, since he is dropping from NCAA Div. I to the NAIA level. Southern Nazarene is located in Bethany, Okla.
"We are excited C.J. has decided to join us. We expect C.J. to have an immediate impact on our team," Bohac said. "He brings a wealth of experience with different teams and organizations that have won championships, going back to the Yankees (where he played pro baseball) and Memphis (his first college).
"We are excited to bring that experience here. He's a mature kid of high character. We look forward to him joining our program."
Henry averaged 3.1 points in 13 games for KU last season. It's believed his reason for transferring is to obtain significant playing time as a 24-year-old junior.
"We expect and hope that C.J. can really impact the game offensively for us. I think he is a really good shooter and will be able to score the ball for us this year," said Bohac, who finalized the transfer process with Henry on Thursday morning.
Henry has said his goal is to play in the NBA.
"I think the way the game of basketball has evolved, if you can play, they will find you regardless of who you are and where you play," Bohac said. "Our (Sooner Athletic) conference is full of Div. I transfers and Div. I talents that are playing at this level now. I saw today the Taylor King kid (who played at Duke and Villanova) is now at Concordia in California," he added of that NAIA school.
Bohac is in his third season at the Oklahoma school, which went 27-8 last year and qualified for the NAIA Tournament. Henry hails from Oklahoma City.
"I've been familiar with C.J.'s father (Carl) and a little bit with his brother, Xavier," Bohac said of the former KU players. "I at least was familiar with C.J. and his story. I think being from Oklahoma City, he will provide an added shot of enthusiasm (for fan base)."
More like this story on KUsports.com