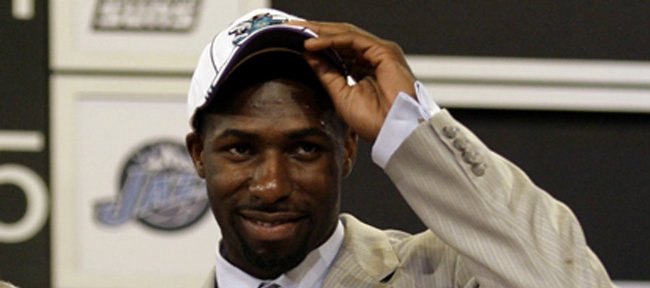 Former Kansas University basketball forward Julian Wright, who posted on his Twitter account last February that he was "jealous of all those players that managed to get traded (before the deadline)," need not be envious of his peers any longer.
The 6-foot-8, 225-pounder — he played his first three seasons in the NBA with the New Orleans Hornets — was shipped to the Toronto Raptors on Wednesday for guard Marco Belinelli.
The No. 13 overall pick in the 2007 NBA Draft has averaged 4.0 points and 2.3 rebounds in 179 career games. Belinelli, acquired from Golden State last summer, averaged 7.1 points, 1.4 rebounds and 1.3 assists in 66 games with the Raptors.
"This move should help balance the roster and alleviate some of the redundancy we have with our guards," Raptors president and general manager Bryan Colangelo said. "Julian is another young athletic player that will add depth at the small forward position."
Wright, 23, appeared in a career-best 68 games with 14 starts last season, shooting 50 percent (116-232) from the field. He started 14 of 16 games in March of 2009, averaging 8.1 points, 4.6 rebounds and 23.6 minutes.
Wright — he played two years at KU, earning first-team all-Big 12 honors his sophomore season after averaging 12.0 points and 7.8 rebounds — caused quite a stir in New Orleans with his trade request on Twitter last season.
Here were his series of Tweets as reported by the New Orleans Times Picayune:
"Off to practice, thinking bout how I'm jealous of all these players that managed to get traded before Thursday..."
"Just saying, might need a change of scenery, of course I love New Orleans! Bought a house here."
"Not bout blaming anyone. Just thinkin bout the C. Fryes, S. Browns, and the G. Wallaces, of the league who just needed a change of scenery."
He posted an apology later the same day, stating: "I apologize for venting and making anybody uncomfortable. I just worked hard these past two summers so that's what I'll do this summer!"
He added to the Times Picayune the following day: "I was venting. I was a little frustrated. But you just have to catch yourself. When you're frustrated, you always have to be responsible and be mature. That was just a slight break in that maturity."
New Orleans management didn't get worked up over Wright's Tweets, and Wright later said he'd have to work hard this offseason to earn more minutes with the Hornets.
However, the Times Picayune said he declined to play for the Hornets' summer league team. The paper said Wright "likely would have struggled to get playing time behind rookie Quincy Pondexter."
Wright will make $2,858,057 in 2010-11 and has a $3,952,653 qualifying offer for the 2011-12 season.
ISU arena flooded: The basketball court at Iowa State's Hilton Coliseum was submerged in several feet of standing water Wednesday as a result of severe flooding in Ames, Iowa.
ISU senior associate athletic director David Harris told the Ames Tribune that water was in lower bowl of Hilton Coliseum, but not up to the seats. Hilton Coliseum was also damaged by 1993 floods.
ISU football players helped protect the Jacobson Athletic Building by sandbagging the area, which was flooded after Squaw Creek overflowed its banks. The Cyclone football team started sandbagging at 8:15 a.m. Wednesday. Most of the team was already at the facility working out.
"It was unbelievable," defensive tackle Jake McDonough told the Tribune. "We were running all over the place trying to protect the building. I've never seen anything like this."
ISU football coach Paul Rhoads said he was proud of the way his players responded to the flood. The building did not take in any water.
"I have a very mature group of young men," Rhoads told the Tribune. "This morning they jumped on their responsibilities of putting objects in secure places and then getting the building sandbagged."
More like this story on KUsports.com