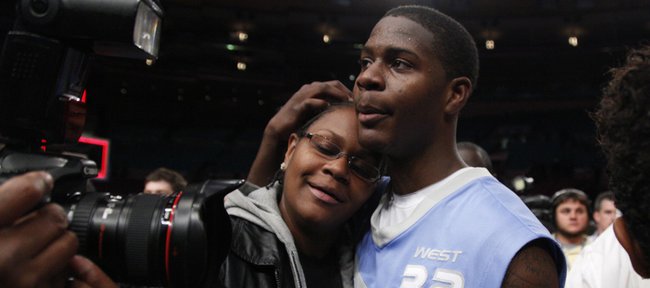 New York — Josh Selby committed to Kansas University on Saturday night at Madison Square Garden in front of hundreds of thousands of fans on ESPN2. He's the country's fourth-ranked player according to Rivals.com, and that ranking might move up. Most fans know him as the 6-foot-3 guard with mad hops and nearly unlimited shooting range.
His mother, Maeshon Witherspoon, says there's something much more impressive about Selby than his basketball skills, though.
To make it to this point — in a single-parent household and through a tough Baltimore neighborhood — he never let himself get lost along the way.
"He's never given up," Witherspoon said. "I would say that's the thing I'm most proud of."
'Rough times'
Selby doesn't talk much about his childhood, simply labeling it as "rough times."
Witherspoon, meanwhile, admitted her son has seen more bad things in west Baltimore than even she has.
When Selby was 5, for instance, Witherspoon took him to his grandmother's house on New Year's Eve so that she could go to her job at McDonald's.
The neighborhood that night was filled with gunfire, as people randomly shot off bullets in the street to celebrate the holiday. Witherspoon received a call from her son. He was frightened, talking about the sounds he had heard outside the windows.
Witherspoon didn't hesitate.
"I'm on my way," she told him.
Though she had additional cleaning work still to do, she left her workplace to pick up Selby.
Witherspoon and Selby had an even tougher experience when Selby was in middle school.
Witherspoon, who was working on buying a house, quit her job as an assistant manager at Boston Market to take another position.
When that job fell through, Witherspoon and a roommate fell behind on rent. They received an eviction notice shortly after.
Selby and Witherspoon were homeless.
The two moved in with some of Witherspoon's friends. Selby slept in the same bed as two boys, while Witherspoon shared a bed with two other people in the living room.
"You feel like a failure as a parent," Witherspoon said. "As a parent, you look around, watching your kid in bed with two other kids. To me, that wasn't acceptable. Not as a parent."
Worse for Witherspoon was that she was seeing a difference in Josh's attitude. She started to see the signs of him becoming what she calls a "street kid."
"He wanted to be bad," Witherspoon said. "He was thinking about ditching school and talking back and skipping curfew, because that's a product of where we were living at."
Witherspoon knew, at about that age, many kids started to sell drugs. It was only natural for middle-school boys to want the clothes and new shoes that their friends had.
Though Selby had shelter, food and clothing, he didn't have those luxury items.
"I was worried," Witherspoon said, "that I was going to lose my son."
Still, Selby never gave into the pressures. And after two weeks, Witherspoon said she made one of the best decisions of her life.
Before, Witherspoon had been too embarrassed to go home to her mother. Witherspoon had pride, and she didn't want to be labeled as the kind of person who moved back in to her old home.
"It wasn't about me anymore," Witherspoon said. "And that's what I had to do. I had to take me out of the equation and make it about my son."
Witherspoon's mother, Pat, gladly opened her home to Josh and his mother.
Witherspoon sensed a positive change in Selby.
Selby switched middle schools, transferring away from a rough neighborhood to a school with the positive influence of his cousins, Will and Antonio Barton. Suddenly, he wasn't as alone. He also was having more fun.
Selby still had to push on when other events brought him down.
He was present when one of his friends was pistol whipped, breaking the friend's jaw to the point where he had to have his mouth wired shut.
Also, when Selby was 15, his cousin, Shelton Turner, was shot while sitting in his car.
Selby made it to the hospital in time to see Turner, who was in poor condition with brain swelling.
On April 8, 2006, Turner died. It was one of a string of difficult family deaths, which included Selby's grandmother, great grandmother, grandfather and uncle.
Mother knows best
So who was it that helped Selby to keep going?
First and foremost, it was Witherspoon.
"Everything I know about the game, she taught me," Selby said. "She was probably better than me. I was athletic. That was the only difference."
Witherspoon was a good basketball player in her own right, becoming the first freshman to start on varsity at Overlea High School in Baltimore. She later received a basketball scholarship offer at Coppin State.
When Selby was in seventh grade, Witherspoon recognized that her son's left hand was weak on the basketball court. So she took him to the gym, made him put his right hand in the back of his shorts, then watched as he bounced the basketball against the wall with his left hand.
Selby would start to whine to his mom when his arm started to get tired.
"I don't care," Witherspoon would say. "You need to use the left hand."
Selby also has a close bond with his uncle Mike Witherspoon, who has Down syndrome. Already, Mike has had two open-heart surgeries.
Selby treats Mike like his own brother, oftentimes playfully arguing with him about television or video games.
When talking about Mike, Selby calls him "mentally challenged." Those words sound better than others he's heard.
Selby even has Mike's initials, "M.W." tattooed on his calf.
"Having him around me, that just motivates me more because that could have been any one of us," Selby said. "We could have been like that. He could have had our talents. So I am just feeling blessed."
The next step
Perhaps the signs were there for Witherspoon.
Selby did score 64 points during a game as a 10-year-old. That included 48 points in the first half.
Still, Witherspoon believes everything that has happened in the last year or so is still a bit surreal.
She is taken back when she sees Facebook groups that begged her son, a Lake Clifton High School phenom, to choose a certain school. Or when she sees her son signing autographs for fans.
"I'm in awe, because it's my son," Witherspoon said. "The thing they really don't see is how hard he works."
She still wants to see how he competes at the next level. She believes the true skills of a player show up when they play bigger and stronger players at the collegiate level.
"That's why I don't believe in the one-and-done rule," Witherspoon said, "because it's so hard to judge that type of talent when you're playing against high school kids."
With his announcement Saturday, Selby will test his skills against college basketball's best with the Jayhawks next season.
Witherspoon said she watched KU coach Bill Self closely while on her visit. Sitting behind the bench, she liked the way the coach disciplined his players, oftentimes covering his mouth to hide his words from public view.
Still, she saw a coach pushing his players. She believes her son needs that.
"When you throw a challenge at him," Witherspoon said, snapping her fingers, "he turns it on. I want him to be challenged."
She also wants him to not feel any more pressure than he has to.
Selby has already joked with others, saying if he signs a pro contract, he's going to buy his mom a pink Mini Cooper and an apartment.
Witherspoon has told her son that he doesn't have to do that.
"Josh has already given me any and everything I could ever ask for with him getting a college scholarship," Witherspoon said. "I'm good. He has the college offers. Now, I need a diploma.
"He's done half of what I've asked him to do."