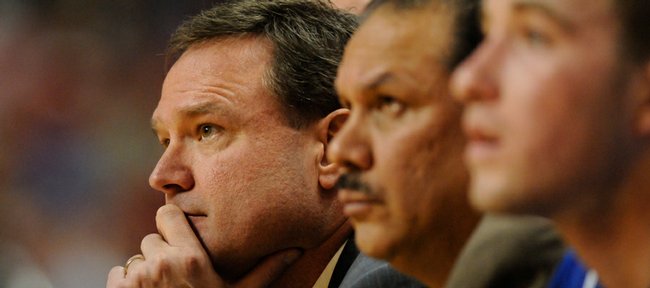 Videos
Altercation between KU athletes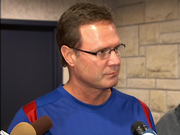 A fight between KU football and basketball players broke out Tuesday night, and was reignited Wednesday morning.
Kansas University basketball coach Bill Self, who was out recruiting Tuesday night and Wednesday morning, hustled back to Lawrence early Wednesday night and promptly called a team meeting.
Topic of discussion was NOT the start of Boot Camp conditioning next week, but a pair of incidents pitting some of his basketball players against some of KU's football players.
"It's not to just discuss this situation, but to put preventive measures in place to not let this happen again," Self told the Journal-World.
He declined to reveal those measures.
He did, however, express displeasure with his squad for a pair of scraps with the football team. Tuesday night's fight outside Burge Union resulted in sophomore Tyshawn Taylor dislocating his left thumb.
Taylor admitted on his Facebook page he threw a punch causing him to dislocate a finger. He also had some posts on the social networking site that would be considered crude.
"I'm disappointed in any of our guys that were involved regardless of fault," Self said. "In Tyshawn's case, I feel he was careless on Facebook, as he has been posting on Facebook different song lyrics almost daily which does not portray him in the light I feel he deserves to be portrayed."
Taylor will wear a splint on his thumb for a week to 10 days, then should be able to resume ballhandling and shooting in two to three weeks, Self said.
"They think he'll have full contact in the three-to-four week range," Self said.
Self said he believed his players could and will co-exist with the football players.
"Of course I'm disappointed in our players with any involvement in this situation," Self said. "We've always supported all the programs on campus. I feel some of our players' better friends are football players. I'm not pointing fingers or fault. From my perspective, all parties are dead wrong. Being involved in a situation like this showed poor judgment with selfish motives. Allowing them to put personal feelings ahead of all else will not be tolerated by either program.
"Nobody was seriously injured. Obviously if a situation like this was escalated that might not be the case," Self said.
As of Wednesday night, there were no arrests made or charges filed.
Self said he would "deal with the matter in house and hope we don't have to have another discussion like this ever again."
Asked if he'd suspend anybody, he said: "In a situation like this, there are a lot of versions to what transpired. I'd like to know the absolute truth. I'm not saying there won't be (suspensions). At this point in time, I don't have enough information to say that."
KU's basketball players were not made available for comment on Wednesday. KSHB-TV 41 managed to corral senior Mario Little in a parking lot outside Parrott Athletic Center.
"We embarrassed ourselves," Little said of the hoops and football teams.
More like this story on KUsports.com