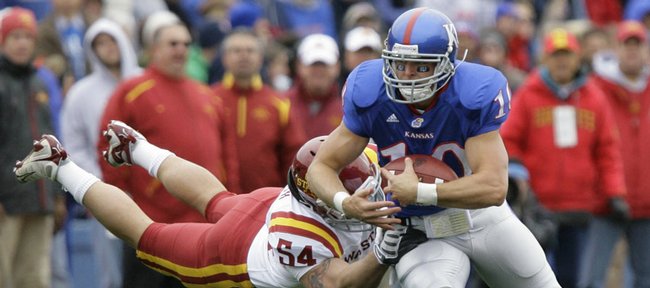 Fans of the Kansas University football team have come out in droves this season — setting a single-game attendance record in the Jayhawks' season-opener against Northern Colorado and exceeding the 50,000 mark in both of the team's other non-conference home games.
What they haven't done, however, is keep their backsides in their seats for the duration of the game.
Through five games this season, the Jayhawks are unbeaten and ranked No. 17 nationally heading into Saturday's 6 p.m. road matchup with Colorado, but on multiple occasions — including last Saturday's shootout against Iowa State, in which the Jayhawks led just 20-12 at halftime and the game wasn't decided until the final minute — a mass exodus has occurred, sometimes by the start of the second half.
"I've done all I can to get them here," said KU coach Mark Mangino, who declined to discuss the issue further Wednesday but said it might be something he would address in the offseason. "Somebody else is going to have to do something else to keep them here."
Players, meanwhile, seemed to have no problem this week voicing their displeasure with the early exits, which seem especially abundant in the stadium's student section.
"I'm not going to sit here and say I'm not disappointed," said quarterback Todd Reesing, who threw for a career-high 442 yards against the Cyclones. "Because it is disappointing when you're in a conference game and you're a top 20 team and you're in a close game where you could really use some fan support and half the student section leaves."
"All the guys notice that on the team," he added. "It's hard not to notice."
Heading into the season, Mangino made a point to forge a rambunctious gameday environment, urging fans during this summer's fan appreciation day to help turn Memorial Stadium into a "hostile" environment for opposing teams.
And through halftime of four home games this season, that's exactly what they've done.
It's fans' late-game tendencies that have left players shaking their heads.
"The fan base at KU, we're known for having a loud atmosphere — especially at basketball games," said senior receiver Kerry Meier, who has been in Lawrence long enough to remember the years when the football team had trouble filling seats at any point during a game. "But we're trying to switch that to a football atmosphere, trying to get that going, and to come out and not see them there (after halftime), it's kind of upsetting."
In the end, Meier said, there's not much players can do besides put the best product possible onto the field and hope for the best.

"As long as we're doing good things and making exciting plays, I think the fans will be there," he said. "But it's their choice if they want to leave. We got to keep on playing ball."
Quarterback Club holds meeting
The KU Quarterback Club will host its weekly meeting at 5 p.m. today at Buffalo Wild Wings, 1012 Massachusetts Street.
The week's guest speaker will be Lieutenant Colonel (Ret.) Jeff Long, a former KU baseball and football letterman. The meeting will be followed by "Hawk Talk with Mark Mangino" at 6 p.m.
More like this story on KUsports.com