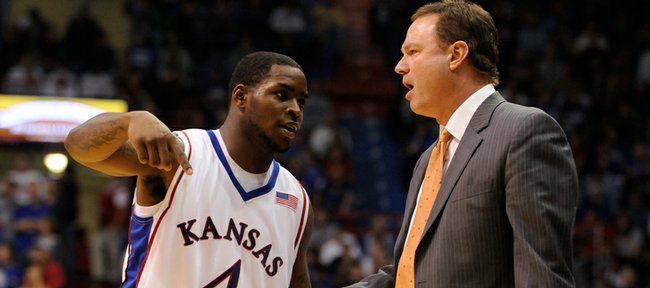 Kansas University's basketball team, a popular preseason pick to win the 2010 NCAA basketball championship, to nobody's surprise topped the Big 12 coaches poll.
The Jayhawks on Wednesday received all possible first-place votes in polling for the 2009-10 season. Coaches are not allowed to vote for their own teams. Texas received the other first place vote — one delivered by KU's Bill Self.
"We've had some really good teams and based on who we return and the prospects we've brought in, I can certainly see why people would pick us high," Self said Wednesday. "We've won the league five years in a row. This may be the most difficult (challenge) because the league is so good."
KU totaled 121 points, followed by Texas (111), Oklahoma (95), Kansas State (92), Texas A&M; (74), Oklahoma State (69), Missouri (66), Iowa State (57), Texas Tech (34), Baylor (33), Nebraska (27) and Colorado (13).
"Texas is in the top three preseason in the country, no question," Self said. "If they (coaches) picked us one, I'd think it was unanimous they picked them (Longhorns) two. They are loaded."
Self was asked if it ever "gets old" being so highly respected by the league coaches. KU was picked third last season, but first the two seasons before that.
"Winning — rather than being picked first — never grows old," he said.
Recruiting
Brad Beal will not be attending Friday's KU's Late Night in the Phog, Beal's high school coach tells Rivals.com. Beal, a junior shooting guard from Chaminade High in St. Louis, will be traveling to Alabama State to watch his brother, Bruce, play football. Beal attended last year's Late Night. Prep seniors to attend Late Night: Harrison Barnes, 6-7, Ames (Iowa) High; Josh Selby, 6-2, Lake Clifton High, Baltimore; Doron Lamb, 6-4, Oak Hill Academy, Mouth of Wilson, Va.; and Royce Woolridge, 6-3, Sunnyslope High, Phoenix. Woolridge has orally committed to KU.
The complete Big 12 preseason poll is below.
Big 12 preseason poll

1. Kansas (11) 121

Texas (1) 111


Oklahoma 95


Kansas State 92


Texas A&M; 74


Oklahoma State 69


Missouri 66


Iowa State 57


Texas Tech 34


Baylor 33


Nebraska 27


Colorado 13

(First-place votes in parentheses)