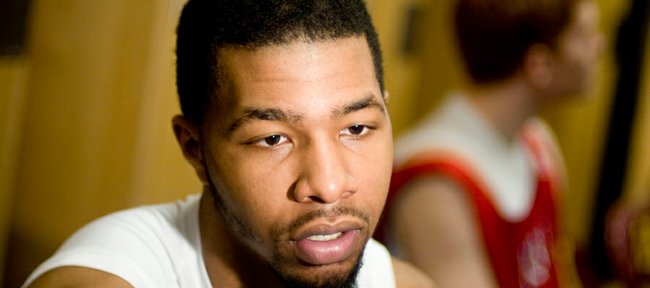 According to a Lawrence Police accident report, Kansas University sophomore basketball player Markieff Morris was involved in a two-vehicle accident last month while driving a Chevrolet Tahoe registered to former KU basketball player Scot Pollard.
Both Pollard and KU associate athletic director Jim Marchiony said Wednesday that Pollard in fact did not own the vehicle driven by Morris.
"It was not Scot Pollard's car. It used to be Scot's car. Tyshawn Taylor bought it from him," Marchiony said.
"He (Taylor) lent it to Markieff. Compliance has documented the sale. The car belongs to Tyshawn. Compliance approved it. Everything is legal. It is not a compliance issue," Marchiony added.
Pollard told the Journal-World he sold the car to Taylor before the start of first semester classes last summer.
"I sold the car to the kid. It was in August before school started," Pollard said. "He paid me the money. I gave him the title. It was signed. I heard about the wreck today. I don't know what happened to the car after he bought it."
The accident occurred at 1:14 a.m. Sept. 13 near the intersection of Tennessee and 17th streets. Morris was driving southbound on Tennessee when he struck a Pontiac Grand Am while changing lanes.
No one was reported injured. Alcohol did not play a role in the accident.
The accident report listed the 1997 Tahoe as registered to Pollard, who recently moved back to Lawrence after a decade playing in the NBA.
If Morris actually was driving a car owned by Pollard, that might constitute an extra benefit in the NCAA's eyes.
"This was a totally legitimate sale," Pollard told the Journal-World. "There's nothing to it. I sold it to Tyshawn for a fair (Blue Book) price. He reported it to compliance (so they could make sure it was a fair price)."
It's possible Taylor may not have yet registered the vehicle in his own name following the transaction, perhaps explaining why the police report said the car was owned by Pollard.
When a vehicle is sold between two individuals, the Kansas Department of Revenue said the new owner has 30 days to present the title and transfer the vehicle into the new owner's name. Public record laws do not allow officials to confirm if the vehicle has been re-registered.
"The car is not mine," Pollard stressed.
Pollard later posted the light-hearted quote of the day on his Twitter feed.
"I do know that selling cars in Lawrence is a tough business!" he exclaimed, referring to attention he received on radio station 810 WHB, which first reported the story of the accident Wednesday afternoon.
For Pollard's full take on the situation, read his blog at planetpollard.com.
Coach Self's take
Kansas coach Bill Self commented on the matter to the Journal-World after being "roasted" Wednesday night in Wichita at a benefit to raise money for the American Diabetes Association.
"It's a non-story," Self said. "It is a non-issue as we handled everything (involving sale of Pollard's vehicle to Taylor) through compliance, to make sure everything was handled in a correct way.
"There was a minor accident leading to this (story) when the purchase had already been made. Final registration had apparently not been done as he (Taylor) had to transfer the title. Unfortunately ... the timing of this ... it had all been dealt with a while ago."
Meanwhile, in Wichita, the panel roasting Self was to include Bill Self Sr., San Antonio Spurs general manager R.C. Buford, Illinois State basketball coach Tim Jankovich and St. John's basketball coach Norm Roberts. KU director of external relations Barry Hinson hosted the event. at Century II Exhibition Hall.
Rankings tap KU No. 1
CBSsportsline.com has tapped Kansas No. 1 in its preseason basketball rankings. Kentucky is second, Michigan State third, Texas fourth and defending national champion North Carolina fifth. KU's Cole Aldrich has been named first team All America and Sherron Collins second team by CBSsportsline.com. Kentucky's John Wall is preseason player of the year.
• Gary Bedore, Jesse Newell and Jesse Fray contributed to this report.