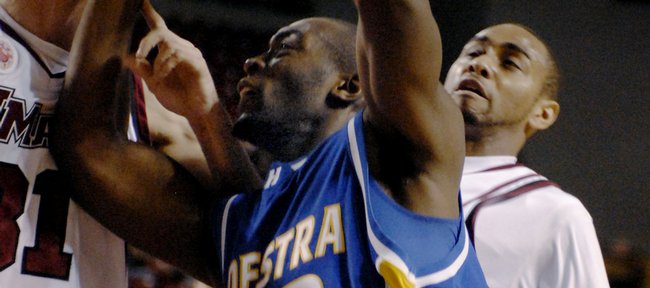 The best player in the New York Metropolitan area will be competing in Allen Fieldhouse tonight.
He's Hofstra University's Charles Jenkins, a 6-foot-3, 220-pound junior combo guard from Queens, who last spring was named winner of the Haggerty Award, which is presented annually to the Big Apple's top Div. I player.
"It's a great honor. When I looked at the list of previous winners, I was really excited," said Jenkins, the first sophomore to land the trophy since St. John's Chris Mullin in 1983.
Jenkins, who averaged 19.7 points, 4.8 rebounds and 4.3 assists per game his soph season, found himself in the company of Mullin, Jason Thompson, Ron Artest, Felipe Lopez, Malik Sealy, Boo Harvey, Mark Jackson, Walter Berry, Jeff Ruland, Jim McMillian, Dick McGuire ... the list goes on.
"It's very big. Not for myself. I don't worry about individual accolades. It's more for the program," Jenkins said.
Tonight, Jenkins — who according to Hofstra coach Tom Pecora receives "tremendous publicity here and in our conference and (in) blurbs on occasion on the national level" — has a chance to steal headlines all over the land. He leads the unranked Pride against No. 1 Kansas University in the 7 p.m. season opener for both teams.
"A lot of people don't know who Hofstra is. Playing Kansas can open up recruiting when they (prospects) see we play top teams. It brings attention to the program," said Jenkins, one of five returning letter-winners off last year's 21-11 squad.
"It's a great opportunity for myself to play against Sherron Collins and others and see where I rank against the best."
He's already one of the best guards in the Colonial Athletic Assn., if not the entire country.
"He has good size, is strong. He's a tough matchup because he can score over smaller guards and overpower thin guards," KU coach Bill Self said, calling Jenkins "a legitimate player of the year candidate."
Jenkins was named CAA co-preseason player of the year with Old Dominion's Gerald Lee.
"You look at guys on other teams in the league and say, 'He's been around forever.' You wonder when those guys will be graduating. I feel that way with Charles, but don't want him to graduate," said Pride coach Pecora, who red-shirted Jenkins in 2006-07.
"We put the ball in his hands. We bring him off screens, and he can defend any position except real big guys. He won't go guard Cole (Aldrich), but in our league, 1 through 4 some nights," Pecora added.
Jenkins — who grew up idolizing Brooklyn legend Pearl Washington ("my dad showed me tapes of him," he said of the Syracuse standout) — would like to have a gem of a game tonight.
"I have major respect for Kansas," Jenkins said. "It's a great program with great alumni. Sherron and Cole will be two pros and are preseason All-Americans."
Tonight marks the first time Hofstra has played a top-ranked team. Hofstra met No. 5 Maryland in the 1998-99 season opener, losing 89-59. Hofstra last played a top-10 team in 2004-05, falling to No. 7 Syracuse, 80-75.
"Last year we opened against Clemson (98-69 loss). After that we won nine in a row. We think of it as a learning process," Jenkins said.
The Pride's other returning players are guards Cornelius Vines (Syracuse) and Nathaniel Lester (Brooklyn), and forwards Greg Washington (Centereach, N.Y.) and Miklos Szabo (Szeghalom, Hungary). The Pride have six freshmen and one junior-college transfer.
"Some days we look good. Some days we look like we've got five freshmen," Pecora said.
The freshmen have been molded by Jenkins, who last summer stayed on campus of the school which is located in Hempstead, N.Y., 25 miles from Manhattan.
"I had to play more a big-brother role, help them adjust to the college setting," Jenkins said. "There was a lot of teaching. Guys were nervous to make mistakes. The new guys have learned a lot. We're starting to jell."
More like this story on KUsports.com