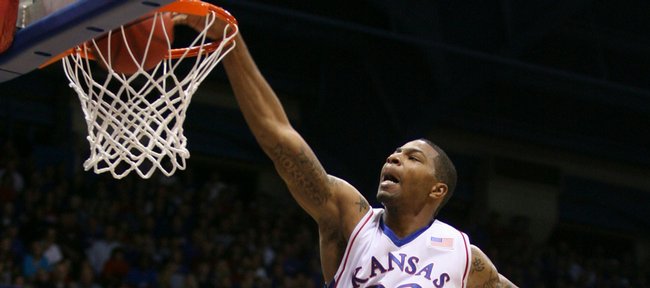 Photo Gallery
KU vs. Pittsburg State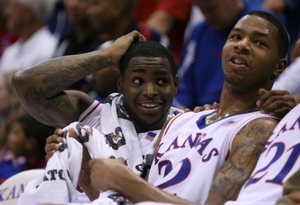 Photos from KU's 103-45 exhibition victory against Pittsburg State.
Reader poll
Marcus Morris

4%

170 votes

Markieff Morris

2%

89 votes

Thomas Robinson

88%

3202 votes

Xavier Henry

2%

100 votes

Other

1%

44 votes
3605 total votes.
Marcus Morris' vicious one-handed slam — off a no-look, left-hand, over-the-shoulder feed from Tyshawn Taylor — ranks as the 6-foot-8 sophomore's top dunk in a game. Ever.
"For sure. I've never been a dunker, as y'all saw last year. I've been more a finesse player," Morris said after posterizing Pittsburg State's Andy Smith late in the first half of Kansas University's 103-45 victory over the Gorillas on Tuesday night in Allen Fieldhouse.
As hard as 16,300 delirious fans may find this to believe, the dunk through the middle of the lane that buried the 6-foot-1 Smith is not, however, the best of Morris' entire life.
His top dunk, Morris sheepishly revealed, came at recent practice against a certain 6-foot-11 first-team preseason All-American.
"I dunked on Cole (Aldrich) a couple days ago. It was kind of bad," Morris said.
"That one tonight was No. 2. I got excited, but he (Smith) was kind of short," added Morris, who screamed into the TV camera after Tuesday's slam, then nodded at coach Bill Self because, "coach always tells me I can't dunk."
He didn't look at Aldrich and in fact jokingly asked the media to keep it quiet he rattled the rim against KU's junior pivot twice at practice.
"Don't tell him I told you. Tell him an unknown source told you in the locker room because if I say it, he's going to try to dunk on me in practice, and I don't want that to happen," joked Morris, who scored 12 points and grabbed 10 rebounds on a night seven Jayhawks scored in double figures.
Freshman Thomas Robinson was best of all with 17 points, seven boards and three blocks.
Morris needn't worry about repercussions from Aldrich, who readily admits Morris jammed in his face the other day.
"It happens to the best of everybody. I'm not gonna deny it. At the same time, I've dunked on him," Aldrich said. "Practice is competitive. That's how it is. If I get dunked on, it's fine. How many times I've gone to the rim, you always get one shot-block or two."
Not this time.
"It was similar (against Aldrich), running down the middle, and he happened to be there," Morris explained. "He happened to jump, and I happened to jump. They gave him stuff about it when he got in the locker room."
Aldrich, by the way, wasn't ready to rank Morris' dunk against the Gorillas second to the one in practice. He sought teammate Chase Buford's counsel.
"Which was better, Chase?"
"The one in practice? Oooohhh," Buford exclaimed.
"Don't listen to Chase. He doesn't know what he's talking about," Aldrich cracked.
Morris promises to dunk a lot more this season and stare in the face of the camera again.
"I always wanted to do that, to be honest," said Morris, whose vertical leap has improved from 28 inches to 34 since last year. He says he has improved his quickness thanks in part to the game "Dance Dance Revolution" he played in the offseason at 6 in the morning with KU trainer Andrea Hudy.
"The first thing that came to my head was to do that (yell in camera after slam). I kind of was focused as a bad guy last year, (so) at first I just wanted to kind of laugh it off like it didn't mean too much. I didn't think he (PSU's Smith) was going to get under me. Then once I felt it and looked up and saw what happened, I had to go crazy.
"I pointed to coach on the bench, and he pointed to me. He said I don't ever dunk. After I looked at the camera, I looked at coach Self."
Self approved.
"Marcus is athletic. He doesn't play to his athletic ability near enough," Self said. "Marcus made some athletic plays and also played the small forward spot. He looked pretty comfortable out there."
Morris graciously tried to deflect the attention to rookie forward Robinson, who hit seven of 12 shots and three of five free throws.
"He is a monster. That kid doesn't know how strong he is, but he will soon," Morris said.
"He looks like he's having a lot of fun out there," noted Self, who was speaking about Robinson, but could also have been talking about the high-flying Morris.
KU will meet Hofstra at 7 p.m. Friday in Allen Fieldhouse in the regular-season opener for both teams.