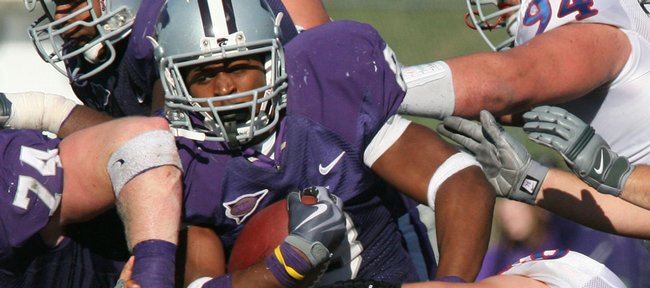 FINAL: KSU defeats KU, 17-10
Thomas runs for nine yards for a first down on the left side, and that does it.
KSU goes into the victory formation with two kneeldowns and comes away with the 17-10 victory.
KSU 17/KU 10 — 1:45 left in 4th quarter
Thomas runs for one yard on second down, and on third-and-four, Gregory takes the option around the right side for eight yards and another first down.
Thomas runs for two yards on first down, and KU uses its second timeout.
KSU 17/KU 10 — 3:07 left in 4th quarter
After gaining six yards on two running plays, KSU picks up the first down on a scramble up the middle by Gregory. Williams provided a great rush up the middle, but Gregory alluded him and was able to get a crucial nine yards.
Thomas rushes for five yards on first down, and KU calls timeout. The Jayhawks have two timeouts left, and they'll need a stop on this set of downs or the next to extend this game.
KSU 17/KU 10 — 5:20 left in 4th quarter
Reesing picks up a crucial third-down-and-7 conversion, finding Meier on a slant over the middle for 15 yards.
Reesing's inaccuracy almost costs KU again, though. On a second-and-5 play, he long-hops a short throw to McDougald, and because it is a backward lateral, when the ball goes out the receiver's legs and out of bounds, KU loses six yards.
Meier catches a seven-yard pass, though, and Mangino elects to go for it on fourth down from the KSU 49, and Reesing completes an easy pass to Wilson over the middle for six yards and a first down.
Reesing comes through again on third-and-8, making a tough, crossfield pass to Meier, who turned it upfield for eight yards and another first down.
A false start penalty moves KU back, though, and Meier can't hold on to a pass on third-and-6.
From the KU 29, Mangino elects for a 46-yard field-goal attempt, and Branstetter sneaks it over the crossbar and through.
The decision to kick the field goal was absolutely the correct call by Mangino. This late, KU had to make it a one-possession game. Now, the Jayhawks have.
KSU 17/KU 7 — 12:58 left in 4th quarter
KU's defense holds, as Caleb Blakesley brings down Thomas for no gain on second down and Stuckey makes a nice-open field tackle on Mastrud on third down.
Reesing needs to continue his recent hot streak for KU to have any chance of a comeback.
KSU 17/KU 7 — End of 3rd quarter
KU's coaches switch it up with a pair of running plays, and Jake Sharp finds some holes, going forward for seven and nine yards.
Reesing appears to be finding a bit of a rhythm. He hits Meier on the sideline for 19 yards, then hits Tim Biere for 13 and Briscoe over the middle for 11 more.
On third-and-3, Reesing squeezes the ball into a tight window to Briscoe for five yards and another first down.
KU is moved back on a holding call by Hatch, but Reesing completes a 13-yard pass over the middle to Johnathan Wilson. The third-down pass is batted down, and Branstetter's 30-yard field-goal attempt misses wide left.
Mangino showing a lack of faith in his QB and kicker last week don't seem to have paid dividends so far today.
KSU 17/KU 7 — 7:00 left in 3rd quarter
KU should get a steady dose of Thomas the rest of the way, and the Jayhawks haven't shown they can stop him yet. Thomas hurdles Anthony Davis and picks up 19 yards down, giving the KSU back 15 carries for 136 yards.
On third-and-four, Gregory misses an open Banks down the middle of the field. The KSU QB has been extremely inaccurate, but at least he's been inaccurate where no Jayhawk can catch it.
A sky punt by KSU pins KU at its own 9.
KSU 17/KU 7 — 8:49 left in 3rd quarter
Reesing does come back as KU's starting QB for the second half. He short-hops McDougald on a five-yard, first-down route, and McDougald is ankle-tackled on a screen pass after picking up four on second down.
On third-and-6, Reesing holds on to the ball and holds on to the ball and holds on to the ball. Finally, KSU sacks him from behind, and Reesing has to get rid of the ball earlier.
Rojas punts the ball straight to Banks, but the KU coverage untit does a good job. Banks actually fumbles at the end of the play, but the officials rule that Banks was already down.
KSU 17/KU 7 — 10:27 left in 3rd quarter
Jeff Wheeler jumps offsides to give KSU five important yards.
Thomas squirts through a hole on the right side and almost walks into the end zone for a five-yard TD run, and KU suddenly finds itself down two scores.
KSU 10/KU 7 — 10:30 left in 3rd quarter
Gregory takes the quarterback draw through a hole in the middle and gains eight yards on fourth-and-two. KSU is hard to defend on a play like that with so many running threats in the backfield.
The shifty Thomas take another Wildcat snap, reversing field and dancing between defenders for 12 more yards to the KU 10.
KSU takes another timeout to set up a play. That could prove to be costly if this game stays close.
KSU 10/KU 7 — 12:16 left in 3rd quarter
KSU pulls out the Wildcat formation, and Thomas gets to the outside, bursting 40 yards up the field for a big play.
Gregory isn't making many good throws, but he also isn't making the big mistake. On third-and-9, he rolls away from pressure then falls forward for seven yards to the KU 32.
KSU will go for it on fourth-and-2, but the Wildcats burn a timeout beforehand. KSU has wasted at least three timeouts today on the offensive end.
Guess I'm wrong. Reesing is taking the halftime snaps from Hatch. Looks like he'll start the second half for KU.
Halftime stats of note
Kansas
• Todd Reesing 14-for-22 123 yards, TD, INT; 5 carries, 28 yards, 2 fumbles
• Toben Opurum 2 carries, 7 yards
• Jake Sharp 3 carries, 6 yards
• Dezmon Briscoe 5 catches, 60 yards, TD
• Kerry Meier 4 catches, 40 yards
Kansas State
• Grant Gregory 6-for-13, 65 yards, TD
• Daniel Thomas 9 carries, 55 yards
• Brandon Banks 2 carries, 32 yards
• Lamark Brown 3 catches, 43 yards, TD
Other stats
• KU had 157 total yards, while KSU had 166.
• KSU converted just one of seven third-down attempts.
• KSU has 19 carries for 101 rushing yards.
What I'm expecting the second half
• More rushing plays for KSU
• Kerry Meier or Kale Pick under center to start the second half
KSU 10/KU 7 — Halftime
Reesing comes out for a kneeldown to run out the clock, and KSU has taken back all the momentum after its late touchdown.
KSU 10/KU 7 — 20 seconds left in 2nd quarter
KSU takes advantage of the Reesing fumble, as Gregory hits Brown for a 31-yard touchdown pass. The pass was well underthrown, but with no Jayhawks in the area, Brown had plenty of time to react to it, catch it and still take two steps into the end zone.
Cherry's extra point puts KSU up by three.
KU 7/ KSU 3 — 27 seconds left in 2nd quarter
With no open receivers, Gregory is forced to run ahead for a one-yard loss on first down.
Lubbock Smith has great pursuit on the next option play, bringing down Thomas in the backfield.
On third down, Thornton comes through on a blitz for a sack. KSU goes backwards on three straight plays.
Cherry misses the 39-yard field-goal attempt from the left hash, and KU's defense comes up with an enormous stop early in this game.
Reesing completes a pass to McDougald, and on third down, the quarterback spins away from pressure and runs ahead for a first down, sliding to protect the football.
I guess it was just a one-time thing. On his next rush, Reesing barrels head-first into a pair of defenders, and he fumbles again, giving KSU the ball back at the KU 43. Horrible decision by Reesing, and with three turnovers, I'm guessing we might see Pick in the second half. I'm not even sure Reesing could argue with that at this point.
KU 7/KSU 3 — 4:27 left in 2nd quarter
Reesing does the worst thing possible for KU: He turns it over deep in KSU territory.
After scrambling up the middle for 17 yards, Reesing was stripped from behind, and KSU recovered at the KU 24. This is what the Wildcats feast on: turnovers by opposing teams in their own territory.
Gregory starts with a 12-yard run, and KSU calls timeout before its next play.
KU 7/ KSU 3 — 5:13 left in 2nd quarter
KU's defense dodges two huge bullets at the beginning of the next possession.
On the first play, Gregory throws his first accurate deep ball to Banks, who had both Anthony Davis and Darrell Stuckey beat by a couple steps. The pass clanged off Banks' hands, though, and saved KU from what would have been a sure TD for KSU.
The next play, KSU ran a double-reverse for Banks, and he looked to be in the clear for a huge gain. But Stuckey fought off one blocker and avoided another, throwing his hand up to throw Banks off-balance on the sideline to limit him to a 20-yard gain. Without the tackle, the play could have gone much farther.
KSU is hurt by another rare foul call (15-yard leg whip) and a Gregory scramble on third-and-long isn't nearly enough for a first down. A nice punt and good coverage by KSU means KU will take over at its own 7.
KU 7/KSU 3 — 8:18 left in 2nd quarter
Another gaffe by KSU's special teams, as Cherry boots the ball out of bounds. KU will have good field position at its own 40.
Reesing swings a pass out to Bradley McDougald, and because of good receiver blocking, the receiver bolts through a hole 12 yards for a first down.
Reesing scrambles for five yards, and he doesn't look like he's at full speed yet, most likely because of his injured groin.
On third-and-5, KSU brings pressure from Reesing's backside, but the QB does a good job of feeling the pressure, stepping to his right, then firing to Meier for a first down.
The next play, Briscoe makes a play on the outside, breaking tackles before falling into the end zone for a TD.
Branstetter adds the extra point, and KU's offense is showing signs of life.
KSU 3/KU 0 — 11:12 left in 2nd quarter
After taking a few steps rugby-style, Alonso Rojas booms a punt, and Banks is forced to let it bounce. That's 47 yards with no return. KU will take that each time.
KSU is taking some chances deep, as a deep pass attempt to Banks is knocked away by Justin Thornton at the last second. Thornton was beat on the play, but the ball was well underthrown by Gregory.
On third-and-7, Thornton is beat again over the middle by Banks, and he's forced to run into the receiver. Easy defensive pass-interference call, and KSU gets a fresh set of downs.
KU forces another third down, but once again has a blown coverage. No one covers the tight end Mastrud, and he catches an easy pass for 11 yards over the middle.
KSU has another third-and-5, but this time the Jayhawks bring pressure up the middle on the blitz and Gregory's pass down the sideline is well overthrown.
A 47-yard field goal attempt Josh Cherry splits the uprights with plenty of distance, and the Wildcats are on the board first.
KU 0/KSU 0 — End of 1st quarter
Brandon Banks shows his speed, taking an end-around 12 yards around the right sideline behind a blocker.
KU stacks up Thomas on third and a long 1, and KSU goes for it on fourth down from the KU 28. KSU's Lamark Brown has KU's D.J. Beshears beat down the sideline, but Grant Gregory overthrows him by a step in the end zone. Disaster averted for KU.
Another trick play with Kale Pick goes awry, as Pick is tackled in the backfield for a six-yard loss. Reesing's second-down pass is batted down, and a third-down underhanded fling from Reesing is dropped by Opurum. What a weird pass attempt. KU will punt the ball back to KSU and to the dangerous Brandon Banks.
KU 0/KSU 0 — 3:43 left in 1st quarter
The Jayhawks are having success in routes where the receiver stops in a location and Reesing hits them. Briscoe turns upfield for 12 yards. Briscoe's hands are looking much better today.
Reesing takes a shot deep, and Briscoe is able to draw a 15-yard defensive pass-interference penalty.
Weird formation on first down for KU, as left tackle Tanner Hawkinson is lined up at tight end on the right side. On that play, Tim Biere appeared to line up as the left tackle.
Another stop route works for KU, as a Reesing pass sticks to Briscoe's fingers and he is pushed up the field for 16 yards and a first down. Briscoe also is doing a nice job of coming back to the football to help out his quarterback.
On fourth-and-inches, KU runs the play it tried to run last week again Texas Tech, and Opurum bounces to the outside for four yards and an easy first down.
Reesing, with all day to throw, makes another mistake. Throwing deep over the middle, his pass is well underthrown and is intercepted by Emmanuel Lamur, who returns it to the KSU 37. Add on an unnecessary roughness penalty on KU, and KSU will start with a short field at the KU 48.
It's exactly the kind of mistake Reesing has to avoid today.
KU 0/KSU 0 — 8:06 left in 1st quarter
Who knew clipping was still a penalty?
KU fans are glad it still is now, as following an 11-yard run by Daniel Thomas, the Wildcats were moved backwards 15 yards by a call I don't think I've seen in the last couple years.
On third down, Grant Gregory's throwback pass to Jeron Mastrud is swarmed by KU defenders, and the Wildcats are forced to punt.
I don't think KSU coach Bill Snyder minds. KU will take over at its own 13 and will have to go the length of the field for points.
KU 0/KSU 0 — 11:00 left in 1st quarter
All week the talk was about Kansas State's special teams, but KU's special teams come away with the first game-changing play on the opening kickoff.
Darrell Stuckey took the kick at the three-yard line and ran across the field 67 yards all the way to the KSU 30. Stuckey has just three kickoff returns this year, and two of them have gone for 50-plus yards.
Kerry Meier picks up one third down across the middle, but Reesing kills the drive by taking a sack on second down. He had Toben Opurum open in the flat, but instead he held the ball too long and took a negative play.
KU is held on third down, and Branstetter misses a 30-yard field-goal attempt. After Stuckey's big return, the momentum has swung immediately back to the Wildcats.
11:31 a.m.
It's 64 degrees and beautiful weather here for kickoff.
KSU wins the toss and will defer. The Jayhawks will get the ball first.
11:22 a.m.
Though it might be hard to believe this after KU's struggles the last three weeks, the Jayhawks actually still are in the thick of the North race.
Take a look at this blog by friend-of-the-blog Bill Connelly. He actually posted this before last week's game, and all his statistical projections correctly picked the winners of last week's Big 12 games.
Based on his statistical projections, KU will beat KSU and Nebraska, which would put the Jayhawks in a tie for first place in the Big 12 North in two weeks.
If everything played out as his statistical projections say, the KU-Missouri game once again would determine the winner of the Big 12 North, as KU would own the tiebreakers over the Tigers with a win.
Of course, it's also still mathematically possible for all six North teams to tie for the title with 3-5 records, as the Fort Worth Star Telegram reported earlier this week.
10:57 a.m.
It looks like KU will have some more switches today on the offensive line.
From pre-game snaps, it looks like Brad Thorson has moved from right guard to right tackle, and red-shirt freshman Trevor Marrongelli has slid into the right guard spot. That leaves Jeff Spikes as the odd man out.
10:44 a.m.
A lot was made of KU coach Mark Mangino's decision to not onside kick last week when kicking off from the Texas Tech 40.
After the game, KU coach explained why he kicked it deep, saying: "(KU kicker Jacob) Branstetter, all he's capable of is kicking the ball off the tee deep. You saw against Oklahoma, we tried to kick a little pooch kick, it didn't work. We've tried squib kicks in practice, they've gone out of bounds. So we figured, 'Let's make sure that they get it on the 20 and not do anything stupid.'"
KU punter Alonso Rojas said this week that he doesn't know any reason Branstetter wouldn't be able to attempt an onside-kick attempt if asked to do so.
"Hands down, I know if Jake ever needed to come through with it, he could do it," Rojas told me Tuesday. "It's something we need to just keep practicing. If it ever comes a time to do it, we're going to do it. I have faith in all our guys to be able to do that."
While the team has its normal practice each day, Rojas and Branstetter go to the football practice fields to work on various kicks.
"That's one of the things (Jacob) tries to work on the most is the little things with kicking, like the onside kicks, the short field goals, the extra points, the fundamental stuff," Rojas said.
Rojas also said that the entire special teams worked on onside kicks two or three times per week in practice. In those run-throughs, the hands team goes on the field to try to recover Branstetter's onside kick.
"You kind of have to have the right pace along with the guys going to get the ball," Rojas said. "When he onside kicks on his own, he kicks pretty good."
Rojas also said he could try an onside kick if the team needed him to, as he practices them along with Branstetter on the practice field.
"Jake's the kickoff guy, so most schools, most teams the kickoff guy deals with all that," Rojas said. "But I practice everything as well, every aspect of kicking in the game, so if I'm ever needed or called upon, I could do it."
Branstetter was 1-for-2 on onside-kick attempts last year, as KU recovered a fourth-quarter attempt against Nebraska and failed on a fourth-quarter try against Oklahoma.
If KU needs an onside-kick attempt today, expect Branstetter to be the guy.
10:32 a.m.
This game looks to be about as evenly-matched as you can get.
One way you can tell is from the predictions.
On our weekly pick 'em each of our eight pickers chose KU to win.
On GoPowercat.com, the Kansas State fan site, nine of 10 pickers chose Kansas State.
While stopping to pick up sunglasses for Tom Keegan at the Manhattan K-Mart, I picked up the Manhattan Mercury, and all six pickers in there chose K-State.
So here's an official tip of the hat to GoPowercat's Rob Cassidy, who was the only one out of 24 writers to pick against the hometown team.
10:18 a.m.
I've added some videos to the left side from Big 12 media day back in July.
KSU coach Bill Snyder and linebacker Alex Hrebec both talk about the significance of the KU-KSU football game for the team and for KSU fans in general. It's a good reminder of just what these game means for those players and coaches involved in it.
10:05 a.m.
Welcome back to the Newell Post Live, coming to you from Bill Snyder Family Stadium in Manhattan where the Kansas Jayhawks are getting set to take on the Kansas State Wildcats.
It feels like this game could be the beginning of the season or the end of the season for both teams.
Let me explain.
For KU, a victory would put it right back in the thick of the Big 12 North Division race. A win against Nebraska next week at home most likely would put the Jayhawks back in first place in the North.
A loss, though, essentially ends any hopes KU has at a Big 12 North title. Sure, the Jayhawks could still become bowl eligible, but a majority of KU fans' attention will turn directly to basketball and the season starting for the preseason No. 1 Jayhawks.
For K-State, its Big 12 North hopes depend much on this game as well.
With a win, the Wildcats get their fourth conference victory, and that might be all that they need to take the title. A win over Missouri or Nebraska would nearly guarantee the Wildcats a spot in the Big 12 Championship game.
A loss today, and the nice story that KSU has turned into the last few weeks loses a lot of steam. Suddenly, the Wildcats would need wins in its final two games both to have a shot at the Big 12 North title and also simply to become bowl eligible.
The result of today's game, even beyond the rivalry, should have a significant impact on both of these programs going forward.
Be sure to check out our poll on the left and also use the Twitter hashtag #kufball to have your comments appear on our page.