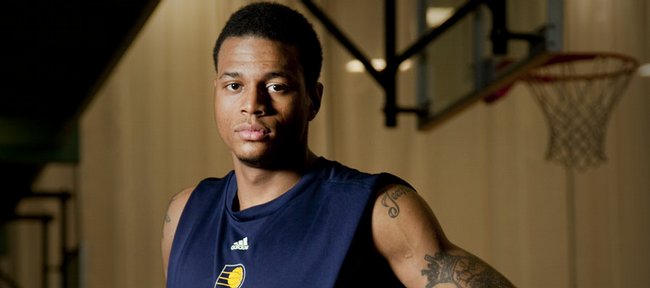 Overland Park — Brandon Rush dribbled the basketball through an obstacle course of orange cones, pulled up and swished his trademark jump shot from the corner.
The 6-foot-6, 210-pound Indiana Pacers guard/forward repeated the process over and over under the watchful eye of a personal trainer Thursday afternoon at 68 Inside Sports Fieldhouse.
Ex-Jayhawk Rush, former Kansas University shooting guard Billy Thomas and Roeland Park Miege High School senior standout Trevor Releford ran through drills for an hour and a half, proving Rush is highly motivated to get a head start on his second NBA season.
"I told Brandon, 'I don't know any kids working out three times a day. I don't know anybody, for that matter — this time of summer — working out three times a day,'" Thomas, of the NBA Developmental League champion Colorado 14ers, said of Rush.
"I'm very impressed with his work-ethic and God-given ability."
Rush, who was drafted No. 13 overall in the 2008 NBA Draft after leading KU to the national championship, is on a mission after hearing first-hand from Pacers' coach Jim O'Brien that he'll be a starter his second season in the league.
Rush averaged 8.1 points (off 42.3 percent shooting) and 3.1 rebounds while starting 19 of 75 games — and averaging 24.0 minutes per contest — for the 36-46 Pacers.
"I'm probably going to be starting. I'm going to be ready," declared Rush, who will play in a limited number of games for the Pacers in the Orlando Summer League in July.
"He (O'Brien) told me to go home, work on stuff off the dribble and get stronger in the weight room," the Kansas City native noted. "He said I have everything else. I'm able to shoot the ball. The main focus is for me being stronger and working on my ballhandling."
Rush — for four days a week the past three weeks — has been putting in the time under the supervision of former NBA player Sedrick Toney. He chuckled when asked who was tougher — Toney or KU coach Bill Self.
"I'd say coach Self," Rush said. "He can practice us as long as he wants to. Here I can say, 'I quit. I'm done for the day.'''
He doesn't say that often. Rush, who turns 24 in July, knows he has to improve to thrive in the demanding NBA.
"The game is so fast," said Rush, who in his rookie season was assigned to guard phenoms Dwyane Wade, LeBron James and Kobe Bryant. "You've got to guard a good player like that every night.
"I'd say LeBron," he responded, when asked who was the toughest to shadow. "He got 50 both times we played them. Dwyane is pretty tough, too. Kobe took it kind of easy on me, I guess because I'm a rookie."
Off the court, Rush says he's content living in Indianapolis.
"It kind of reminds me of Kansas City a little bit. It's a small downtown, just like Kansas City and I live downtown, too. People there love it to death," Rush said.
He hasn't spent a whole lot of the $1,799,160 he made in salary last season.
"I've got two cars, a Mercedes and Escalade," Rush said. "I don't go crazy at all. I treat myself well and my family. I'm not a big spender."
He remains a big fan of KU's basketball team.
Rush followed the squad closely last season as it won the Big 12 regular-season title and advanced to the Sweet 16 of the NCAAs a year after bagging the NCAA crown.
"They played real well. Sherron (Collins) played well; Cole (Aldrich) played well. They had good role players like the Morris twins. They reminded me a lot of our freshmen year when we struggled early and turned it on at the end. But we didn't make the Sweet 16 like they did," Rush said of the 2005-06 Jayhawks, who went 25-8, won the league crown but lost in the first round of the NCAAs.
"They should be real good this year," Rush added of the 2009-10 Jayhawks. "They've got — what's his name Xavier — coming in?" Rush added, admittedly having a tough time pronouncing the first name of freshman Xavier Henry.
"I've never seen him play, but I heard he's real athletic. Xavier I think will be a big key for them this year."
Rush — he said he's been rooting hard for KU teammate Darnell Jackson's Cleveland Cavaliers in the playoffs — said he's embraced his KU ties in the pros.
"Last year, wherever I go I'd see Kansas shirts — national championship shirts," Rush said. "I really miss it. I get back when I can to see Brady (Morningstar) and the rest of the guys. I'll always come back there."
He returns to Indiana next week to prepare for summer-league action. He doesn't think he'll be able to make it back for Self's pair of summer camps the second and third weeks of June.
He's got a job to do: to get ready for season No. 2.
"I could be," Rush said, asked if he'll be an NBA all-star. "I've got things to work on. People said I was a younger version of Danny (Granger, Pacers) this year. I am going to try to get better every single year and live up to what people think I can do in the league."
He's already proven to be an inspiration to young point guard Releford, the brother of KU's Travis Releford.
"I've known him awhile. He's gotten a lot better. He jumps way better than when he was at KU. He works hard. He's good," Releford gushed.
More like this story on KUsports.com