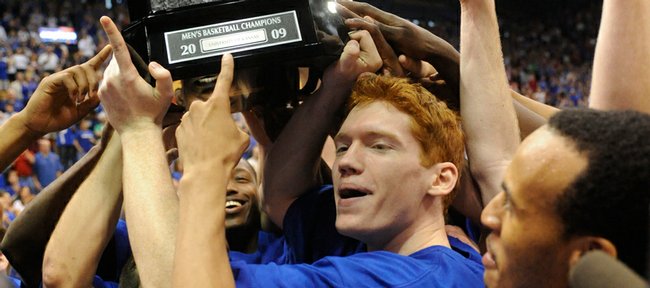 Matt Kleinmann, who will graduate from Kansas University with a degree in architecture Sunday, will be attending graduate school across the state line next school year.
"I'll be in enemy territory," Kleinmann, the Jayhawks' 6-foot-10, 250-pound senior basketball center from Overland Park, said Thursday in revealing he'll be attending Washington University for his masters degree in urban design.
Washington is located in St. Louis — just down the road from Columbia, Mo., home of the rival Missouri Tigers.
"The great thing is, if I'm lucky enough, I'll be there sitting behind the bench next March when we are the No. 1 seed in the Midwest Regional. I've already looked it up. We'll have two games in St. Louis," Kleinmann added enthusiastically.
Kleinmann — who was part of five Big 12 regular-season championship teams and one national title squad in his five-year KU career — will be rooting for the 2009-10 Jayhawks to advance to Sweet 16 and Elite Eight games at the Edward Jones Dome in St. Louis.
The man nicknamed "Big Red" also was accepted to Tulane University, but elected to remain in the Midwest rather than head to New Orleans in pursuit of an advanced degree.
"Washington has a program where you go to Tijuana or South Africa. It'll be a great opportunity," Kleinmann said of a project in the summer of 2010 which will complete his degree requirements.
He leaves KU just as his sister, Whitney, arrives. Whitney Kleinmann will graduate from Blue Valley West on Sunday. She plans to study Spanish and be pre-med at KU.
"She's a National Merit finalist, got a 34 on the ACT," her proud brother stated. "The funny thing is, she may be involved with KU basketball helping tutor the guys' team. She's already expressed interest in becoming a tutor."
Kleinmann — he's proud to report he finishes with a 3.53 grade-point average — will try to walk down Campanile Hill on Sunday near the front of the line so he can race to his sister's graduation ceremony.
"My Senior Day was about me. This graduation day is about her," Matt said, acknowledging he'll be sorry to leave Lawrence for the final time as a student.
"Coming in, I wasn't sure what to expect. The opportunity I was given ... the experiences I've had ... I can't say how great a decision I made in coming to KU," the nonscholarship player noted. "Winning the national championship sort of validated what was the best decision of my life so far, coming to KU."
•
How smart is this guy?: Kleinmann agreed to give the J-W a synopsis of his three-day "studio" that kept him up 72 straight hours (give or take a few one-hour naps), culminating in a midweek final presentation:
"My fifth-year spring studio for Prof. Gaylord Richardson focused on designing a sustainability center with the added components of an aquarium and/or biosphere. On top of that, I drew from the (Kansas CIty) River City Market, which is just south of the site, and also incorporated mixed-use housing. The project was delivered on four 24-inch-by-36-inch boards and was reviewed by professors, members of the Kansas City Port Authority and visiting professor Steve Hardy of UrbanFutures.org."
•
Thomas update: Former KU forward Quintrell Thomas is expected to wait until Memorial Day weekend to choose between UNLV, St. Joe's and Siena.
"Basically, he has to get this decision right," Thomas' AAU coach, Derrick Bobbitt, told lasvegassun.com. "It's pretty simple: Come home (to New Jersey), think about it, make a decision."
Thomas, who will sit out the 2009-10 season per NCAA transfer rules, will have three years of eligibility remaining starting in 2010-11. He averaged 1.6 points and 2.0 rebounds a game last season.
KU ninth in attendance: KU finished ninth in the country in attendance for the 2008-09 season according to NCAA stats released Thursday. Kentucky averaged 22,239 fans, followed by Syracuse, 21,044; North Carolina, 21,035; Tennessee, 20,483; Louisville, 19,397; Wisconsin, 17,230; Maryland, 17,048; Memphis, 16,933; and KU, 16,350. Marquette completed the top 10 at 16,200.
More like this story on KUsports.com