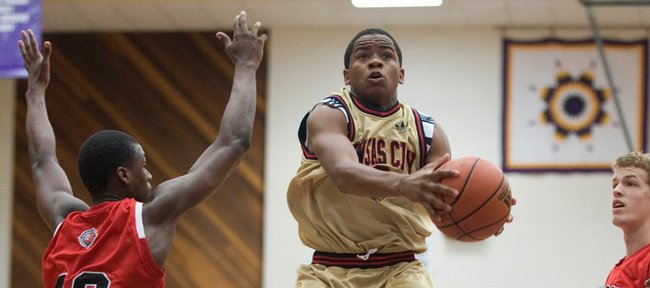 Photo Gallery
Jayhawk Invitational 2009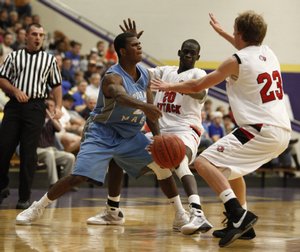 Highly-touted basketball recruits squared off May 1-3 at locations around Lawrence.
Harrison Barnes enjoyed his last two visits to Lawrence — in October for a packed Late Night in the Phog, and again in January for a Kansas University men's basketball victory against Tennessee.
"It's pretty great," said Barnes, an Ames, Iowa, native and the No. 8-ranked basketball recruit in the class of 2010. "I know my way around here just fine."
His follow-up trip proved just as memorable.
Barnes scored 24 points off 7-of-15 shooting to help his All-Iowa Attack Red team defeat KC Pump N Run, 76-72, Sunday afternoon in the 17-and-under championship game of the Jayhawk Invitational at Haskell Indian Nations University's Coffin Complex.
The victory ended Pump N Run's four-year stranglehold on the Jayhawk Invitational title at the 17-and-under division.
"They beat us last year in the finals pretty good, by about 25," All-Iowa Attack coach Jake Sullivan said. "We were ready to get them this year, and the kids played really well."
The 6-foot-6 Barnes displayed both his inside and outside game, scoring 17 of his 24 points in the second half, including three three-pointers as part of All-Iowa Attack's decisive run.
His performance during the three-day event earned him the tournament's most valuable player award.
"There's nothing he can't do on the offensive end," Sullivan said. "When he plays within himself, he's the best player in the country."
Barnes handled himself in the post well, despite being guarded by Justin McCay, a 6-foot-4, 200-pound wide receiver listed as one of the top three football recruits in the country for 2010.
"We figured we were going to try to be physical with him, but he's so skilled, does so many things, we're not going to stop him completely," KC Pump N Run coach L.J. Goolsby said of Barnes. "When we would close the gap, he'd be the one to make a play that would just kind of kill our momentum."
At 6-6, Barnes is not a prototypical forward.
"Well, actually, I consider myself a guard," Barnes said. "Jake definitely worked a lot with helping me on my jump shot, and ever since he gave me the mechanics, I've just taken it from there."
Not to be outdone, Pump N Run's 5-10 point guard Trevor Releford, brother of KU men's basketball guard Travis, tallied a game-high 30 points. Releford scored on a wide array of crossover moves to the bucket, making his first eight field goals and finishing 13-of-16. He also dished seven assists.
"He was unbelievable," Goolsby said. "When Trevor's on, he's as good as it gets. He was special today, and that's why you hate to lose a game when he's played that well."
Releford talked Saturday about continuing Pump N Run's four-year winning streak at the Jayhawk Invitational — a streak his brother Travis helped keep alive two seasons ago as a member of Pump N Run.
"It kind of hurts because we're the team to break it after five years," Trevor Releford said. "It's only going to make us better, though."
Both teams entered the championship undefeated in the tournament, but Iowa's depth wore down Pump N Run and broke open a 51-all game midway through the second half.
"We've got seven, eight Div. I guys, potentially," Sullivan said. "When we play together, we're really good."
KC Pump N Run made 30 of 49 field goals (61 percent) to All-Iowa Attack's 26-for-49 showing (53 percent). But Iowa canned 10 three-pointers to Pump N Run's six and outscored Pump N Run, 14-6, at the free-throw line.
Barnes, who turns 17 later this month, recently trimmed his list of possible college destinations from 22 to 12. The senior-to-be lists, among other schools, Kansas, Duke, North Carolina and Iowa State among his final 12 and has set no timetable for making a decision.
"Right now, I'm just really trying to evaluate those 12 that are still there," Barnes said. "We'll just move from there, however long that takes."
Team Texas Elite won the 15 and under title, and Minnesota Pump N Run won the 16 and under crown.
All-tournament team:
17 and under: Harrison Barnes (MVP), Zach McCabe, All-Iowa Attack Red; Royce Woolridge, Arizona Magic; Trevor Releford, Mark Braden, KC Pump N Run; Ryan Harrow, Atlanta Celtics.
16 and under: Alex Richter, Aaron Ziman, Minnesota Pump N Run (MVP); Christian Kirk, KC Pump N Run; Ishmael Wainwright, KC Cowboys; Bradley Beal, Shaq Boga, St. Louis Eagles.
15 and under: Nick Banyard (MVP), Isaiah Austin, Team Texas; Gavin Thurman, KC Pump N Run; Antonio Hopkins, St. Louis Eagles; Siyani Chambers, Isaiah Zierdan, Howard Pulley.
More like this story on KUsports.com