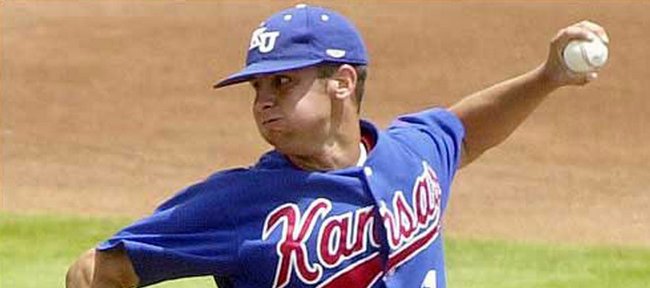 Kansas City, Kan. — Ryan Knippschild sipped on a small styrofoam cup of beer outside the T-Bones' clubhouse, relaxing and visiting with a couple of friends, after a solid pitching performance.
Five years after graduating from Kansas University, Knippschild is hanging on to professional baseball, vowing to stick with it as long as someone will give him a uniform.
"In pro ball, they say, 'Don't hang it up. Make them take it from you,'" the 6-foot-2 left-hander said.
Earlier on Thursday afternoon at CommunityAmerica Ballpark, Knippschild had turned in a quality start against the Fargo-Morehead Redhawks.
The former Jayhawk hurled seven innings, gave six hits and three runs — numbers good enough to win — but Fargo left-hander Broc Coffman tossed a two-hitter and the visitors won, 3-0.
"I had some control problems," said Knippschild, who walked five, "and I had some trouble with (Randall) Simon."
Simon, the Redhawks' first baseman and clean-up hitter, gained national notoriety in 2003 when, as a member of the Pittsburgh Pirates, he swung a bat and knocked over a girl wearing an Italian sausage outfit during a mascot race in Milwaukee.
On Thursday, Simon used his bat to knock a pair of ringing doubles, both figuring in the scoring.
Drafted in 35th Round
A month after graduating from KU in May of 2004, Knippschild was selected by the Cleveland Indians in the 35th round of baseball's free agent draft.
Coincidentally, another KU pitcher — senior reliever Paul Smyth — was taken in the 35th round Thursday, or about the same time Knippschild was on the hill for the T-Bones.
Smyth, tapped by the Oakland A's, will find himself in the same place Knippschild was five summers ago. He'll have an opportunity to play pro ball, but he'll be playing for peanuts.
If Smyth had been drafted after his junior year, the scenario would be different because juniors have leverage. They can return to school.
After transferring to KU from a California junior college in 2003, Knippschild was the Jayhawks' best pitcher, leading the club in innings pitched and victories (eight).
"I thought I was going to be drafted after my junior year," he said, "but I wasn't. If you're a junior, you can get guarantees, like getting the rest of your school paid for, but a senior has no options."
Knippschild spent four summers in the Indians' farm system, never rising above Double-A, and was finally released. Next he signed with the Long Island Ducks, an independent league team in New York where he was used strictly in relief during 2008.
Off to Colombia
Last winter, Knippschild went to South America and became a starter again. He says he was named pitcher of the year in a four-team league in Colombia, yet when he returned to his home in California he didn't have a job in this country.
"I've always paid my bills, but it's usually tough," he said. "I was delivering flowers when I heard from the T-Bones."
That was in April. Since joining the K.C. independent team, Knippschild has made five starts, all but one of them good enough to win, yet Thursday was his first decision. He's 0-1 with a respectable 3.75 ERA.
Knippschild will turn 27 in September and who knows how long he'll pursue this pro path. He says he has no idea.
"There are no guarantees in baseball," he said. "I mean, I could blow my arm out tomorrow. But pro ball was my dream, and I still love it."
More like this story on KUsports.com