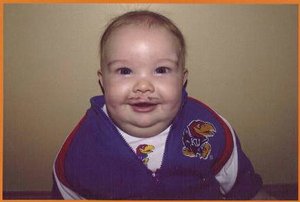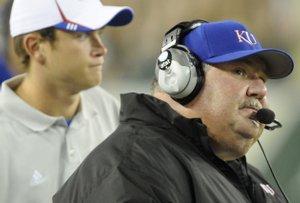 At 8 months old, Bode Lubbers is already an Internet superstar.
And all the young Wichitan had to do was let his mother put on an eyeliner mustache and a KU sweat suit. And, of course, channel his inner Mark Mangino.
As "Baby Mangino," Bode has won the 2008 Sports Human of the Year award on the offbeat sports Web site Deadspin, beating several sports figures, including ESPN's Chris Berman and Erin Andrews and Dallas Mavericks owner Mark Cuban.
Baby Mangino began circulating on the Internet after making his debut on an electronic Halloween card, said his mother, Angie Lubbers.
The resemblance to the Jayhawk head football coach is impossible to miss. It started when the parents (two Wichita State grads) picked up a tiny KU sweat suit in a Target store. Lubbers put it on Bode, added the mustache, sent it to 20 friends and family, and an Internet star was born.
None of the 20 has confessed to sending the photo outside the group, Lubbers said.
She said the family has followed the online voting faithfully, and she remains constantly surprised at all the attention, having been interviewed on local Wichita television in addition to the photo's online viral status.
"I keep saying it'll end eventually," she said. "But then it seems like someone else will pick it up."
KU Athletic Department spokesman Jim Marchiony said that while he had seen the photo, and thought it was cute and offbeat, he did not think many others in the athletic department had taken notice.
More like this story on KUsports.com