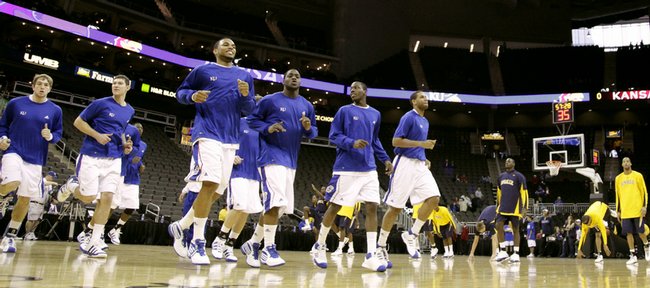 Kansas City, Mo. — La Salle coach John Giannini wasn't afraid to play the comparison game with Kansas University after his team's 90-65 loss Saturday at the Sprint Center.
"We played two Final Four teams last year. We've played Villanova already this year," Giannini said. "I think (the Jayhawks) are the best team we've played in a long time."
Giannini, in his sixth season at La Salle, said he had seen few teams as talented as this year's KU squad.
"Watching them on tape, I don't think they had any weaknesses," Giannini said. "They have a point guard who can make plays. They have guys who can shoot it. They have guys who can shoot inside. They defend hard. I think they're really good."
La Salle lost by 25 even after holding KU preseason All-American Sherron Collins to one of his worst games.
Collins had just five points on 1-for-12 shooting — his worst total since scoring five against Davidson in 2008 — but teammate Xavier Henry responded with a career-high 31 points.
"That's going to happen. Some day Henry's going to shoot 1-for-10. That's what having a really good team is about," Giannini said. "It's going to be flip-flopped sometime. That's what makes them good."
Giannini said his assessment of the Jayhawks would be different if he were on the other bench.
"If I'm coaching them, I don't want them to think that they're that good," Giannini said. "I want to keep them driven. I want to point out their shortcomings. I want to make them feel like they've got to keep doing everything possible right to win the next game.
"But as an opposing coach, I'm just telling you, they're really good."
La Salle forward Jerrell Williams, who scored a career-high 21 points against KU, agreed with his coach's assessment of the Jayhawks.
"They're a great team. Coach told us when we came back that he'd never seen a team play better," Williams said. "They have a lot of good players. We just came out here and gave our best shot."
Giannini even talked aloud about the possibility of KU going undefeated.
"Can they lose? Absolutely. No one's gone undefeated since 1976," Giannini said. "They probably will lose at some point. But they're really good."
More like this story on KUsports.com