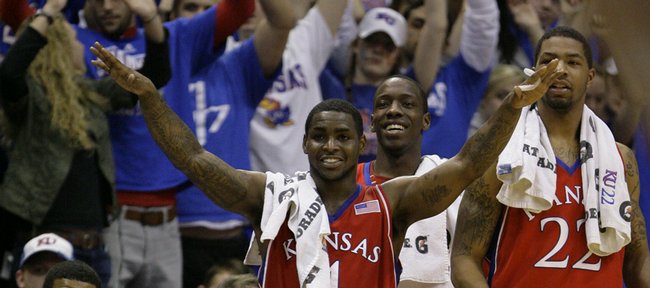 Every so often, near the end of a grueling Kansas University basketball practice, Bill Self will order one of his players to step to the free-throw line.
"Coach will say something like, 'If we don't make five in a row we'll have a 22 (penalty sprint),'" said KU sophomore power forward Markieff Morris.
"Thomas (Robinson) was shooting the other day, and he made four in a row," Markieff added, noting Self chose that moment to kid around in an attempt to rattle the freshman forward.
"Coach started grabbing him and said, 'You've got a nice body,' and Thomas missed the last one."
The Jayhawks (7-0) — who have hit 65 percent of their free-throw tries, compared to opponents' 66.7 percent mark heading into today's 7 p.m. home game against Radford (4-2) — do indeed practice charities extensively.
Here's another popular Self drill:
"If we shoot 30, you've got to make 25 out of 30 or you've got to re-shoot them and you've got to run," forward Marcus Morris explained. He has made 64.5 percent of his free throws compared to brother Markieff's 72.2 mark.
"When you are shooting there by yourself, you can make them easy," Marcus added. "If you know you've got to run if you miss a certain amount, you're more than likely going to make 25. It's a lot different in the games. In the game you're kind of rushed a little bit. There's a lot more distractions in the game. That's where you've got to zone that out and just think about how you're at practice."
There was a huge distraction Sunday as KU converted 12 of 17 in a 73-61 victory at UCLA.
"UCLA had an older man running around with an afro on screaming. Everybody could hear him," Marcus Morris said. "That's kind of annoying to see somebody running around throwing their hands up. I might have air-balled to be honest with you. That was kind of funny."
Marcus didn't go to the line versus UCLA; Markieff hit three-of-five tries.
"He was jumping up and down under the basket with blue hair or something like that, screaming," Markieff Morris said. "I paid him no mind, but I looked at him when Cole (Aldrich who made five of six) was shooting like, 'He isn't going to throw anybody off doing what he's doing.'''
Here are KU's other rotation players and their averages: Xavier Henry (90.5), Tyrel Reed (75.0), Sherron Collins (68.8), Aldrich (66.7), Tyshawn Taylor (62.5), Elijah Johnson (60) and Robinson (43.3).
Robinson has taken some good-natured ribbing since making three of 11 in a rout of Alcorn State.
"Thomas has had to run the most," Marcus Morris said of practice sprints. "We were at practice the other day, and he was shooting, and we had to wait until he made five in a row. He probably shot about 20 free throws before he made five.
"He was a great free-throw shooter in high school, but sometimes it changes when you get in college and the atmosphere is different," Marcus Morris added. "In high school, it really doesn't mean that much. They don't really keep percentages. In college, they keep the percentages."
KU converted 42 of 61 free throws in its first two games (68.8 percent) and 77 of 122 (63.1) since.
"We've not shot them very well," Self said. "It's something we have down to do every day. It's something we will continue to do. We probably haven't given it the attention early in the preseason that we should. From this point forward, we should give it more."
He doesn't harp on his players making their freebies.
"I don't ignore it. It's not something I'm going to call a lot of attention to," he said.
Sometimes it's better just to step to the line with a free mind.
"We are thinking about it too much," noted sophomore guard Taylor. "They are not that hard. I mean, you just have to take your time. We'll be all right."
This, that: Radford University, which is located in Radford, Va., has an enrollment of 9,230. The team plays in the Big South Conference and has nickname of Highlanders. Colors are red and white. ... Radford has played just one other game against a Big 12 team, falling to Colorado, 74-58, in December of 2004. ... Self said C.J. Henry (sore right knee) was to practice full-time Tuesday. Also, Jeff Withey (stress fracture, right knee) was to return to full-contact scrimmaging ... Aldrich, who has been facing double-teams all season, will be involved in a big one-on-one match with fellow NBA prospect Art Parakhouski tonight. Parakhouski is a 6-11, 270-pound senior, Aldrich a 6-11, 245-pound junior. "He is playing fine," Self said of Aldrich (10.6 ppg, 10.1 rpg). "I think he can play better and learn how to play through being the other team's target. Last year, that was not the case that often," Self said of the big man being double-teamed down low.
More like this story on KUsports.com