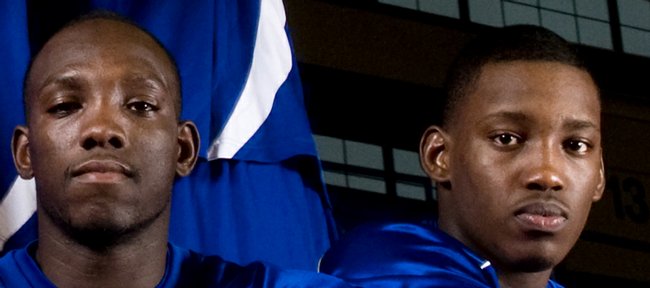 Kansas University freshman Quintrell Thomas and junior Tyrone Appleton, who played sparingly for the Jayhawks during the 2008-09 basketball season, both cited a desire for playing time — and lots of it — as their reasons for deciding to transfer away from KU.
'"Q' wants to play. I don't blame him," KU coach Bill Self said Thursday night, hours after issuing a press release that indicated the two would leave KU for yet-to-be-determined destinations.
"Tyrone intends on playing basketball for a living, whether Europe or somewhere. There's no chance to do that if you do not develop a résumé, same for Quintrell," Self added.
He sat down with the two players this week, and after a discussion of the 2009-10 roster, it was apparent transferring was the only way they'd be guaranteed meaningful minutes.
"We talked about where they are now and their role next season based on players returning and ones coming in," Self said. "Both were not happy with their playing time last year. If players return and others are coming in, their chances to play and contribute minutes would be similar to this year. I asked, 'Would you be happy in the same role next year? If you are happy with it, fine.' They want to play."
Thomas, a 6-foot-7, 240-pounder from Newark, N.J., who averaged 5.4 minutes in 26 games, not only would face front-court competition for minutes from Cole Aldrich, who most expect will return next season, Mario Little, the Morris twins and Travis Releford, but also newcomers Jeff Withey and Thomas Robinson.
Appleton, a 6-2, 203-pounder from Gary, Ind., who averaged 2.2 minutes in 21 games, would find it tough taking time from Sherron Collins, who also is a good bet to return, as well as Tyshawn Taylor, Tyrel Reed, Brady Morningstar and newcomer Elijah Johnson, with the possibility of Xavier Henry and his brother, C.J., joining the program.
"Kansas has been great with the fans, my teammates and the tradition," said Thomas, who, like Appleton, didn't list any schools on his transfer list. It's always possible Thomas could go the junior-college route to avoid sitting out a year, while Appleton already has played juco ball. "I think by transferring, I can find an expanded role elsewhere. I want to thank the basketball staff and administration for the opportunity to play at Kansas and have no ill feelings toward the program," Thomas added.
Noted Appleton: "Kansas has been a great experience, one that I will never forget. I enjoyed my teammates, coaches and the fans. I am just looking for more time on the court and don't see it here. I want to be able to have a solid senior season."
Self believes the phone will be ringing off the hook regarding both players.
"I think there will be quite a bit of interest," he said, responding "absolutely" when asked if he'd help the two pick schools.
"We, as a staff, know whoever gets them will be getting good, hard-working players. They have been fabulous young men, good teammates and solid ambassadors for the university.
"I like them. The coaches like them. The kids (teammates) like them. They've chosen to attend a university where they can have expanded roles."
The departure of Appleton and Thomas puts KU at 12 scholarship players for next season, one under the limit of 13.
A previous version of this story contained a number of notes. Those items have been moved to a separate story.
More like this story on KUsports.com