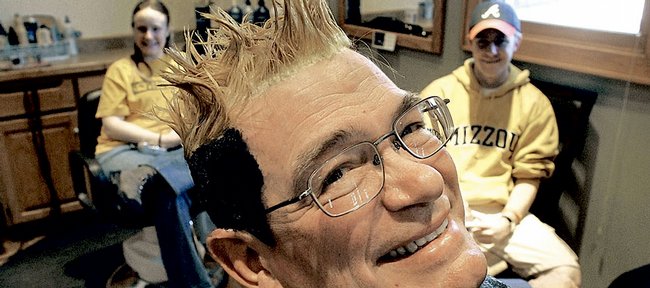 KU sports
John Ross is a man of his word, even if it means hurting his Jayhawk pride.
Ross, 56, comes from a family of college sports fans who like to make a wager or two. Typically, the bet's loser has to wear a rival's school cap at the family's annual Thanksgiving reunion in Tennessee.
"This is a family of sports nuts," said Erin Ross, 25, John Ross' niece.
But Ross and his 22-year-old nephew Bryan Ross, a Missouri student and part-time employee for the school's athletic department, upped the ante last year for the KU-Mizzou Border War football game at Arrowhead Stadium.
It was either John Ross, owner of Laser Logics, dye his hair Missouri black and gold, or Bryan Ross dye his hair crimson and blue.
"John said he'd die of embarrassment, but Bryan said 'Yeah, but I'd lose my job,'" said David Ross, John Ross' brother.
Well, the Jayhawks lost 36-28.
So John Ross walked into Images Salon and Day Spa, 511 W. Ninth St., with his brother's family and his wife by his side Friday morning to transform his thick salt and pepper hair into a sidewalk-stopping black and gold.
Family from southeast Missouri arrived in Lawrence Thursday night to support John Ross, who is beginning chemotherapy treatment for stage-four throat cancer.
John Ross, a nonsmoker, learned in February that not only did he have cancer but it was in the worst stage.
His brother called the news a "complete shock."
However, chemotherapy has its advantages, John Ross said, adding that he'll quickly lose the Missouri-colored locks.
He credits his optimistic attitude to Nelson Kruger, his friend from the Lawrence Luncheon Cosmopolitan Club, who had the same cancer 15 years ago. Kruger, a former pilot, gave Ross a documentary film he made of his treatments. Kruger is cancer free and "it's a source of inspiration," Ross said.
Ross returns to work next week and also has a Lawrence Chamber of Commerce meeting to attend.
"I can't wait to see what my KU buddies think about this style," he said. "It's all in good fun."
More like this story on KUsports.com