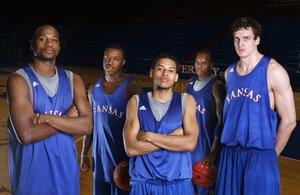 Will he be back next season? Will he hire an agent, or do you think he'll hold off on that, test the waters at the draft camp, and then decide whether he'll enter his name into the NBA Draft?
Such questions, rain clouds hovering over elite basketball programs across the map, can sap the old-fashioned, college enthusiasm out of the sport that warms our winters. Therein lies the beauty of the senior class that will be honored in tonight's Allen Fieldhouse finale. Thrill-killing questions never have been posed about Jeremy Case, Darnell Jackson, Sasha Kaun, Russell Robinson and Rodrick Stewart.
Case, recruited to Kansas by Roy Williams, red-shirted a year and graduated last spring. The rest are on track to graduate this coming spring.
To a man, the five scholarship student-athletes, who will give senior speeches after tonight's game against Texas Tech, never did anything to leave the impression they viewed wearing a Kansas uniform as a means to achieve a more lucrative basketball end.
Bolting early in pursuit of NBA dollars never presented itself as a realistic option for them, which makes Jackson's development into a prospect projected by many to go in the second round of the draft all the more gratifying.
A reserve until early this season, Jackson has a terrific touch on his 15-foot jumper, yet only uses it to win, not to audition for NBA scouts. In the first five minutes of his second-to-last game in Allen Fieldhouse, an 88-74 victory against Kansas State, Jackson scored eight points and didn't take a shot from outside of two feet. He opened the half with a put-back slam and also scored on a short bank put-back, on an alley-oop dunk and on another dunk after he sealed his man, caught the pass, and executed a subtle move to avoid the help defender. No KU player has been more productive this season.
During last month's reunion celebration of 110 years of Kansas basketball, former KU star Ron Franz made a point to introduce himself to Jackson.
"You play every possession like it's your last," Franz told Jackson. "You play every game like it's your last."
Jackson will experience an important last tonight when he makes his final run through the tunnel.
When Robinson, Case, Stewart, Jackson and Kaun start, it won't be the force job it is on most Senior Night games. The five played together for a stretch early in November. Look for them to get off to a strong start, fueled by a grateful crowd that appreciates the effort this class of seniors put forth.
Robinson, missing New York, hung tough and grew up in a hurry after a frustrating freshman season. Every team needs a glue guy. Robinson makes the all-Elmer's team. Case never did earn a spot in the rotation, and never did complain about that. Stewart, a transfer after a year at USC, rode the pine his first two seasons at Kansas, never stopped trying to get better and finally earned a spot in the rotation. Jackson's year-by-year growth, in the face of so much personal tragedy, embodies all that is good about college basketball. Kaun went from starter to reserve this season, a demotion, at least in name, that didn't poison his passion.
After tonight, they'll be gone from the Fieldhouse. Gone and not soon forgotten.
More like this story on KUsports.com