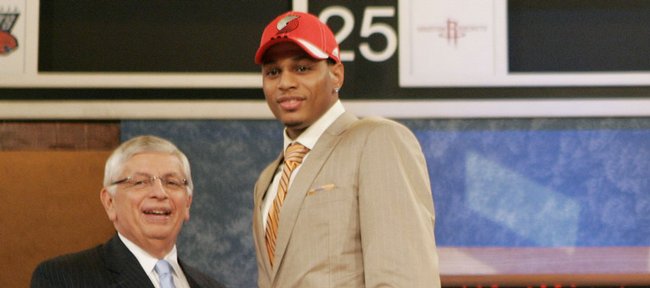 Videos
Jayhawks selected in the 2008 NBA Draft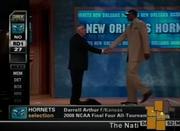 A total of 5 Jayhawks were selected in the 2008 NBA Draft, tying the all-time record.
Podcast episode
Ryan Greene and Tom Keegan break down Kansas University's record-tying night in the NBA Draft. KU became just the third program (UConn in '06, Florida in '07) to have five players drafted in the first two rounds. The guys break down who has the best chance to succeed in '08-'09, ...
2008 NBA Draft Board
Brandon Rush
Drafted: No. 13 overall
Team: Portland (traded to Indiana)
The Skinny: Rush went a little higher than most expected, largely because NBA executives see him as the type of player who can contribute right away. His sweet outside stroke is built for the NBA, and he prides himself on his defense.
The Fit: It seems appropriate that a former KU national champion - Portland GM Kevin Pritchard - would take a current KU national champion, but Rush's time with the Blazers was short-lived. Portland traded Jarrett Jack, Josh McRoberts and Rush to Indiana moments after making the pick. In Indiana, Rush joins his brother Kareem Rush on the Pacers' roster.
2008-09 Impact: Clearly Rush is in the Pacers' plans. Expect him to average around 20 minutes per game, whether as a starter or a key contributor off the bench.
Darrell Arthur
Drafted: No. 27 overall
Team: New Orleans (traded to Portland, Houston and Memphis)
The Skinny: It was a long, uncomfortable night for Arthur. Try to follow along: Memphis traded the rights to Syracuse forward Donte Greene, the No. 28 pick, in exchange for the rights to Arthur, who was picked 27th and traded three times. New Orleans dealt his rights to Portland, which then traded him to Houston. The Rockets then traded his rights to Memphis.
The Fit: If there's any team that needs inside help, it's the Grizzlies, which traded Pau Gasol to the Lakers last season and haven't found a suitable replacement yet. Kwame Brown? Darko Milicic? Hakim Warrick? You get the idea.
2008-09 Impact: There's no question if Arthur's healthy, he should contend to start.
Mario Chalmers
Drafted: No. 34 overall
Team: Minnesota (traded to Miami)
The Skinny: The bad news for Chalmers was that the pick came four picks into the second round. The good news is he's headed to a team that could be in for a bounce-back season.
The Fit: It can't be understated how huge playing with Dwyane Wade will be for Chalmers. Already a solid defender and sweet shooter, Chalmers needs to improve his ball-handling and driving abilities. Wade should be an excellent tutor in both areas. In addition, Chalmers gets a chance to play with No. 2 overall pick Michael Beasley and Darnell Jackson.
2008-09 Impact: Because he was picked in the second round, Chalmers will have to fight for his place on the team. But he should earn a roster spot, could even start and will be in the guard rotation.
Darnell Jackson
Drafted: No. 52 overall
Team: Miami (traded to Cleveland)
The Skinny: Jackson seemed to fit in the mold of Heat GM Pat Riley's love of hard workers, but Miami eventually shipped Jackson on to Cleveland for a future second-round pick. With the Cavaliers, Arthur should have an easier time making the roster than with the Heat. And, hey, who wouldn't like playing alongside LeBron James?
Sasha Kaun
Drafted: No. 56 overall
Team: Seattle (traded to Cleveland)
The Skinny: Seattle makes it five Jayhawks in this year's draft - which ties a record with Connecticut (2006) and Florida (2007) for most players drafted by a single school - by snagging Kaun, then the Sonics shipped him to Cleveland. He likely will head to Russia before giving it a go in the NBA. Kaun has solid NBA backup written all over him and eventually could be a contributor during a lengthy NBA career.
New York — The Kansas University basketball team scripted some suspenseful moments on the way to the 2008 national championship, and NBA Draft night turned out to be more of the same for the Jayhawks.
Three dramatic storylines evolved as Brandon Rush, Darrell Arthur and Mario Chalmers combined to make Kansas history. For the first time since 1989, when the draft was trimmed to two rounds, more than two Jayhawks were selected in a single draft. Rush was a lottery pick, Arthur became the sympathetic figure who dropped lower than expected, and Chalmers, who will always hold a special spot in KU history, was taken in the second round.
It was a wild night in the Big Apple.
Senior forward Darnell Jackson was selected by the Miami Heat with the 52nd pick overall. And senior center Sasha Kaun, who already has signed with a team in his native Russia, became selection No. 56 when Seattle called his name, then traded him to Cleveland. The five players taken in two rounds of the draft tied the record for one school. Connecticut had five in 2006 and Florida matched that in 2007.
Rush had the opportunity to wear a Portland Trailblazers cap for about 30 minutes. He never seemed too concerned about the fit. Rush, who helped lead the Jayhawks to the NCAA title after coming back from ACL surgery, was the first of the three selected at the Wamu Theater at Madison Square Garden Thursday night. Portland used the 13th selection overall to take Rush, but he will most likely end up in an Indiana Pacers uniform for his rookie season.
Just minutes after drafting Rush, the Trailblazers and Pacers announced a proposed trade. In the deal, Portland would send the rights to Rush and guard Jarrett Jack to the Pacers for the rights to Jerryd Bayless and forward Ike Diogu. Indiana had selected Bayless, a freshman guard from Arizona, with the No. 11 pick.
But the roller-coaster ride for Rush was quick and harmless compared to the emotional experience endured by Arthur. Rush had to wait just 1 hour and 15 minutes before commissioner David Stern called his name. Arthur's wait was closer to two hours, and as the last player in the "green room" he became one of the major storylines of the night.
Rumors of a mysterious and unspecified kidney condition evidently led to Arthur's tumble to the No. 27 pick. When New Orleans finally ended the wait and made the sophomore forward a first-round pick, he let out a sigh of relief and then hugged his mother and grandmother.
"I was just waiting there anxiously and just nervous because I didn't know who was going to pick me up," Arthur said. "Me and my mom, me and my family, we were just waiting patiently and just trying to see who was going to pick me. I didn't work out for New Orleans, so it's a blessing just to be picked up."
In the end, Arthur was traded three times, first from New Orleans to Portland for cash.
Houston traded No. 25 pick Nicolas Batum (of France) to Portland for Arthur (27th overall) and Joey Dorsey (33rd overall).
The Associated Press reported Arthur was then traded again early this morning from Houston to Memphis for Syracuse forward Donte Greene.
Reports of a kidney condition started popping up Wednesday on the Internet when Arthur was in Washington for a workout with the Wizards. As he sat waiting in the green room, ESPN reported that Arthur had declined lab work at several workouts. ESPN also reported that coach Bill Self said Arthur had been tested at Kansas and there was no indication of a problem.
Arthur said that was confirmed on Wednesday.
"I slipped a lot because they said I had a kidney problem but I did some blood work in Washington and everything came out fine," Arthur said. "I didn't know it was going to happen at all. I thought Washington was going to let everybody know ahead of time.
"I guess word didn't spread fast enough and I'm just blessed right now just to get picked up and be picked up by a team."
The crowd in the theater, going against the reputation of New Yorkers, gave a big cheer for Arthur when he was selected. Even Stern applauded at the podium when the wait was finally over for the former Jayhawk. Arthur's mother, Sandra, said she was "overwhelmed" at the moment she heard her son's name called.
"We expected him to go sooner, so it was difficult to see the anticipation and the hurt that he might not go in the first round," she said. "But we got through this and now he's going to do well."
Rush answered questions with ESPN and in the media interview room related to his selection by Portland, with his Trail Blazers cap on, before the deal was announced. But as he traveled from one television network to another, he didn't seem surprised. He had gotten word of the trade before he walked across the stage.
"My reaction is the same," Rush said. "I'm going to do the same things to help Indiana win. Their coach (Jim O'Brien) is a defensive minded coach and shoots the three. That's what I like to do.
The trade is contingent upon approval by the NBA, based on salary cap restrictions for both teams.
Rush's agent, Mark Bartelstein, said he expected the league to approve the trade soon, perhaps as soon as today.
"He worked out at Indiana the first week of workouts and did very well," Bartelstein said. "He's done well wherever he's gone. He's done extremely well. Portland wanted Bayless and Indiana wanted Brandon. I think the key players were the players in the draft but I think Indiana also likes the idea of getting Jack."
Rush's brother Kareem played for Indiana last year but is a free agent and may not be back with the Pacers next year.
"I'm excited for him," said Kareem Rush, who was in the green room with his brother. "I don't know if I'll be back but if I get to go back and play with him that will be amazing. I want to make sure things go well for him and he has a smooth transition. We plan on working out together there in August and I'll make sure he does the right thing."
Brandon, taken at the same spot in the draft that Wright was selected last year, said Kareem told him not to worry too much on draft night and to enjoy hearing his name called.
"I don't know if he's going to sign for next year but it would be fun battling with him every day for the same position," Rush said. "Right now I feel good about the whole situation and what happened last year. I didn't enjoy going through rehab but winning a national championship and coming to the green room and being a lottery pick is a big blessing."
Rush's mother, Glenda, said she was relieved when Brandon's name was called. She also said she might collect a lot of frequent flyer miles between Kansas City and Indianapolis if both her sons are playing for the Pacers next year.
"I'm just glad this is all over now after coming back from the knee injury and everything," she said. "It worked out really well for him. He worked really hard. I'm so proud of him."
Minnesota took Chalmers with the 34th pick overall. But late Thursday night the NBA announced that Minnesota will trade the rights to Chalmers to Miami for two future second round picks. That means Chalmers and Jackson would be reunited with the Heat.
Chalmers, who hit the memorable three-pointer to force overtime in the national championship game against Memphis, wasn't invited to sit in the green room. But like many other draftees, he elected to sit in the crowd. He was joined by several family members, including his father, Ronnie, a member of the Kansas coaching staff.
Chalmers was asked to compare the shot against Memphis to being drafted.
"Right now, that's a tough decision, but I'd definitely have to say being drafted in the NBA (is bigger)," he said. "It's a dream come true.
"It was a long wait for me but it was a great accomplishment. After the national championship, we all talked about going in the first round together. Congratulations to (Rush and Arthur) for making it. Now I just have to make the best of my opportunity."