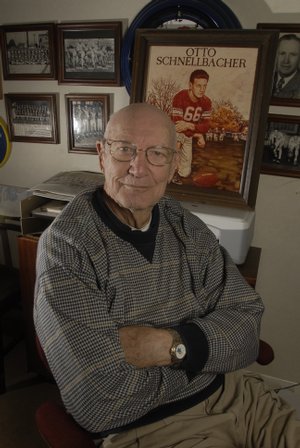 Feature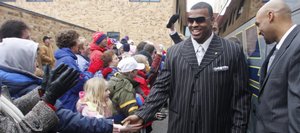 Journal-World KU reporter Jonathan Kealing is covering the fans in and on their way to Miami for the Jayhawks' first ever BCS bowl game. Check out some pitstops and potholes on the way to Miami and keep up with Journal-World Orange Bowl coverage from Miami on our interactive road trip map.
Jayhawk fans hope the third time's a charm in the Orange Bowl, but perhaps none more so than members of Kansas University's first team to make that trip to Miami.
"The kids need to win. It's not for us, for the old players, or for the fans. It's for the kids," said Otto Schnellbacher, KU's All-America offensive and defensive end in 1947.
Sixty years ago today, co-captains Don Fambrough and Schnellbacher walked onto the field in 70-plus-degree temperatures in front of a crowd of 59,578 fans.
"As a football player, it's what you dream of from the time you start playing football in grade school," Fambrough said.
Like any good bowl game matchup, the outcome of their contest against Georgia Tech came down to the final minutes of the fourth quarter.
With Georgia Tech leading 20-14, Kansas recovered a fumble on the Tech 44-yard line. According to the Lawrence Daily Journal-World, they moved to the 23-yard line, where quarterback Lynne McNutt "pitched to Schnellbacher who raced down the side lines for what looked like a touchdown," but an encounter with a referee kept KU from scoring on that play.
"I used him as a blocker. He got in my way, and I shoved him and went on," Schnellbacher said. "That's where he called me out was on the 10-yard line."
To this day, Schnellbacher doesn't believe he went out of bounds. "I don't. Some people do. Some people don't. I never did," he said with a smirk. "But we should have scored anyway, because we got eight yards the next play."
KU's All-America halfback Ray Evans had pushed to the 2-yard line. Then, in a snap, the team's orange dreams were dashed.
"We fumble the football," Fambrough said. "There was a stack of bodies at least 6 feet high. No one would move. The referee just looked at that pile for a second or two and said 'first and 10 for Georgia Tech.' So, we lose the football game."
This sour experience didn't ruin the game for these two men. Fambrough went on to coach KU, and Schnellbacher played for the New York Giants.
Sixty years after their bowl appearance, they appear to be over the loss, but hope their decades of waiting for an Orange Bowl victory will end Thursday.
More like this story on KUsports.com