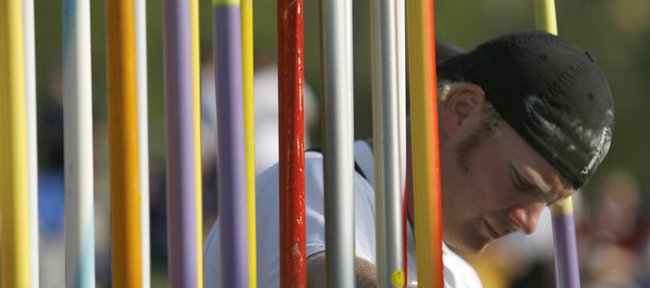 Audio clip
KU cross country coach Stanley Redwine talks about his former athlete Scott Russell, who is competing for Canada in the javelin at the 2008 Olympics
Editor's Note: Scott Russell is a former Kansas University All-America javelin thrower who will compete in his first Olympic Games for his homeland of Canada in the qualifying round at 8:10 (CDT) tonight. Russell, 29, now makes his home in Lawrence.
"No, you can't always get what you want,
But if you try sometimes, you might find,
You get what you need."
- The Rolling Stones.
As I reflect on the events of Aug. 8, I recall the lyrics of Mick Jagger. You can want something so bad in life, whether that be material things, wealth, happiness or, in my case, a life-long goal, but sometimes things get in the way and you don't achieve these things.
I have felt this way for so long. When I missed qualifying for the 2000 Sydney Olympic Games, I felt like I was still too young and immature in this sport to be extremely upset. I was nowhere near my peak in terms of age, so I was not heartbroken. At the time I was still a Jayhawk at Kansas University and I had two more years of competition in the NCAA to look forward to.
On the other hand, the 2004 Olympics were a heartbreaker. I was expecting to qualify for these Games. How do you take not achieving a lifetime goal? At the time I felt like life was over!
You train for four years with the expectation of making a team and in the end, you get nothing. I recall standing at the back of the runway in Victoria, British Columbia, Canada at the 2004 Olympic trials with one throw left to qualify for the Olympic Games.
Down the runway,
Carry your speed,
Hand High,
Quick to the block,
Finish the throw!
NOTHING! Tears.
Most of you know my 2005 season. I was determined to redeem myself. My funding from Sport Canada was dropped and Nike dropped me. I was determined to prove everyone wrong! It was extremely easy to train with a chip on my shoulder. Every session, I would think of the people who doubted my ability. If a run or a lift was difficult, I would think, "They don't think you can do this!" Training went great all year. The only problem was I was not seeing the result in meets.
It's extremely difficult to feel like you are as fast, as strong and as ready to throw far and get nothing in terms of results. I felt ready all year. I even warmed up that year at the KU Relays at 82 meters (really far for warming up). All I could manage all year was 73m to 75m. What I thought was going to be my last chance to qualify for the 2005 World Championships in Helsinki, Finland was the Canadian Championships in Winnipeg, Manitoba. I threw 77m, which was a great throw in the monster of a head wind that we threw into, but not far enough to make the team. I was done!
Most people say I quit or I'm done or I'm retiring and really don't mean it (like Brett Favre). I really mean I was quitting! Luckily, I was talked into and sponsored by a very generous donor to do two more meets. I traveled to Ottawa, Ontario and in the first competition, first throw, VOILA! 84.41m! New Canadian record!
There is obviously two more seasons that lead up to this point, but here I stand at the entrance to the Bird's Nest. I am approximately 100m from entering the Olympic opening ceremonies. I am standing with approximately 150 other Canadian athletes about to experience the greatest experiences in the Olympic Games, the opening ceremonies.
When you think about the opening ceremonies, what stands out to you as a moment that you will remember for the remainder of your life? Entering the stadium? The first sight of the crowd? The Parade of athletes? Seeing Roger Federer, Dirk Nowitzki, or the entire USA Men's Basketball Team? The lighting of the torch? No.
As I stand in the tunnel, 100m from entering the stadium, the entire Canadian delegation starts to sing the national anthem! I still get chills thinking about that moment. As the anthem ends, "O Canada, we stand on guard for thee." The chills run up my spine. I begin to think of the work that was put into making this dream a reality. The countless number of hours running, jumping, throwing, the weights, my coaches, my family, 2005 when I almost quit, the doubters and the believers. I think of the perseverance, that I now realize I had in the face of the hard times that athletes (not only myself, but thousands of others) go through to make it to the Olympic Games.
I am grateful to have the family and friends that I have met from being in this crazy sport. Without the thousands of people that have made an impact in my life, I would not be here. The support that I have been given to this point is what has inspired my performance to date. I am here, because I love throwing the javelin, which at times was gone, but in this very moment has never been greater. I love this sport and the experiences that I have been given from it.
More like this story on KUsports.com