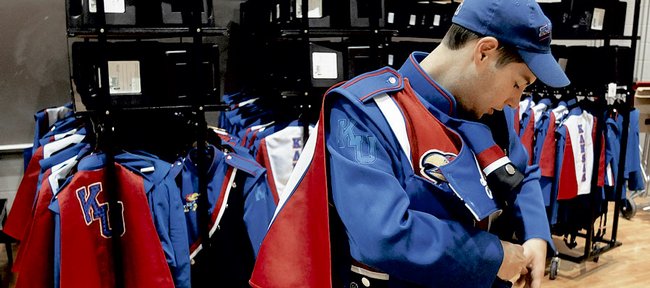 For the first time in a decade, the small but proud contingent of Marching Jayhawks has exceeded 200 members.
Scott Weiss, Kansas University director of bands, said he was thrilled to see such a positive turnout. The Marching Jayhawks band, which has lagged behind other Big 12 schools in the number of students, had 239 show up for registration Friday.
Last year, 177 musicians were in the athletic bands. Weiss has his theories for the increase.
"Great football doesn't hurt recruiting at all," he said.
The Jayhawks' Orange Bowl victory against Virginia Tech, coupled with the NCAA Men's Basketball National Championship, has led to more students who play instruments showing an interest in marching band.
Weiss said the university has also increased its recruiting efforts, including 52 band clinics over the past year that urge prospective students to get involved in marching band.
And for those involved, it's a commitment of passion.
In-state students involved in the Marching Jayhawks pay up to $350 while out-of-state students pay up to $680 to participate in the one-credit-hour course. Members rehearse three days a week for two hours.
Emma Willis, an Oskaloosa senior and mellophone section leader, said it was definitely the people and the hand they played in the college athletics experience that made the sacrifice worth it.
"We felt like we battled for those championships with them," she said.
Joe Nasternak, a Kansas City, Kan., senior and tuba section leader, said he thought it was definitely the mix of increased recruitment with a bang-up athletics year that contributed to the increased involvement.
But for quite a few, that sense of family and friendship kept them coming back.
"You have 200 instant friends," San Antonio junior Shani Nisman said. "It's such a close-knit group."
More like this story on KUsports.com