Document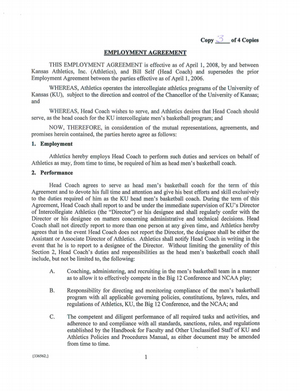 Kansas University men's basketball coach Bill Self has signed a new 10-year contract that will pay him $3 million per year, KU announced today.
The agreement begins retroactively on April 1, 2008, and expires in March 2018. Self's prior contract had three years remaining (expiring March 2011).
Self's compensation package comes from private resources. No tuition dollars or state funds are used.
Under the new contract, KU Athletics will pay Self an annual salary of $229,900, unchanged from the previous contract. The compensation package also includes an annual payment of $2,270,100 for professional services, which may include educational, public relations and promotional duties as assigned by the athletic director.
Such duties could include the production of any radio or television shows, internet features or Self's occasional endorsement of products affiliated with and approved by Kansas Athletics or its marketing partner(s).
Additionally, the compensation package includes a retention agreement that pays Self $500,000 for each year during the contract that he serves as Kansas' head coach.
The contract also includes several provisions for incentives that could total as much as an additional $425,000 in any one year.
Self's prior contract paid him an annual total of $1,610,600.
"We are thrilled that Bill will be our coach for years to come," said KU athletic director Lew Perkins. "He has done a tremendous job leading the Kansas men's basketball program both on and off the court. There's no one I'd rather have at the helm of the Kansas program."
Self said: "I'm very thankful to Chancellor Hemenway and Lew for the confidence they have shown in me. I have said many times that I cannot imagine a better place to play, or to coach, than the University of Kansas. My family and I look forward to being part of the Kansas and Lawrence communities for many years to come."
The bottom line with the contract is it gives Self the security he desires. He had said after the season years were important to him.
"I had no problem with it. We want him here 10 years," Perkins stressed of the length of the deal, which has no buyout clause if Self ever decides to leave KU.
Perkins said he believes the new deal makes Self one of the top five paid coaches in the country, but there's no way of telling for sure with so many complicated clauses and incentives in contracts. Published reports indicate Florida's Billy Donovan tops the list at $3.5 million a year. If all of Self's contract incentives are met, he'd make $3,425,000 per annum.
"We never discussed it," Perkins said of comparing Self's dollars to other coaches' pacts in contract discussions.
Published reports had Texas' Rick Barnes as the Big 12's previously highest paid coach at $2 million a year.
Kansas football coach Mark Mangino recently signed a contract extension that will pay him $2.3 million through 2012.
Previous Self Contract
Current term: April 1, 2006 - March 31, 2011
Base salary: $229,900
Professional Services: $1,155,700
Retention Payment: $225,000
Total: $1,385,600 + $225,000 = $1,610,600.00
Incentives:
Final 4: $100,000
NCAA Championship: $200,000
Big 12 Regular Season Championship: $50,000
Big 12 Tournament Championship: $25,000
Associated Press Coach of the Year: $50,000
New Self Contract*
Term: April 1, 2008- March 31, 2018
Base Salary: $229,900
Professional Services: $2,270,100
Total: $2,500,000 + $500,000 = $3,000,000
Retention Payment: $500,000 (guaranteed after taxes) per year**.
* Incentives remain the same
** Earned only if remain each year. Paid out in 5 year increments. Current retention agreement is in place until 2011. A second retention agreement on the same terms will be earned for remaining each year during the second 5 year period.
More details to come.
More like this story on KUsports.com